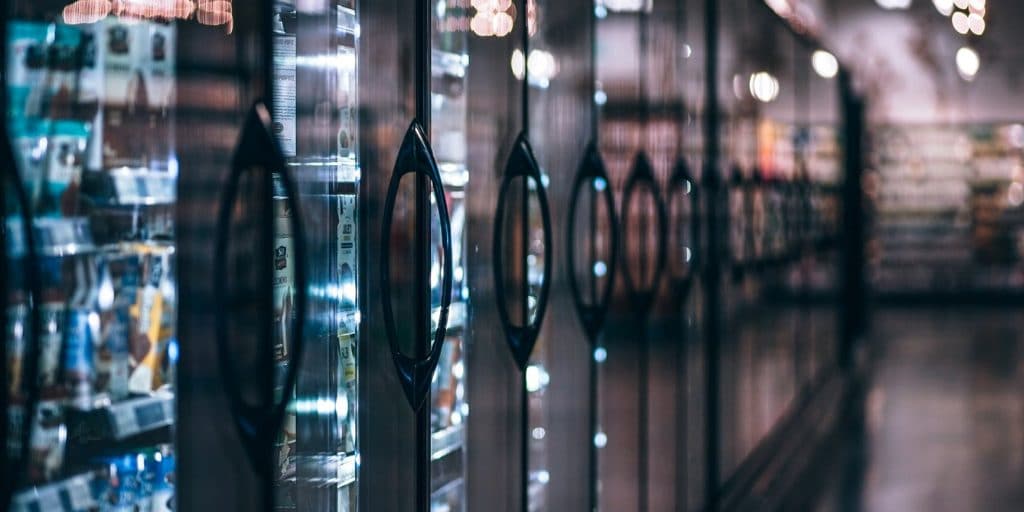 July 1, 2019
Though it might seem straightforward at first glance, beverage transportation can be a tricky process. Finding beverage logistics solutions to get your new drink or functional product on the shelf is no simple task.
And while every business sector comes with its own set of transportation issues, there are a few concerns that are unique to the beverage industry.
We came up with our top seven that we continually help our customers navigate:
Low Volume, High Frequency
LTL Shipping
Potential Product Damage
Temperature Control Needs
OTIF, MABD, and Retail Chargebacks
Seasonality
Cargo Theft
Low Volume, High-Frequency Orders 
Beverages typically have a high turnover rate and need to be replenished frequently. That fact, coupled with consumers' shift in expectations to near on-demand product availability, means that stores are requiring smaller quantity shipments, but more frequent delivery.
This new consumption reality requires vendors to have beverage logistics solutions like a nimble transportation function. To compete in today's beverage sector, brands must have an adaptable and readied transportation network and must always be on the hunt for cost-effective ways to optimize the new pace of product fulfillment.
Some shippers can leverage parcel, shipping individual cases. But most beverage manufacturers can't risk this mode as it is notorious for damaged or lost product.
Instead, beverage brands often find more success and security using less than truckload (LTL) shipping to transport their smaller orders. But for those who find the mode cost-prohibitive or overly complicated, trying other solutions like pool distribution, consolidation, and multi-drop shipments can help keep costs down and performance up.
LTL Shipping: A Beverage Logistics Solution
Less-than-truckload (LTL) shipping is used by most all beverage manufacturers. This fact can be tied directly to the previously mentioned issue – low volume and high-frequency orders.
This beverage transportation mode is a great choice for moving 1-10 pallet order quantities. But LTL shipping does pose a different set of transportation issues than traditional full-truckload transport. 
LTL's hub-and-spoke model is a pervasive source of product overhandling. This can increase the likelihood of damage as your pallets are loaded and reloaded onto a truck. Yet, LTL ranks better than parcel shipping when it comes to instances of damage.
LTL shippers must also tackle nuanced appointment scheduling. Unlike full truckload transport where appointments can be made in advance, suppliers can only schedule a delivery appointment once an LTL carrier arrives at a terminal. This can cause appointment issues at a retailer's or distributor's receiving docks as they can be booked out and drivers are often unwilling or unable to wait. Scheduling difficulties can cause a multitude of problems with retailers.
To circumvent issues that LTL transportation can bring, beverage suppliers have a few routes they can peruse.
If shipping high enough volumes, multi-drop consolidation programs can replace the hub-and-spoke model used in LTL. Otherwise, it's essential to follow proper pallet/product packaging guidelines and use labels that provide clear instructions for stacking and handling.
Working with "preferred carriers" can alleviate some of the complications of LTL delivery because they can more easily meet appointment requirements. These carriers are built to service retail facilities and have increased exposure to and an understanding of retail transportation challenges.
Potential Product Damage Can Cause Beverage Logistics Issues
Whether you bottle or can your beverage, transport exposes your product to damage risks. Cans can explode, bottles can break, and during a typical transit, your freight will likely be put to the test.
It is important to package and prepare beverage shipments with industry best practices to mitigate the risk of damage. Here are some packaging and pallet prep tips that can help keep your beverages secure:
Correctly stack product on your pallet to ensure it's locked in place. The general rule is, heavy items on the bottom, larger boxes to the outside, and fill in with smaller boxes. Evenly distribute the weight and avoid spaces between boxes. Proper positioning helps avoid compression damage.
Avoid having any product overhang the pallet. Overhang causes up to a 30% loss of compression strength and exposes packages to damage from contact with equipment and other loads
Avoid placing smaller boxes toward the top of the pallet, causing the stack to narrow as it gets taller. This pyramid shape can compromise the structural integrity of your stack. Build a cubic shape with a flat top for optimum shipping.
Utilize strong shrink wrap for maximum hold. Use either a strong PVC or polyolefin plastic to wrap your pallet. Heat shrink bags are also a great option. Pallets should be wrapped at least 3-4 times around and wrapping should go all the way down to the floor. This includes wrapping around the pallet itself.
Use dunnage if necessary (airbags, foam, corrugated cardboard, molded plastic, blankets, etc.)
Use load locks when needed (straps, bars, lumbar, etc.)
Avoid being stacked on top of other loads, if possible.
Do test runs to check the impacts of vibration and the possibility of shifting. Increase securities if needed.
Beverage Transportation Temperature Control Needs
Some beverages need temperature-controlled transportation year-round. Fresh pressed juices and milk-based products must maintain a safe temperature range from production to sale.
Other beverages only need temperature-controlled transport in certain months of the year. During the winter, refrigerated trucks can be used to prevent freezing and ultimately broken packaging from the expanded liquid.
When temperature-controlled trucks are required, capacity can often be hard to find. This is particularly true during produce season when most refrigerated trucks are spoken for. Having access to an expansive network of temp-controlled carriers can ensure that you find capacity even in those times when trucks are scarce.
OTIF, MABD, and Retail Chargebacks 
As the retail landscape continues to change and compete with online e-commerce fulfillment services, purchasers have increased their demands on vendors.
All national retailers now have vendor compliance programs to ensure they receive full orders delivered on time. Stores can't afford to have a product that is out of stock. In fact, in a recent survey, 73% of retail buyers reported ending vendor relationships over delivery issues.
Retailers have delivery requirements that come with punitive fines for late deliveries. These penalties often come with more than fiduciary pain, and if repeatedly issued, can permanently damage retail relationships that your organization has worked hard to foster. This can be devastating for any size organization.
Working with quality service providers that specialize in meeting On Time, In Full (OTIF) and Must Arrive by Date (MABD) parameters can help ensure your success. This includes not just transportation partners, but warehousing and co-packing partners who are responsible for prepping orders for pickup and facilitating smooth dock operations.
Seasonality Fluctuations
More beverages are consumed during the warmer months of the year. That means an uptick in POs in the spring and summer and a tighter beverage transportation marketplace.
Ramping up production and subsequent transportation to satisfy this seasonal demand is a necessary component for vendors to compete in the beverage landscape.
With a thoroughly optimized logistics network, your brand can prepare for the increased strain on your supply chain during the summer and ensure you get consistent service even when capacity is tight.
Cargo Theft—A Common Transportation Issue
Stolen cargo has emerged as a large issue for beverage manufacturers. Though it might seem like thieves would target higher-value commodities, food and beverage goods are among the most lifted cargo because of its intrackability and ability to be resold online.
FreightWatch International reported in 2016 that 23 percent of these thefts occurred from June-August just as seasonal transportation kicked into high gear. That's a concerning stat for vendors who are already trying their best to keep up with increased demand during that three-month stretch.
To offset this risk, leverage trailer seals to deter tampering and look for service providers that offer order tracking from the point of origin to destination. Increased traceability reduces the risk of theft and provides you an opportunity to more easily recover freight should the unfortunate occur.
Work with a Beverage Logistics Company 
Beverage transportation isn't easy. So, it's essential to build your network to include partners and solution providers that are equipped to handle whatever problems may pop up along the way.
Zipline Logistics is specialized in retail and grocery transportation that has moved hundreds of thousands of food and beverage shipments into distribution networks.
Our company is comprised entirely of retail and grocery transportation experts who can help elevate your supply chain. Zipline's retail-and food-qualified carrier network, track and trace capabilities, and world-class customer service programs help our customers successfully manage their beverage transportation and ensure they meet the strict requirements set by their customers and distributors, regardless of seasonal or market demand shifts.
To remain competitive in the food and beverage industry, your brand must successfully meet increasingly stringent beverage transportation demands without cutting into profitability. Zipline partners with suppliers of all sizes to ensure they can do both.