Logistics Case Studies
—
"What Make Zipline Different is the People"
Shipper: Be Well Nutrition, Inc., known for its ICONIC PROTEIN line of beverages, powders, and coffee.
Challenge/Background: The relationship between Zipline Logistics and Mariah Nyguen, COO of Be Well Nutrition, Inc., began about ten years ago when Nyguen was working for Vita Coco. Nyguen enjoyed Zipline's people and service so much that she carried the relationship into the next three or four companies she's worked with. 
Results: ICONIC PROTEIN has relied on Zipline as its exclusive transportation broker since 2018. Zipline manages both procurement of ingredients and LTL & FTL customer order fulfillment. Zipline has offered this client a competitive advantage through in depth freight analyses, resulting in both time and cost savings.
True Logistics Partnership
Shippers: Premium drink mixer company, Fever Tree; and importer, distributor and brand representative for premium biscuit/snack manufacturers, Brand Passport.
Challenge/Background: Both Fever Tree and Brand Passport needed a logistics service provider that could meet a wide range of transportation needs while identifying new supply chain efficiencies and showcasing true partnership.
Results: Zipline Logistics went above and beyond to provide knowledge, data, and recommendations that helped streamline operations for Fever Tree and Brand Passport. Invested in customer success, Zipline fully managed orders, optimizing along the way and involving the customer on an exception-management basis. Zipline built trust, provided peace of mind, and helped both brands solve for their logistics challenges.
3PL Partnership and Service
Shipper: Global producer of coconut products, Vita Coco
Challenge/Background: Vita Coco required a logistics partner that instilled total confidence and enabled it to focus on its brand, not transportation. Navigating a fast-growth market segment, they needed a 3PL that could scale alongside them and provide ongoing supply chain consultation.
Results: Zipline Logistics has successfully grown together with Vita Coco, expanding to meet domestic transportation and drayage needs. Vita Coco now cuts down on overhead costs by funneling logistics through its customer service department, relying on Zipline Logistics to properly handle transportation and identify new optimization and savings opportunities.
Zipline Love Stories: Specialized 3PL Adds Value to Multibillion-Dollar Retailers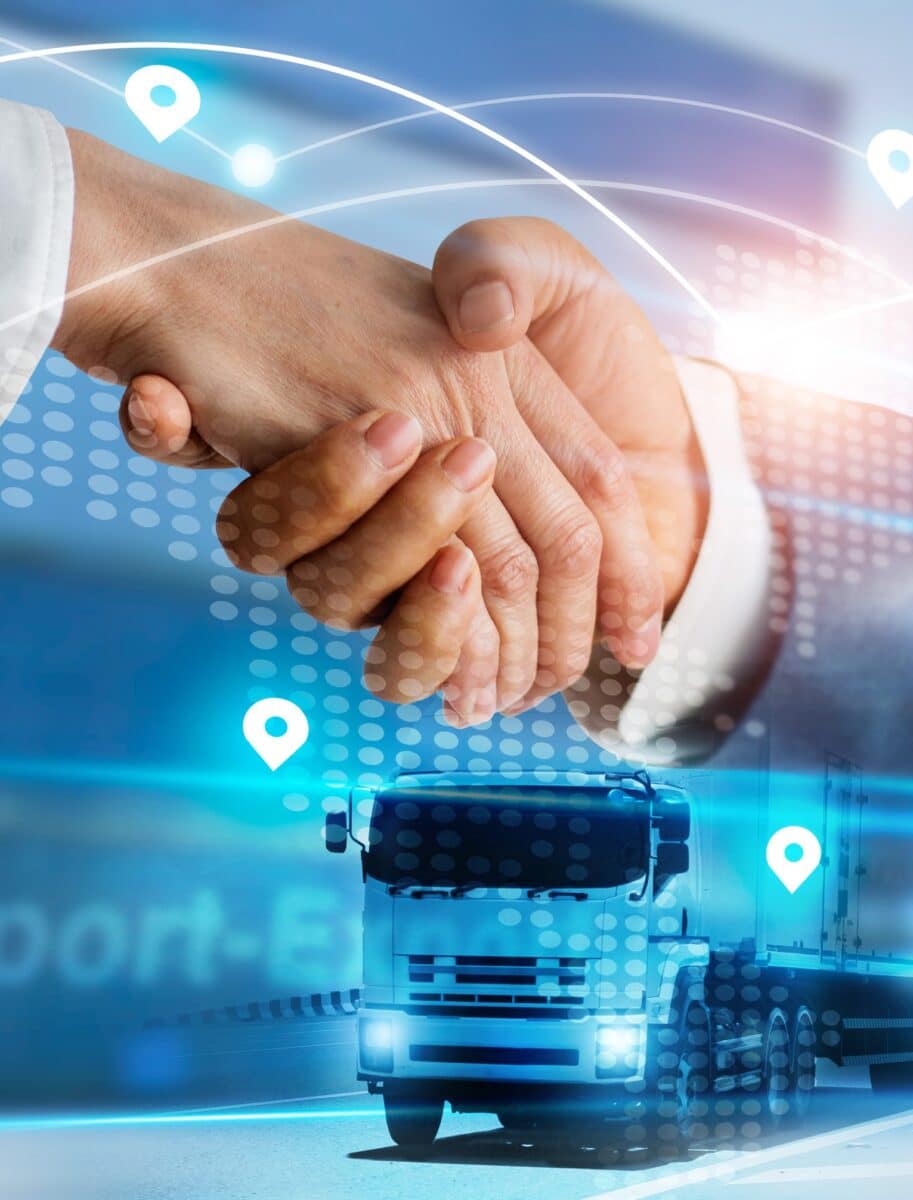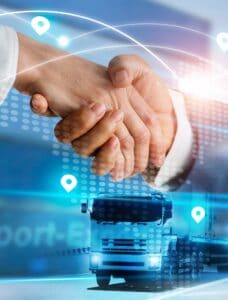 Shipper: A sustainable high-tech shoe company and a $12 Billion specialty retailer famous for high-quality fragrances and candles
Challenge/Background: The shoe company was challenged by it's tiny storefronts in bustling metropolitan areas, which required multiple perfectly timed deliveries per week. The specialty retailer needed consistent manpower transporting expensive, valuable, time sensitive, and extremely high volume shipments from ports to distribution centers.
Results: Zipline played a major role in helping the shoe brand skyrocket. Since entrusting us with nearly 100% of their domestic freight over the last three years, their revenue nearly doubled as they explosively expanded from four stores to 30+. After six years of business with the specialty retailer, Zipline has moved 17,000+ loads at 96% on-time delivery rate. Since partnering with us, we have seen their revenue grow by close to $3.5 Billion.
WTRMLN WTR Streamlines Refrigerated LTL Operations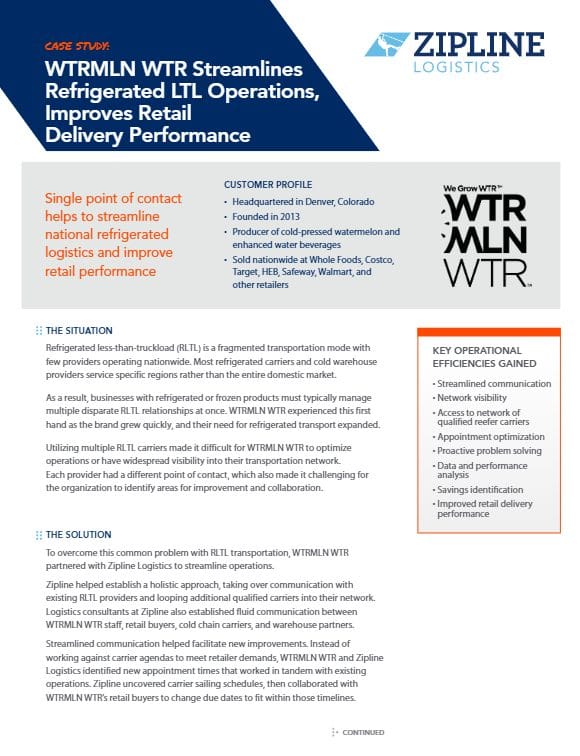 Shipper: WTRMLN WTR—Nationwide manufacturer of cold-pressed, juiced watermelon beverages.
Challenge/Background: WTRMLN WTR grew quickly and expanded its sales across the United States. Because the brand's product is temperature-sensitive, it required refrigerated shipping to fulfill its growing orders. Temp-controlled shipping is fragmented with few providers operating nationwide. WTRMLN WTR needed to manage relationships with several disparate regional providers at once.
Results: By working with Zipline, WTRMLN WTR gained new visibility into their operations adding transparency into their supply chain and uncovering beneficial consolidation opportunities, scheduling improvements, and network reconfiguration.
Consolidation and Managed Transportation Solution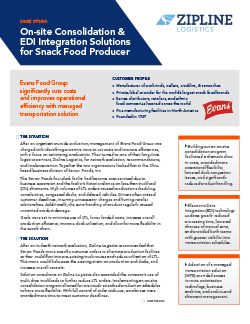 Shipper: Global producer of pork snack products, Evans Food Group
Challenge: Evans Food Group was charged with identifying proactive ways to cut costs and improve efficiencies throughout its supply chain. Goals were set to minimize use of LTL, lower landed costs, increase overall production efficiency, improve dock utilization, and allow for more flexibility.
Results: Solution consultants at Zipline Logistics developed an on-site order consolidation program that successfully reduced LTL utilization and lowered landed costs per pallet by 20%. Adoption of a managed transportation solution and EDI order tendering technology also enabled Evans Food Group to greatly improve internal efficiencies and gain more visibility into its supply chain.
Beverage Transportation Specialists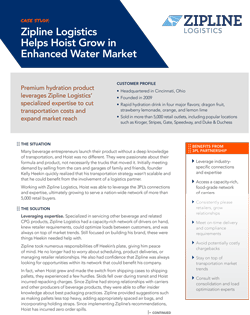 Shipper: Emerging enhanced-water brand, Hoist
Challenge: As a growing beverage brand, Hoist needed to scale its transportation strategy and engage a logistics partner that could provide guidance on how to meet retailer demands.
Results: Hoist leveraged Zipline Logistics' beverage transportation expertise to meet retailer requirements, cut transportation costs, and grow its network. By engaging an experienced 3PL partner, Hoist no longer had to worry about scheduling product pick-ups or deliveries and could instead focus on growing its brand.
Improving On-Time Delivery by 17%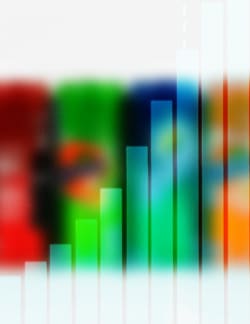 Shipper: Natural soda brand
Challenge: The company grew extremely fast and struggled to consistently meet retail compliance standards due to a complex national footprint.
Results: Zipline brought smart technologies and seasoned retail logistics professionals to the table. Through the facilitation of appointment flexibility, order visibility, and cross-departmental communication, the soda manufacturer was able to better serve customers and improved its on-time delivery by 17 percent.
Beverage Transportation and Minimum Orders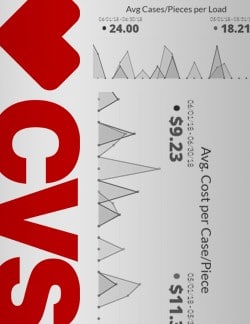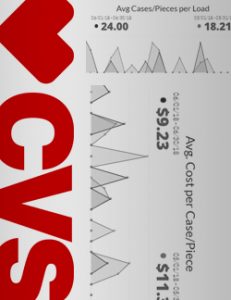 Shipper: Clean energy drink
Challenge: The growing beverage brand was entering new retail markets and facing common issues associated with securing new shelf space. When their new customer began purchasing small quantities of product to test sell, the brand was breaking even on their orders due to the cost of transport.
Results: Zipline Logistics leveraged its proprietary shipper intelligence tool, KanoPI, to show the beverage brand that once began to order even slightly more product their costs would come down. By isolating critical metrics in KanoPI and renegotiating order minimums, they were able to  remain with and ultimately achieve long-term profitability with the retailer.
Solving for Retail Vendor Compliance Issues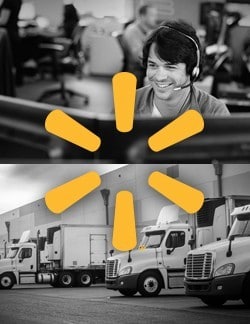 Shipper: Global producer of organic food supplements
Challenge: The brand was experiencing reoccurring delivery problems and rejected orders at Walmart. This caused freight to be late, extra paperwork, and the potential for costly fees related to retail vendor compliance failures.
Results: Zipline took over management of Walmart deliveries. Solution consultants identified proactive ways to rework delivery appointments, optimize dues dates, and book more reliable transportation, ultimately improving the brand's vendor performance.
Transportation Network Analysis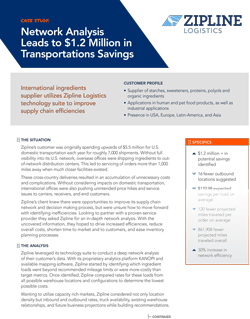 Shipper: International food ingredients supplier
Challenge: Overseas offices were shipping product out-of-network, which led to an accumulation of unnecessary costs and complications. The organization required more visibility into its U.S. supply chain to proactively identify opportunities to cut transportation spend and avoid service issues.
Results: Zipline Logistics leveraged its shipper intelligence tool KANOPI to identify $1.2 million in transportation savings for its customer. Consultants identified trends within data and found specific shipments that were driving up transportation costs. With inefficiencies isolated, they optimized modes and altered warehouse locations to achieve a 30% increase in network efficiency.