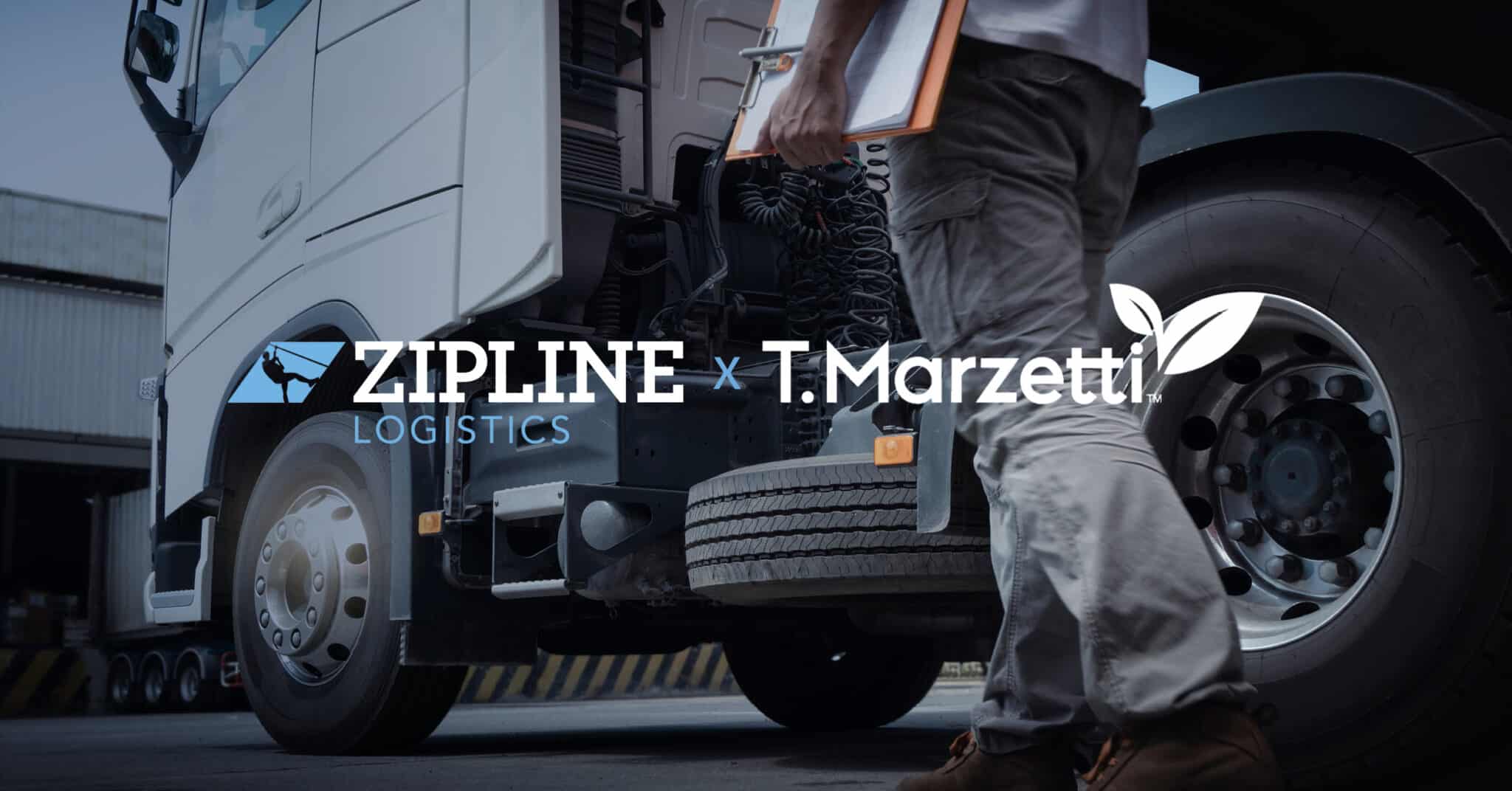 May 2, 2023
Zipline Logistics proudly serves all kinds of CPG brands, from startups to multibillion dollar companies. Contradictory to traditional, transactional 3PL relationships, 94% of our clients have trusted Zipline Clients for 5+ years. 
We recently sat down with one of our favorite clients to ask, "Why Zipline?" 
Scott Haldeman is the Manager of Transportation Operations at T. Marzetti, a leading specialty foods company headquarted in Columbus, Ohio. T. Marzetti manufactures many of America's favorite brands like Marzetti® salad dressings and dips, New York Bakery® frozen breads, and Sister Schubert's® homemade rolls.
To listen to the interview, press 'play' on the video below. To hear Haldeman's response to individual questions, press 'play' on the audio sound bites below each question or read the paraphrased answer.
Zipline Logistics x T. Marzetti Interview
Thanks for joining us, Scott! Let's get to know you. What are some of your hobbies, interests, and things that matter to you?
Paraphrased Answer: I recently learned that I am an awesome girl dad! I have a two-year-old daughter and another baby girl on the way. I love spending time with my family and learning the world through my daughter's eyes. I'm always learning something from her – it's enlightening and I'm better for it. My wife and I also love to travel and explore new countries.
For anyone who isn't familiar with T. Marzetti, could you explain your business briefly?
Paraphrased Answer: T. Marzetti is a food manufacturer of Marzetti® salad dressings and dips, New York Bakery® frozen breads, and Sister Schubert's® homemade rolls. We also do business with food service customers in which we make dips and dressings for restaurants.
How did you start working in logistics and with T. Marzetti?
Paraphrased Answer: I've been working at T. Marzetti for about four and a half years. Prior to this, I was working for a carrier for about five years and learning about pricing, capacity, and operations. On that side of the business, I witnessed how successful shippers managed logistics and brought value to their organization. I wanted to take what I learned on the carrier side and then apply it to the operational side strategically. Now at Marzetti, we make an effort to be strategic, purposeful, and thoughtful about being a good carrier partner. Logistics is not easy but it's ever-changing and fast paced — and that's what I love about it. With that in mind, it's so crucial to be selective about who you trust as a logistics partner.
How much emphasis does T. Marzetti put on logistics?
Paraphrased Answer: We want logistics to be a differentiator for our organization and always give our customers great news. We continue to evaluate what our customers expect of us and how we can deliver an experience they're happy with. We want our customers to understand the strategic advantage that quality logistics gives us over the competitors we sell against and keep them wanting to do business with Marzetti.
What are some of the pain points T. Marzetti has experienced in retail logistics?
Paraphrased Answer: What led us to Zipline is that many of our customers were experiencing retail penalties for shipments that were not meeting delivery requirements. We were aware of this issue but believed it was just part of shipping to retail – we didn't know it was a solvable problem. Zipline has helped us evolve into a more strategic mindset and leverage data to eliminate these fees and disruption.
What has your experience been like working with Zipline versus other brokers?
Paraphrased Answer: From the get go, Zipline understood all things retail shipping such as how retail fees work, what retailers expect from shippers, and the importance of on-time delivery. We felt a strong sense of partnership and that we shared the same goal. Zipline provided us with a consultative approach that benchmarked our performance, looked at how we compared to other shippers, and created a strategy to help us eliminate the issues we were experiencing.
How has your OTIF score improved since onboarding with Zipline?
Paraphrased Answer: Our OTIF score was in the mid-80's when we started working with Zipline. Most recently (a little over a year later) our OTIF score is 94%. Our Zipline partners do a phenomenal job reporting monthly on our delivery performance. They also give our sales group visibility to these reports so everyone can see how great we're doing. Zipline understands that every retailer has different expectations and that the number one priority is meeting and exceeding those expectations. Before Zipline, we felt alone in putting out fires and educating our partners on the impacts of not meeting expectations. Whereas with Zipline, issues were immediately met with proactive communication that led to quick solutions. It creates so much peace of mind for our team!
What is your overall feeling towards the service you've experienced working with Zipline?
Paraphrased Answer: Zipline has earned a pristine reputation with all departments in our office. Zipline has always done what they say they will do. At T. Marzetti, we value partnership and so does Zipline. They've helped us solve ongoing problems and we know if anything ever comes up, Zipline is there to help us fix it. We're excited to see how our partnership will evolve!
Join the Zipline Family
Zipline love stories are always in the making. The real Zipline experience is reflected by our numbers, too:   
 95% on-time in-full average for appointments 

 

 

World-class customer satisfaction score ranking 5 times the industry average 

 

National network of 38,000+ hand-picked carriers vetted to haul retail goods specifically