2022 Retail Buyer Report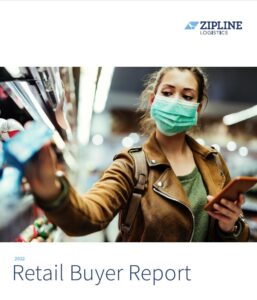 Zipline Logistics surveyed our network of retail buyers to better understand why certain products get on shelves over others and how we can empower CPG brands to stand out in the ever-changing, competitive market.
Our network of buyers belong to some of the biggest retailers in the game: Target, UNFI, KeHE, Walmart, Sam's Club, Costco, and Big Lots, to name a few. 900+ retail buyers from 175 retailers were included in our research efforts.
This report details:
Past and current challenges impacting the global supply chain
2022 Retail Industry Outlook
Qualities retail buyers look for when selecting suppliers
Impact of COVID-19 on retail
Out-of-stock opportunity available to CPG brands
Importance of a Trusted Logistics Partner
---
The Essential Guide to Retail Logistics

Ensuring your brand's product gets on a retailer's shelf on time is critical to success. Missed, damaged, and delayed shipments all impact not just a retailer's desire to stock a product, but also erodes consumer trust if they can't get it as expected.
And while there are plenty of logistics companies out there that can ship products to retailers, not all of them are created equal. A truly customer-facing, non-asset based logistics company will not only handle shipping, but also work with brands on optimized scheduling, warehouse locations, and retailer delivery negotiations.
Zipline Logistics partnered with New Hope Network to create "The Essential Guide to Retail Logistics."
This joint ebook details: 
How COVID has impacted logistics costs
Why logistics is becoming a point of differentiation for CPG brands
Improving on-time deliveries
Optimizing retail deliveries
Greening your supply chain
Generating and leveraging logistics data
---
The 5 Best Practices for a Changing Retail Industry
Retail has undergone a rapid transformation over the past decade, which has only increased in intensity following the arrival of COVID-19. Resultantly, CPGs must keep up with what is happening with their most important customers in order to stand out from their competition and cement buyer relationships.
CPGs should familiarize themselves with the state of retail, as well as the competitive landscape of their own space to better solve the retail supply chain equation and stand out from their peers.

This ebook details:
Why competition for shelf space is so fierce
How COVID has changed how shoppers are connecting with retailers and brands
What's at stake when delivering to retail customers
How your organization can wield its supply chain as a competitive differentiator
The best ways to optimize your supply chain for retail delivery
---
Using Data to Drive OTIF and Retail Compliance Success
Data is all around us. Businesses everywhere are putting it to use.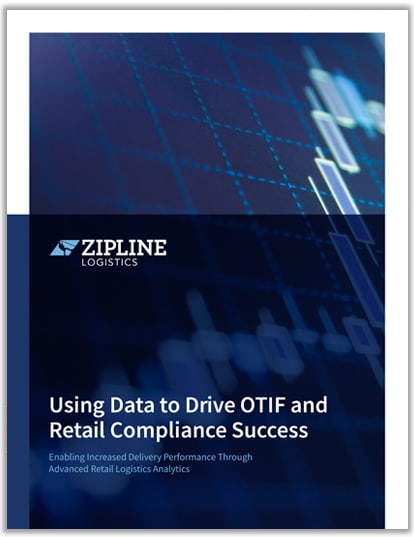 But its importance in logistics is particularly pronounced. Especially, when used to examine delivery performance at retailers with compliance standards like on-time, in-full (OTIF) programs.
It is critical, for your long-term success, that your brand meet customers' delivery expectations. The most effective way to do so and maintain retail relationships is by leveraging logistics data insights.
This ebook details:
What logistics data is and how you can manage it
How to use data to examine past performance at retail receivers and make future improvements
Data's place in the supply chain
An effective data program can increase efficiency while cutting costs
How analytics can help you identify efficiencies and improve logistics performance
The proper mix of automation and human touch in transportation
---
10 Things to Do After Landing Retail Shelf Space
You have a new retail customer – Congrats! But what happens next? How do you successfully get your product there? What do you need to know about the relationship you've just entered? And how do you ensure it remains profitable?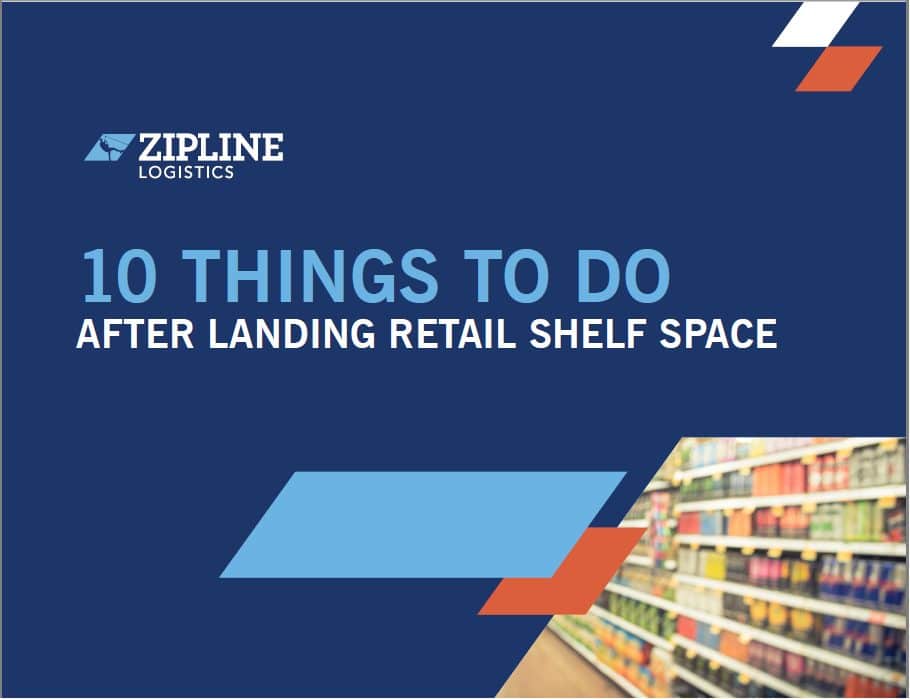 This ebook details:
Retail buyer preferences
Retail compliance standards
Optimizing minimum order quantities
Transportation cost considerations and best practices
Leveraging data to optimize operations
Large stores have very specific ways of working with vendors. Enter the relationship prepared and you're more likely to succeed.
---
Your Complete Guide to Costco Shipping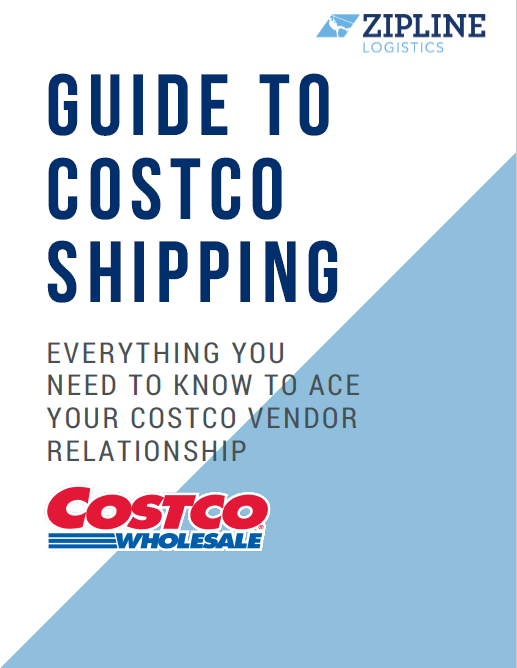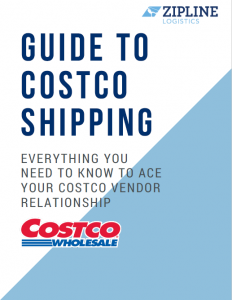 Costco is strict when it comes to delivery standards and failing to meet guidelines can lead to damaged customer relationships. In this comprehensive guide, we cover everything you need to know about shipping to Costco.
This paper covers the following:
What Makes Costco Different
Pallet Configuration and Why It Matters
Set up with Rework Facilities
Scheduling Costco Appointments
What Happens When You Miss a Due Date
How Consolidated Orders Work at Costco
Modes of Choice for Costco
How to Ace Costco MVMs
Customer Pick-up Vs. Delivery
Added Efficiencies for Costco Shipping
How a Specialized 3PL Can Help
Download and be armed with all the information you need to ace your vendor relationship.
---
Customer Pick-Up vs. Delivered Pricing: What's Best for Your Transportation Strategy and Spend?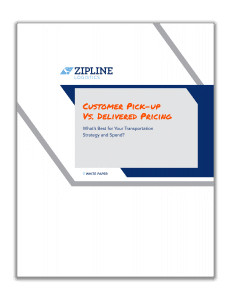 Consumer product manufacturers face an important decision when working with big-box retailers; how to arrange for delivery.
Should you let a retailer pick up your product, or arrange and pay for the transportation yourself? The most cost-beneficial answer isn't always obvious.
This paper includes:
Definitions for Customer Pick-Up (CPU) vs. Delivered pricing
Explanations of theory and strategy behind making this decision
Real-world examples that showcase where each model is beneficial
An equation for CPU vs. Delivered pricing analysis
Download to learn more about this important decision and how to determine the best strategy for your logistics operation.
---
Cold Chain Shipping: Mitigate Risks, Reduce Spoilage and Save Money

Take control of your temperature-controlled shipping.
This ebook was written to help shippers gain a competitive edge through better outcomes in temperature-controlled transportation.
Download your free copy and find information on: 
Features and benefits of temperature/humidity monitoring devices
Cold packaging design considerations and R-values for insulated container systems
Best practices for loading refrigerated cargo
Refrigerated trailer/container inspection checklist
Temperature-controlled shipping doesn't have to be overly complicated. Follow the tips outlined in this whitepaper and get ahead of potential risk and added costs.
---
Why You Should Consider Adopting an Intermodal Ground Shipping Strategy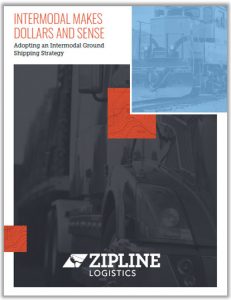 On the fence about intermodal shipping?
If you've ever considered shipping via rail but don't know where to start, this paper can help.
Download your free copy and you'll gain access to information on:
The state of today's intermodal market
Misconceptions about rail, debunked
Overview of recent network improvements and technological advancements
Drivers behind the growth of intermodal
Advantages to moving via rail
Adopting an intermodal strategy can help you not only cut transportation spend but reduce environmental impacts. This paper answers any questions you may have about getting started with rail.
---
Uncover New Savings in Your Supply Chain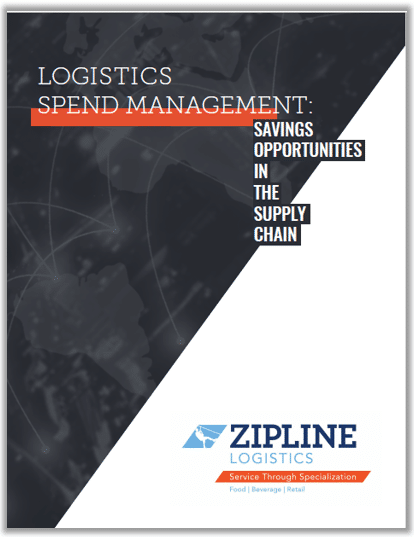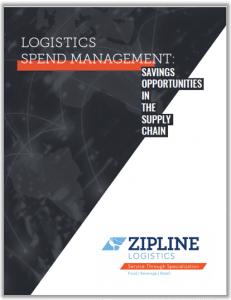 With freight rates at an all-time high, finding ways to reduce your transportation spend is pivotal to business success.
Download your free copy of Logistics Spend Management and you'll learn how to:
Gain visibility into your supply chain spending with a six-step logistics spend analysis
Improve internal processes around the main drivers of transportation costs
Identify and leverage untapped supply chain savings opportunities
This free guide is designed for business owners and supply chain decision-makers who want to achieve optimum logistics performance. At Zipline Logistics, we help our customers ship smarter, faster, and cheaper, and this resource is an extension of our commitment to helping shippers achieve best-in-class results.
Download Logistics Spend Management and take the next step toward supply chain excellence.