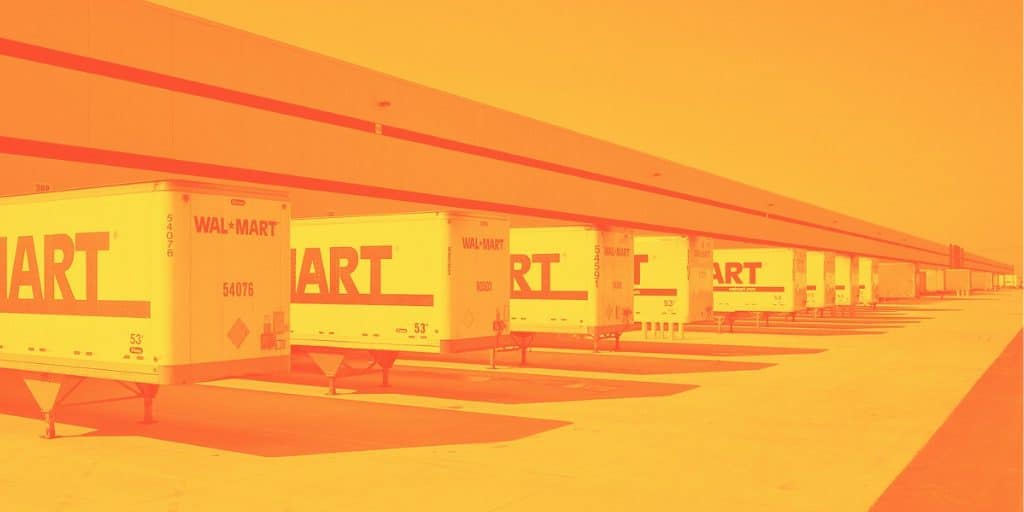 December 2, 2019
Technology and communication enhancements help to streamline national supply chain and improve on-time delivery.
THE SITUATION – Soda Brand Sought More Efficient Approach to PO Fulfillment for On-Time Delivery
Fulfilling customer purchase orders and hitting retail metrics like Must Arrive by Dates (MABD) and On Time, In Full (OTIF) requirements becomes nearly impossible when the proper SKUs aren't on hand. If the right product mix isn't on site, ready to go, customer POs must be revised, delayed, or short shipped.
A growing national beverage brand learned this lesson first hand. The company grew extremely fast and struggled to consistently meet retail compliance standards due to a complex national footprint and unreliable transportation partners. Their previous 3PL was consistently late to pick up scheduled transfers, was dropping orders, and not communicating delays or offering solutions.
The brand's logistics team knew there was a more efficient way to handle their customer PO fulfillment. Rather than relying on expensive quick-fix solutions, like expediting freight or short shipping orders, they decided to look deeper for new ways to improve their operations from the inside out. Part of this overhaul effort included seeking a new logistics partner that understood the importance of proactive communication, visibility, and retail compliance.
THE SOLUTION – Adjustments to Due Dates, Enhanced Visibility, and Improved Communication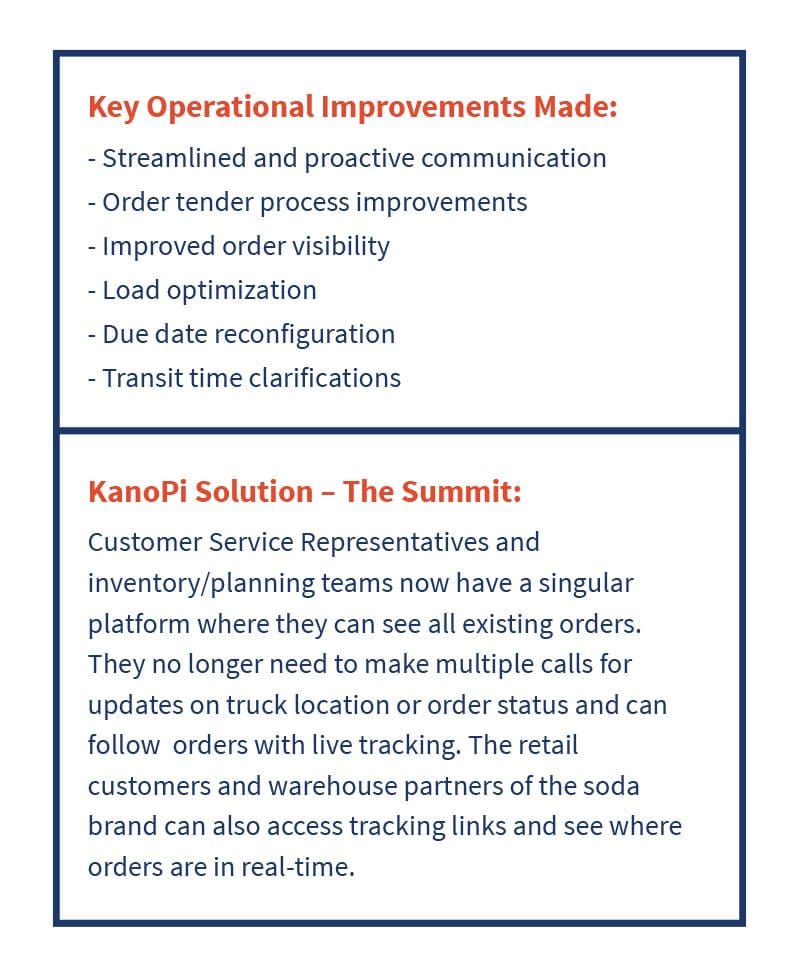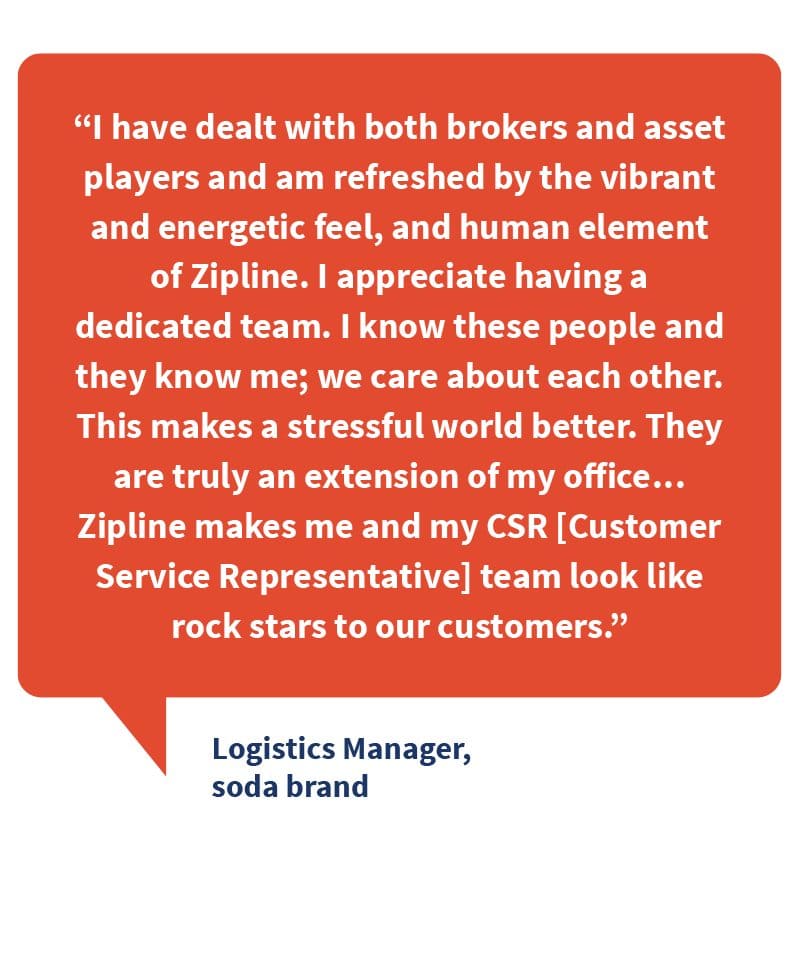 Zipline Logistics answered the brand's call and took aim at improving their on-time delivery performance. The 3PL began by looking at the brand's internal supply chain, evaluating on a macro level and identifying numerous opportunities to enhance efficiencies.
With existing knowledge of retail networks, Zipline was able to identify which POs needed to be prioritized and which could be adjusted. Zipline worked directly with the soda brand's customers to shift due dates and uncover critical details. By improving clarification on critical orders and drop-dead due dates, Zipline helped establish more strategic and reliable transfer schedules, adjusting  shipping cadences on transfer and production runs.
Previously, the soda brand was processing 50+ pickups a week, Monday through Friday. This led to dock congestion, delays, as well as missed pickups and deliveries. Zipline coached the customer to optimize dock hours, extending loading capabilities to the weekends when necessary, helping to spread out pickups. This led to easier scheduling and fewer missed orders. By optimally adjusting appointments, freight became more attractive to carriers and the beverage brand was able to access more reliable capacity.
Zipline also stepped in where communication between facilities could be improved. If a truck was running behind, even if less than an hour late, warehouses and all involved parties were updated in advance so staged product could be reworked. In addition to proactive communication, Zipline's technology KanoPI allowed customer service reps to follow along with orders while in transit so they could see if a shipment was running behind and act accordingly.
THE OUTCOME – On-Time Delivery Performance Improved by 17%
Zipline brought smart technologies and seasoned retail logistics professionals to the table, helping the soda brand regain control of their supply chain, and ultimately their customer deliveries.
The brand's on-time performance improved by nearly 17 percent. With Zipline's guidance, facilitation of appointment flexibility, order visibility, and cross-departmental communication, the soda manufacturer was able to better service customers and improve relations with retail buyers.
Acting as a true partner, Zipline's improvements stretched throughout the company, impacting not only the brand's transportation department but its inventory, procurement, customer service, accounting, and sales teams. Zipline proved to be more than just a trucking partner, sharing its deep knowledge of retail operations and transportation best practices.
Inventory personnel can now rely on product transfers to run on-time, and customer service representatives can rest assured that service failures will be the exception, not the norm, and handled effectively.
The soda brand can now refocus on increasing sales and launching new products, instead of fixing unnecessary transportation problems.
—
Retail Buyer Insights


Retailers have increased their expectations of brands' delivery performance to combat stockouts, slamming late arrivals with fines to improve on-time and in-full delivery. Fees piling up aren't the only problem brands face when they can't meet expectations. One retail buyer told us, "If a supplier is out of product, it will be replaced with a competing brand."

For more juicy tidbits revealed by Zipline's 2022 Retail Buyer Report, click below.

Learn More