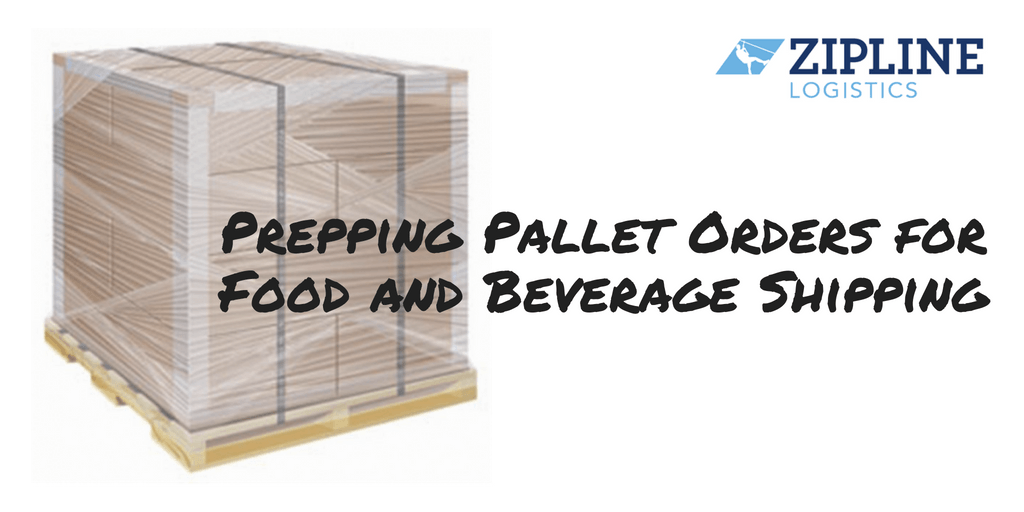 June 18, 2018
Graduating from shipping cases with UPS or FedEx to shipping pallets via LTL or full truckload is an extremely exciting milestone.
It can also be a bit overwhelming, taking on entirely new processes.
Perhaps palletized shipments represent your first sale to a major retailer, distributor, or wholesaler. Either way, it's a huge accomplishment for your company and it's essential you get shipping pallets right.
Here's a list of what you should consider:
How many of your cases will fit on a pallet?
How should you wrap and protect your palletized shipments?
How do you find the right carrier to move your product?
How to Build a Shipping Pallet
Start with a standard pallet (40×48 inches) that is in good condition with no signs of breakage or contamination.
Dimensions – Figure out how to arrange the bottom layer of your product by measuring your cases and dividing by the width and length. Here's a free pallet builder that will help you out.
Include a layer of anti-slip paper between the pallet and your boxes. Once you have the first layer, you can either stack directly on top or rotate the layer so it's staggered.
The general rule is, heavy items on the bottom, larger boxes to the outside, and fill in with smaller boxes. Evenly distribute the weight, and avoid spaces between boxes. Proper positioning helps avoid compression damage.
Overhang – Avoid having any product overhang the pallet. Overhang causes up to a 30% loss of compression strength and exposes packages to damage from contact with equipment and other loads.
Shape – Avoid placing smaller boxes toward the top of the pallet, causing the stack to narrow as it gets taller. This pyramid shape can compromise the structural integrity of your stack. Build a cubic shape with a flat top for optimum shipping.
Height – Most LTL trailers have clearance for pallets that measure 96" high. Staying at or below this height will provide access to a wider selection of carriers and lower costs.
Staying within height requirements helps facilitate stacking and easy loading. If pallets have obscure dimensions, they are difficult to maneuver and don't allow for optimal use of space. If your pallets are too tall, you may experience service issues, transit delays, and added charges.
Weight – Additionally, the average forklift can carry 4,000 lbs. at a 24" load center and 2,666 lbs. at a 36" load center. Be sure to stay within the weight requirements set by your partners.
Many retailers have specific guidelines that you'll need to follow. For example, Costco requires that pallets be no taller than 58″ and must not exceed 2,500 lbs. Be sure to confirm these details in advance.
Wrapping Guidelines for a Shipping Pallet
Wrapping: Wrapping your pallet is essential for keeping product in place. Goods can easily shift in transit, which can cause product damage, rejected orders, added charges, and major headaches.
Tips for added stability:
Corner boards (cardboard that goes on each corner) can be used to protect your product from being crushed inward and to further reduce shifting.
Corrugated pads can be inserted vertically between cases to help keep goods in proper position during transit.
Straps or bands can be used for additional stability. Reusable cloth or metal options are available, but disposable plastic straps are most common.
Corrugate can also be placed on the top of the stack to prevent damage from tie-down straps.
Once secured and properly stacked, use either a strong PVC or polyolefin plastic to wrap your pallet. Heat shrink bags are also a great option.
Pallets should be wrapped at least 3-4 times around and wrapping should go all the way down to the floor. This includes wrapping around the pallet itself. By wrapping the pallet together with the product, you reduce the risk of shifting in transit.
To protect against sideways shifting, you can also execute "butterfly" wrapping. This includes going around and underneath corners after initial wrapping for maximum security.
We recommend having your warehouse partners stack cases and wrap shipping pallets on your behalf for best results.
Paperwork: You must include all the proper information with your shipment.
This includes details such as, where the order is picking up from, where it's going, contact information, a Purchase Order number (PO), and the correct information on which company the carrier should be billing. Here is a standard form you can reference.
Additionally, your carrier will require a Bill of Lading (BOL). Many carriers have downloadable templates available, but you can also supply your own BOL as long as all the required information is included. The BOL serves as an official document and as evidence of the agreement between the shipper and the carrier. Every shipment requires one.
If your product cannot be stacked, put "Do Not Stack" signage on all four sides of the pallet that make instructions clear to the carrier. Also communicate this detail with your partners for confirmation.
Finding the Right Carrier for Your Shipping Pallet 
Finding the best carrier to move your product can be difficult. You can source multiple trucking companies on your own, comparing prices and service levels, or work with a 3PL like Zipline Logistics who can do the legwork for you.
If moving 1-10 pallets, under 19,999 lbs., you'll likely want to leverage less-than-truckload (LTL shipping). You should also consider full truckload shipping or order consolidation if you have more than 5 pallets. There could be price/volume breaks available.
Choosing the best possible mode is something an experienced 3PL partner can help counsel you on. They can evaluate pricing and service differences and direct you on best practices based on your needs and goals.
Pallet pricing depends on a wide range of factors, including:
Pallet weight
Pallet count, volume
Product type, freight class
Point of origin
Destination
Any special requirements
Shipping Pallets 101
Shipping pallets rather than cases is a big accomplishment for any CPG brand. You're moving larger volumes, earning more revenue, and expanding your brand reach.
But shipping pallets comes with new processes and considerations. Lean on your warehouse and transportation partners for proper staging, wrapping, and mode optimization. They can teach you best practices and help ensure your product gets to its destination on time and undamaged.
—
You May Also Be Interested in Reading…