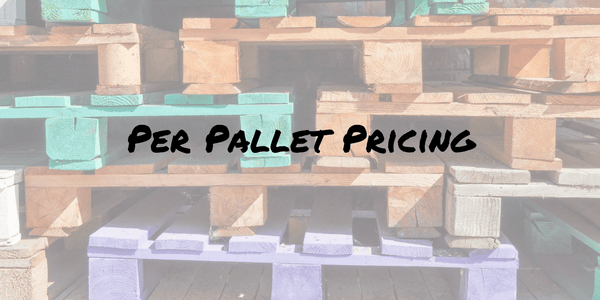 November 30, 2017
Flat-rate pallet shipping is not unlike flat rate parcel shipping. Both programs aim to alleviate shipping complexity by removing steps from the traditional quoting process.
You are likely familiar with the Priority Mail Flat Rate program from USPS. Their flat rate pricing eliminates the need to weigh personal packages or calculate shipping fees. If your goods fit into the envelope/box and it weighs less than 70 lbs., you are good to go. Pricing is instead determined by the standard package size and not by the weight or distance the package is traveling.
This increased level of efficiency is available for large volume shippers, too.
Let's look at an example…
Per Pallet Shipping Pricing Example
A current Zipline Logistics customer was repeatedly running the same lane for one of their buyers, requesting pricing from our office each time they had to fulfill the order. Sending them back the same (or very similar) LTL freight quote each time, we identified a mutually beneficial opportunity to cut down on processes to save both time and money.
Zipline worked with our network of carriers to establish per pallet pricing that fit with the customer's specific order parameters.  We settled on pricing that covered skids weighing 2,100 lbs. or less, traveling within a 30-mile radius from the shipper.
We then delivered a "cheat sheet" to the customer that spelled out per pallet pricing for 1-5 skids on their regular lanes. Now, they can decide whether to send orders over without the need to request new quotes.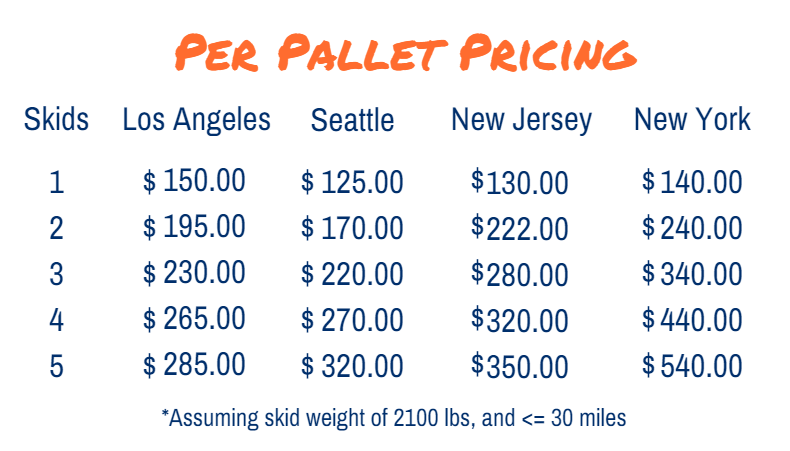 NOTE – pricing from early 2017 and not reflective of current transportation rates.
Logistics Communication Efficiencies
It is cumbersome to ask for freight quotes again and again on similar orders. Pricing doesn't fluctuate significantly, and time is wasted going back and forth with providers. By establishing per pallet pricing, involved parties can streamline communication and save time.
Additionally, LTL quoting can be complex and typically includes fluctuations based on commodity type and shipment weight. A small change could result in the need to completely requote an order.
Establishing per pallet pricing for specific parameters eliminates the need for requoting, reweighing, and other repetitive parts of the freight shipping process. Instead of daily quote requests, quoting need only take place during review periods or when a major change occurs.
Benefits of Flat-Rate Pallet Shipping and Flat-Rate Freight
Less time spent on quoting
Pricing consistency
More efficiency for all parties – shipper, carrier, 3PL
Pricing made available to other departments (ex: sales)
Improvements to overall service
When to Consider Flat-Rate Freight and Per Pallet Pricing When Shipping a Pallet 
Looking to quote your LTL orders?