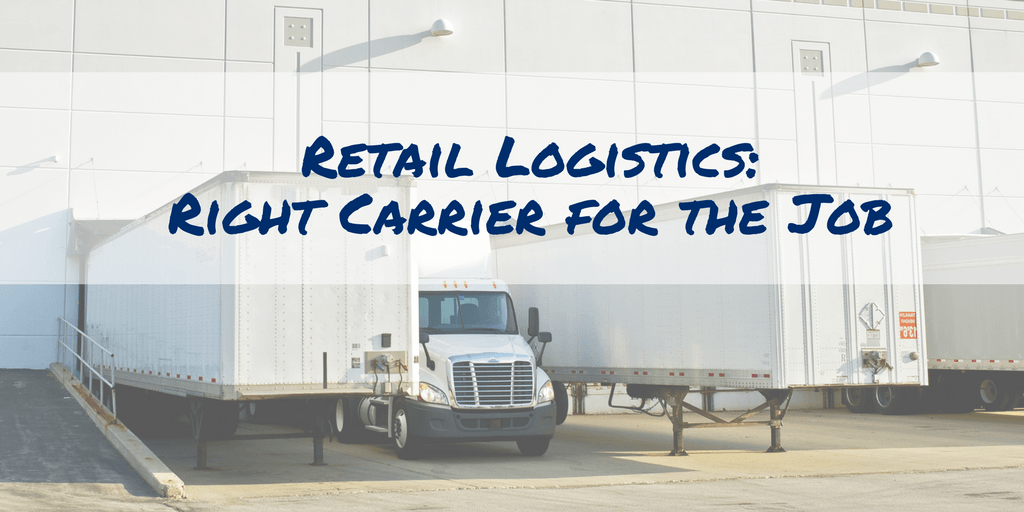 March 12, 2018
When launching a relationship with a big-box store, it's essential that brands understand the implications of using a preferred carrier or "the right carrier for the job."
If using the wrong trucking company for a certain region, route, or customer, brands can end up dealing with delivery issues, upcharges, and unnecessary frustrations.
This fact is little known to newer shippers. It is a common misconception that if a carrier provides a quote for an order, they can deliver on shipment needs. Unfortunately, shipping into retail or grocery distribution centers isn't as easy as calling any carrier and booking an appointment.
Let's look a little deeper into booking "the right carrier for the job."
Hitting MABDs with a Preferred Carrier
Retailers set strict Must Arrive by Dates (MABDs) for vendors in order to best manage their own inventory levels. If a vendor misses this MABD and is late, they are charged a percentage of the total value of the shipment. Zipline Logistics has seen fees as high as $3,500-$5,000 for a shipment being late.
Using "preferred carriers" can help avoid this negative situation. Retailers tend to work with certain carriers more often than others, particularly when it comes to less-than truckload (LTL) shipments. Some LTL carriers go into large retail and grocery facilities daily, others go once a week. Those that go more often are referred to as preferred carriers.
Having a more regular cadence at certain DCs, these preferred carriers can help brands more easily meet strict MABDs, provide better service, and can better deliver on retailer-specific demands.
Where 3PLs Add Value in Retail Logistics 
Knowing which carriers operate most frequently at each DC is something a specialized 3PL partner can help you with. They will have experience with the facilities and can secure a preferred carrier or the best carrier for the job.
Here are a few other examples of how else a 3PL can help manage retail deliveries…
Volume and Multiple DCs
There are simply too many DC'S for one group of carriers to serve every location. So, if a vendor must ship to 8 different DC's, they will require multiple carrier relationships. To truly build appropriate capacity, a vendor may need to utilize as many as 25 carriers to service all 8 DCs.
There is a great deal of time spent securing efficient capacity and building carrier relationships for each region shipped to. This is an ideal situation to engage a 3PL who already has tens of thousands of carriers in their network and is built to manage this exact scenario.
A knowledgeable 3PL can help a vendor overcome capacity issues, leveraging their large network of vetted carriers. They can also keep tabs on preferred carriers and delivery schedules in multiple regions, helping their shipping customers meet deadlines and avoid upcharges.
Rates Vs. Total Cost
Many shippers only look at the cost per invoice and try to secure the cheapest carrier every time. However, choosing the cheapest truck rarely means going with a preferred carrier, and could mean multiple delivery issues and sizable chargebacks.
3PLs charge a nominal fee to manage freight and retail relationships on behalf of vendors/shippers. This fee is extremely small when compared to the efficiencies achieved with the 3PL, chargebacks avoided, and issues averted.
Other Transportation Options
Due to the intricacies of LTL shipping into retail and grocery DCs, some brands may choose to use a different mode altogether. Zipline helps clients do this with consolidation and multi-drop order programs. Rather than shipping small pallet orders independently with LTL, a brand can load one full truck with multiple orders and follow a route that lets them drop of orders in progression.
When booking a full truck, there are no other shipments or schedules intertwined with yours. This means that the truck can more easily meet your MABD and provide better service overall.
—
A lot of work goes into starting and managing a retail relationship. This only gets more complicated as a brand's footprint expands and they go into more DCs or are subject to multiple retailer requirements.
Do you need assistance with a new and/or existing retailer relationship?
Contact Zipline Logistics Today