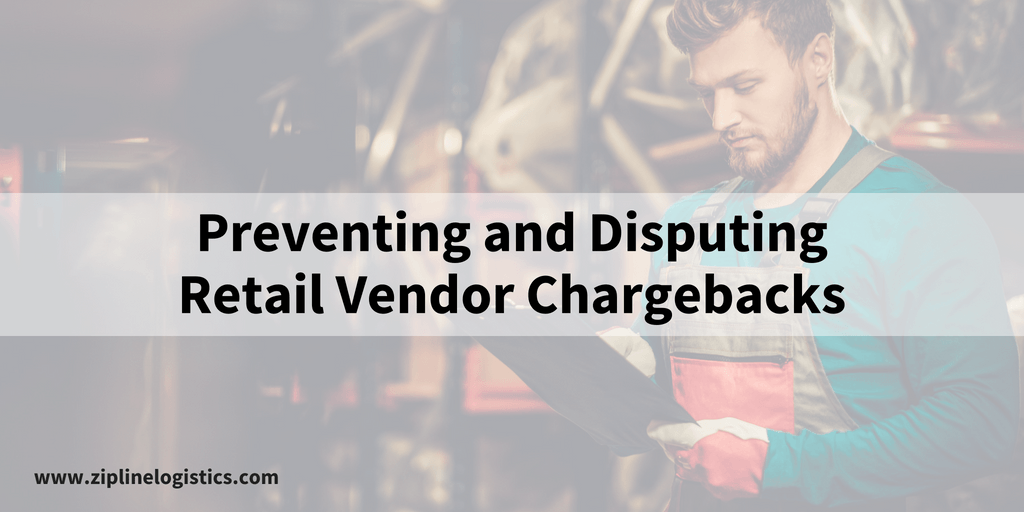 August 20, 2018
What are retail chargebacks? Chargebacks are penalties or fees that are issued by retailers when vendors fall out of compliance. But often these fees can be disputed if you have proof of adherence. So, how do you prevent and dispute retail chargebacks?
Let's look deeper…
Being non-compliant could mean a multitude of things, but the most common reasons are tied to mislabeling, early/late delivery, and incomplete orders. Read more about the top reasons for retail chargebacks here.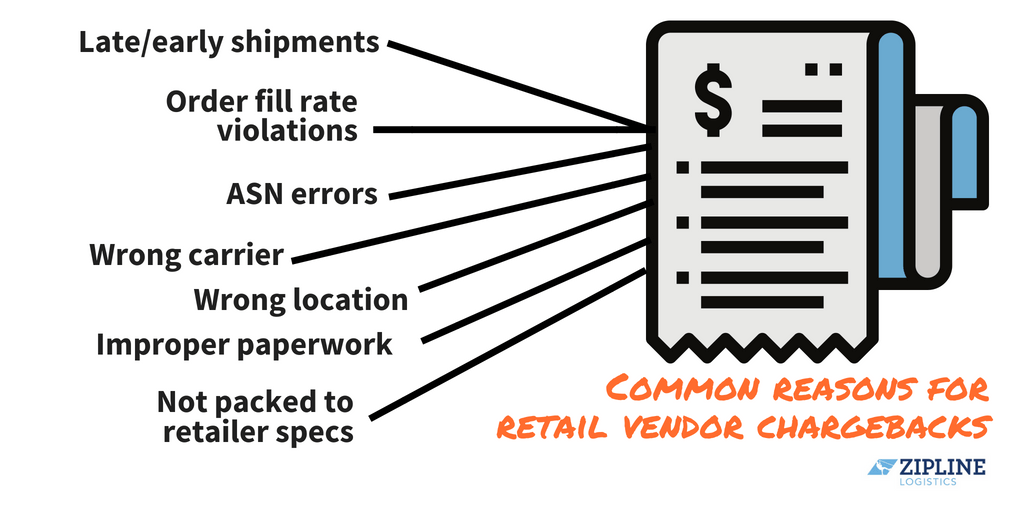 Vendor chargebacks can sometimes be based on incorrect or incomplete information. Retailer systems are highly automated, so situations can be flagged for chargebacks when they aren't warranted. Thankfully, rulings can be overturned if you have sufficient proof. This is the best case scenario when looking to dispute retail chargebacks.
We recommend that you put systems or standard operating procedures (SOPs) in place to prevent vendor compliance chargebacks. This includes documenting key information, auditing billing, monitoring issues, and taking quick action.
Ways to Prevent and Dispute Retail Chargebacks
Communicate standards:
Get ahead of potential retail chargebacks by sharing compliance parameters with your warehousing and transportation partners. With no leniency on must arrive by dates (MABDs) you can't risk the potential for order rejections. Provide your partners that handle order packaging and transport with clear specifications and instructions. Providing detailed directives enables your 3PL to catch issues before they occur.
We suggest providing five digital pictures or diagrams of a perfect order:
Dimensions and imagery of inside the trailer or truck
Singular pallet with proper dimensions, stacking, and wrapping
Row of product and dunnage
Trailer halfway loaded with dunnage
Trailer fully loaded with dunnage
Know your mode:
Hitting MABDs and avoiding vendor compliance chargebacks can be highly dependent on your mode of transportation. For example, LTL carriers operate differently than full truckload, setting their own appointments based on tariffs with depots. These agreements dictate if orders are drop trailer, through an interline carrier, or live-unload by appointment. Knowing this in advance will help you prepare or evaluate if dedicated transit is necessary to meet your due date.
Pre-deduction notifications:
Some retailers offer pre-deduction notifications to alert suppliers of compliance violations prior to bill alteration. With this heads-up, suppliers can investigate a specific violation and rectify before it happens again. If you're unsure whether your buyer(s) offer this, just ask for clarification.
Quantify and audit your retail chargebacks:
You'd be surprised at how many brands don't quantify the total cost of vendor compliance chargebacks or comb through their invoices to identify possible billing errors.
When auditing doesn't occur (and pre-deduction notifications aren't given) a company could be paying for the same error again and again. For example, if chargebacks are due to missing information on a label, the company could continue to send flawed paperwork with every shipment, racking up penalties. Look at your data to find patterns and to understand what errors are truly costing you.
Save appointment requests:
Delivery appointments at large retail facilities fill up quickly. It's essential to book deliveries far in advance. Alas, even if you reach out weeks before your MABD, you still may not get an appointment that works. Buyers and depots work independently and on their own schedules. Document your communication with the depot and share with your buyer. They may be able to change the MABD, or in the least, you have proof that late delivery is not your fault.
Keep detailed documentation:
You need sufficient proof to dispute retail chargebacks. Utilize time-stamped EDI records, signed BOLs, photographs, and other forms of documentation to make your case. Be diligent and consistent with information tracking. This simple step could save you thousands of dollars in back charges.
Address EDI issues:
EDI technology has been around for 20+ years and is a staple for retail communication. Invest in the proper EDI systems or find a quality way to outsource. This will help with documentation and improve your information accuracy, both of which are essential when working to dispute retail chargebacks or any compliance issue.
Provide more notice time:
The best way to ensure on-time delivery (and no chargebacks) is to provide as much notice (7-14 days) as possible to your 3PL. With more time, your partner can find the best carrier possible, whether that is guaranteed LTL, partial, freight share, or moving via dedicated truckload, depending on the size of the order.
Help with Retail Chargebacks
Over 90% of the shipments handled by Zipline Logistics' go into a retail or grocery depot. We have a strong pulse on the vendor compliance standards set by all the major retailers and are continuously monitoring and updating our records of requirements and routing guides. Additionally, our network of carriers is heavily vetted to include only those who are suited to meet retail timelines and standards.
But when issues do arise, which is unfortunately bound to happen in trucking, Zipline Logistics is happy to step in and aid with chargeback dissolution. Our detailed freight records, timestamps, and tracked communication can be leveraged as proof for dispute. Similar to Zipline's claim management protocols, we can also get involved as a mediator when necessary.
Do you need help with retail or grocery shipments?