July 17, 2017
You may have heard your logistics partner, truck broker say that providing more notice days or shipping lead time could help lower costs. But how?
To put it simply, the more time a third-party logistics provider (3PL) has to book a shipment, the more leverage they have to:
Negotiate freight rates
Find savings or efficiency improvements
Secure top providers
Schedule ideal delivery times
On the other hand, when working to book a truck for next-day delivery, capacity is tighter, prices are usually higher, and fewer delivery options are available.
On top of these basic principles, more time between order tender and order pickup enables your logistics provider to play more of a consultative role. Rather than reacting to a request, they can dig into the potential for more cost savings and efficiencies. This could include suggestions to switch from truck to rail, try new order consolidation techniques, and/or switch up network configuration.
Shipping Lead Time Benefits
Lower rates
More capacity
Preferred carrier availability
Access to ideal delivery appointment times
Higher service levels
Better on-time performance
Fewer surprises
More control over expenditures
Possible identification of new savings and efficiencies
Lead Time Example: Impact of Notice Days on Transportation Costs
Let's break it down. Leveraging Zipline Logistics' KANOPI tool, our customers can easily see the pricing impacts that result from giving advance notice on shipments. Here's a use-case example.
When comparing performance and costs YoY, we can see on KANOPI that in 2016 the customer – a snack and beverage manufacturer – provided an average of 3.07 notice days on orders, and in 2017 they provided an average of 5.28 notice days.

How did this change in shipping lead time impact transportation spend? KANOPI shows this as well.
Both average cost per skid and average cost per load went down significantly – between 15-19%. With more time to book orders, Zipline Logistics could secure lower rates and identify more solutions, such as consolidation or different mode choice, for historically more expensive loads.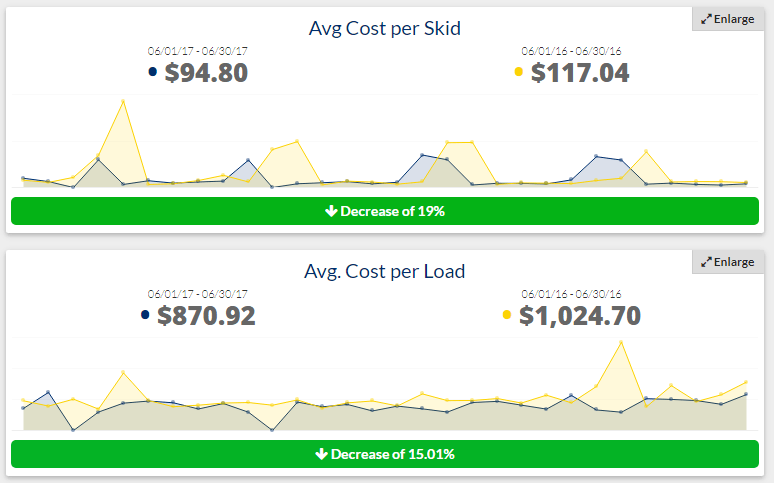 On-time freight performance also increased to 99.27%, although it was already high at 98.57%. With more shipping lead time, Zipline Logistics could book preferred carriers on orders and offer even higher levels of customer service.

Logistics Lead Time and Spot Market Explained
Here are a few examples of different ways that customers book orders with Zipline Logistics, each showcasing different lead times. No one way is wrong or right, but each will result in different pricing.
Sends weekly orders over to Zipline Logistics, usually with 5-7 days lead time. This enables our team ample time to secure capacity at a negotiated rate with trusted carriers. Prices could change slightly week to week, based on market conditions and receiver locations, but service levels will remain high and predictable.
Orders are requested for next-day or same-day delivery. Typically, preferred carriers are already booked on other shipments when given this little notice. The load can go out to the spot market and be bid out individually to available drivers. The shipment can still be moved, but at a costlier rate and with sometimes less reliable carriers.
Sends orders two months in advance, with the same shipments reoccurring every week. This clear predictability enables our team to lock in lower contracted rates with preferred carriers. This means that costs never change and the shipper can be sure there will be no surprises.
In example 1, there is an equal mix of control between parties. Without contracted rates, both parties are subject to market drivers. But with a week's worth of lead time, there is enough wiggle room for ideal partners to be leveraged, preferred times to be booked, and negotiations to be made.
In example 2, the shipper is doing everything on a transactional stage and is essentially gambling with rates. Shippers can sometimes get better pricing this way if the market is soft, but there are a lot of unknown variables and most often they end up paying more when leveraging the spot market in this way. Carriers have more control in this scenario because they know the shipper needs their product moved, and fast.
In example 3, the shipper has full control of their transportation spend. Sometime earlier in the year, they likely sent out a bid, then locked-in rates with specific carriers and brokers. Those rates are contracted for the year and the shipper can avoid potential market spikes. Unfortunately, this level of planning is not available to all shippers, and the majority must play the market to some level.
—
Do you have questions about leveraging the spot market, shipping lead time, and/or transportation scheduling best practices? Our logistics consultants are happy to help!
—

Logistics Spend Management: Savings Opportunities in the Supply Chain



Looking to reduce your transportation spend? Check out our eBook for advice on how to identify untapped logistics savings opportunities.


Download