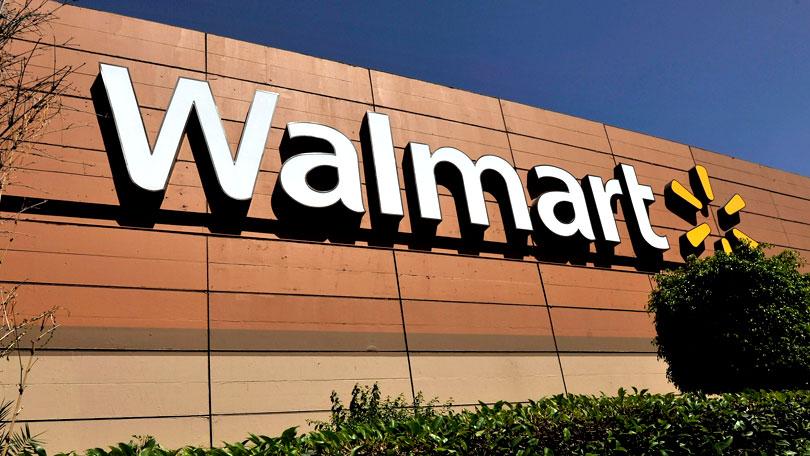 September 1, 2018
Most Recent Update to Walmart OTIF 2020
The retail giant has once again made changes to its OTIF supplier compliance program. Check out the latest information here:
Walmart OTIF Requirements for Suppliers Increases to 98 Percent
Walmart has changed their vendor guidelines and scorecard parameters a few times in recent years. They went from requiring a four-day shipping window in 2016 to a two-day shipping window in 2017 and a no-day shipping window in 2018. They have since relaxed rules to allow carriers to deliver one day early (as of April 2018).
These initiatives are put in place to ensure shelves are stocked with wanted products and to reduce overstocked inventory. Early, late, or short orders can all be fined. There is no room for error to avoid Walmart chargebacks.
Download: Using Data to Drive OTIF and Retail Compliance Success



Download the free white paper to learn more about how data can be used to reduce logistics spend while improving supply chain performance. It is critical to leverage transportation analytics to get the most out of your operation. In this ebook, you will learn how data can be used to identify efficiencies and make logistics improvements.


Learn More
Zipline Logistics attended Walmart's On-Time, In-Full (OTIF) compliance training and is here to share main points and best practices.
Why is Walmart So Strict?
Chalk it up to underperformance and increasing competition. Bloomberg reports that "OTIF scores for Walmart's top 75 suppliers had been as low as 10 percent. And not one had reached the 95 percent long-term target."
If Walmart doesn't have product on the shelf, shoppers look elsewhere, with a large portion switching to ecommerce. It's not just the potential loss of a single sale, but of an entire customer.
OTIF Calculation for On Time In Full
The equation itself is rather simple; the number of cases received within the delivery window, divided by the number of cases ordered. Here is an example: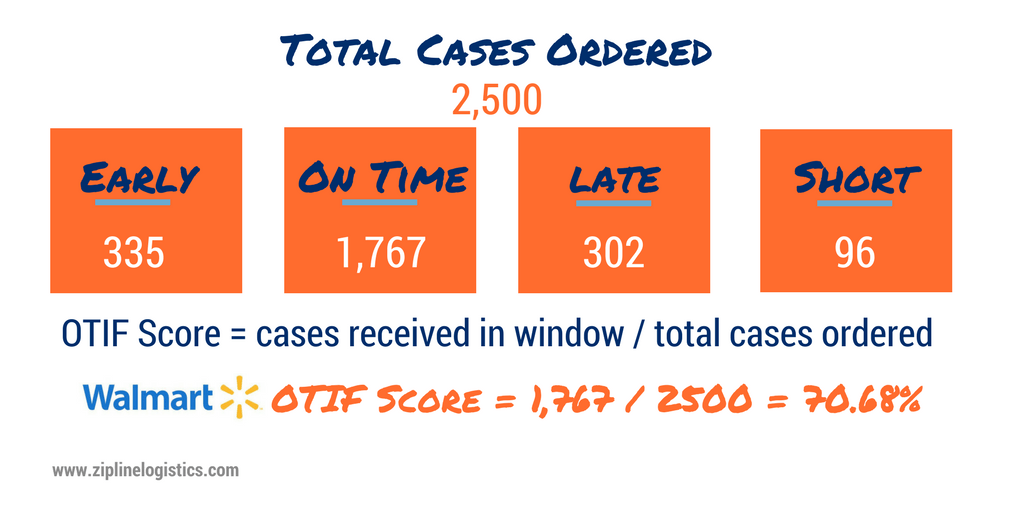 OTIF Walmart Guidelines
Supplier OTIF scorecards for Walmart will look at:
Were any cases early or late?
Did you deliver on the entire PO (in full), or was it partial?
Of the cases ordered, were any underfilled or overfilled?
It's important to note that there are different requirements for full truckload and less-than truckload orders. Additionally, performance is evaluated and fines are issued monthly, not quarterly.
OTIF guidelines for full truckload (FTL)
FTL suppliers are required to deliver orders 100 percent in full, on the must-arrive-by date, 95 percent of the time
Cases that are non-compliant or missing will incur a fine of 3 percent of their value, this includes early shipments because they create overstocks
OTIF guidelines for less-than truckload (LTL)
LTL suppliers are required to deliver orders 100 percent in full, on the must-arrive-by date, at least 36 percent of the time
If OTIF was at or above 36 percent in August 2017, then the supplier must have a 20 percent improvement
Invoiced monthly 3% COGS (cost of goods sold) of non-compliant cases that fall within the supplier's accountability
OTIF Action Plans
Walmart now requires suppliers who don't meet these guidelines to submit an "OTIF Action Plan." Shippers have to document the steps they plan to take to bring their performance up to Walmart's standards. If OTIF goals are not accomplished and improvement plans not met, items are at risk to be pulled off the shelf.
Disputing Walmart Fines
Walmart says they will not consider any shipping disputes if they decide the problem was the fault of the shipper. Commercial Carrier Journal reports that "if the shipper is at fault, they'll be responsible for absorbing the 3 percent fee. If the carrier is responsible for the load being late, early or mispackaged, then they'll be hit with the fee."
Important to note, the weather is not a viable reason for delays. Shippers must pay attention to forecasts. If bad weather is on the horizon, shippers must take steps to prevent against interruptions. Walmart will not recognize weather delays as exclusions and will still fault the supplier with a fine.
8 Tips for Meeting OTIF Logistics Requirements
If you are not already in compliance, here are important steps to consider:
Understand that appointment scheduling will become more important than ever. Provide as much information and lead time as possible to your partners so that rejections or delays are prevented.
Ensure all your carriers and ship locations are aware of the newly established OTIF processes. Educating them on the stricter expectations will ensure they know the importance of being on schedule.
Talk to your production teams. Make sure they are aware of consequences and that absolute ship dates cannot be altered.
Remember, if your order changes, shippers must contact and update their buyers to ensure correct due dates and quantities are reflected in Walmart's scoring systems. This is not new but now has stricter consequences if not followed.
If you reschedule a delivery, be sure to ask or check if that new date/time falls outside of your MABD. Just because an appointment is approved, that does not mean it is compliant.
Having set ship dates and less variance in transportation can help you meet OTIF standards. Work to schedule contracted carriers and set transit days/times so that there is as little flux as possible.
If your Walmart orders are currently being routed with other freight, you may need to change up consolidation programs or routing and communicate clearer expectations to drivers and vendors to meet new, stricter due dates.
Work with a logistics partner who has a strong track record for on-time delivery to Walmart and other big-box retailers.
At Zipline Logistics, we take on-time delivery and order compliance very seriously. For our customers, Walmart's OTIF guidelines should be simple to meet. Our logistics consultants help customers not only hit deadlines but problem solve and identify business-wide opportunities for efficiencies and cost savings along the way.
Do you need help with Walmart deliveries? Reach out to Zipline Logistics today.
Contact Us for Help with MABD Compliance 
Other Articles You May Be Interested In Reading
Case Study: Solving for Walmart Vendor Guidelines
Freight Audit: Supplier Penalties and Accessorial Charges
Top Reasons for Retail Vendor Chargebacks
Sam's Club On-Time In-Full (OTIF) Program
Top 5 Logistics Challenges for Consumer Product Companies