Freight Visibility Platform for Shipment Tracking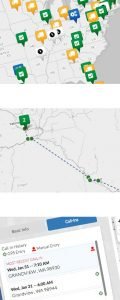 Never again wonder about the status of your order. Our freight visibility platform and shipment tracking tool, The Summit, provides Zipline Logistics' customers with illustrated real-time updates about the location and status of their orders.
At Zipline, we understand how important it is for CG companies to have constant freight visibility. No matter the product – food, beverage, apparel, or cosmetics – transportation managers must ensure on-time delivery and undamaged product. The Summit makes keeping tabs on your orders easy.
Our track & trace platform lets you follow the exact route your freight takes. The Summit directly transcribes information from Zipline's Freight Management System (FMS) and visualizes your order progression with our mapping software. Both GPS location pings and personal driver check-ins are shown so you are kept abreast of all order updates.
Freight Shipment Tracking Features | Freight Visibility Platform
Track multiple shipments on one central platform – future shipments, orders being worked on, in-transit, and delivered
Hover over any update point to see order status details
Click on any singular order to see a detailed listing of status updates
Ability to search by order number
Accurate time stamps let you know when each shipment will arrive