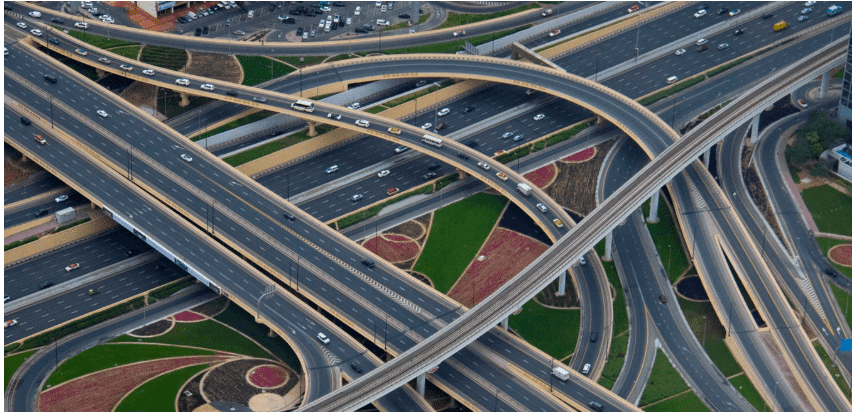 April 24, 2019
How are modern consumer product companies using transportation data analytics to find success? They're using technology to evaluate their vast amount of shipment data and increase transparency into their transportation network, identifying opportunities for improvement and cost savings.
According to an article published by Cerasis, "Big data has become synonymous with better business, improving efficiency in the supply chain, continually improving and innovation."
We agree, which is why we developed our own proprietary, easy-to-use web and mobile application equipped with critical transportation data analytics capabilities to help the organizations we work with see exactly how their logistics picture functions.
KanoPI Overview
Zipline Logistics' shipper intelligence software, called KanoPI, provides our clients insights into how and where they are allocating their transportation spend.
KanoPI displays an organization's key performance metrics in an easy to interpret manner. Pulling directly from our TMS, the platform provides insight into everything from Total Transportation Spend to Accessorial Fees and Cost Per Case/Piece, pointing out trends and anomalies along the way.
We've found that most small to mid-sized companies let their transportation data live in siloed departments or Excel spreadsheets. Yet when fed into our KanoPI platform, all departments – from C-suite to sales to production – can benefit from the insights provided.
By feeding these siloed data sources into a singular platform, the information can be interpreted to identify underlying dynamics and factors that contribute to overall transportation spend and new ways to save.
Here's a high-level look at the top benefits KanoPI provides.
Benefits of KanoPI and Data Analytics in Transportation
There are countless benefits to leveraging transportation data analytics. Both emerging and established brands can gain useful information from analyzing previously siloed data sets. Marrying raw transportation data and harnessing technology can help consumer product manufacturers to improve their supply chains and achieve scale.
Here are specific benefits and capabilities of our shipper intelligence tool, KanoPI.
1.       Transportation Network Optimization — There is a lot to consider when analyzing the effectiveness of an organization's transportation network. KanoPI provides customers with the information they need all in one place. In the vastly complex logistics realm, this is critically important. The configuration of a transportation network can have huge impacts on overall logistics spend. KanoPI processes data to answers key questions that help our customers determine if their transportation networks are set up properly. Mapping software and automated reports within KanoPI make these evaluations not just possible, but simple.
2.       Transparency to On-Time Percentage — Ensuring carriers meet on-time delivery standards is one of Zipline's main priorities. In KanoPI, we track pick-up on-time percentage, drop-off on-time percentage, and total on-time percentage. This level of detail lets customers identify which loads and locations may be at fault for late deliveries and related vendor chargebacks, rather than just seeing an arbitrary overall score. It also keeps Zipline accountable. Poor scores are presented on the home screen of the platform for customer to see on a daily basis.
3.       Proactive Alerts — Delays are inevitable in trucking; but being able to predict interruptions then take necessary action is what keeps product moving. KanoPI's advanced APIs pull in current weather conditions and forecasts, providing updates at key points along a carrier's route. This enables both Zipline's transportation experts and our customers to identify whether a load is at risk for delay, and if we can facilitate early intervention.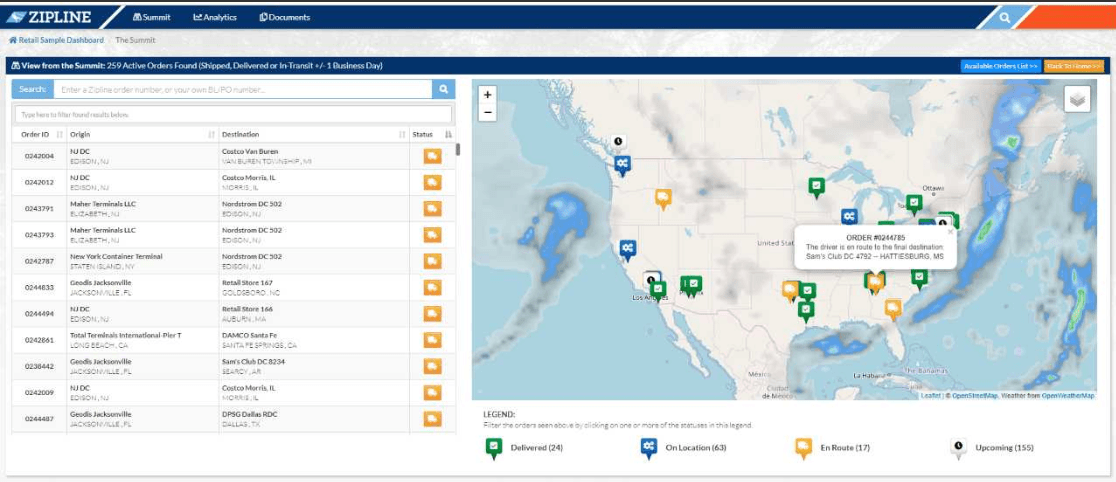 4.       Advanced Filtration and Comparison — Having access to seemingly limitless data can be overwhelming and unwieldy. Without the ability to harness the power of the metrics provided by KanoPI, customers could be left swimming in the numbers. We created an advanced filtration system for KanoPI, enabling customer to isolate specific pieces of their logistics data to see where they can cut costs or improve efficiencies. Filtration features include drill-downs on factors such as mode, customer, location, mileage, piece count, and more. Additionally, with just a few clicks (and the ability to save down searches for future use) customers can also compare important performance metrics over any date range.
5.       Refined Cost Breakdown — KanoPI has 30+ automatically calculated metrics to help customers manage their transportation more effectively. This includes everything from Cost Per Mile to Cost Per Piece or Average Transit Time. This granular level of information can be used to determine where specific changes should be made in your transportation network and operations. Our logistics experts help shippers use these figures to identify where they can adjust and make deliveries more profitable and optimized. For example, the data in KanoPI can be used to perform a "what-if analysis" on per-pallet and per-case orders to see how costs can be minimized.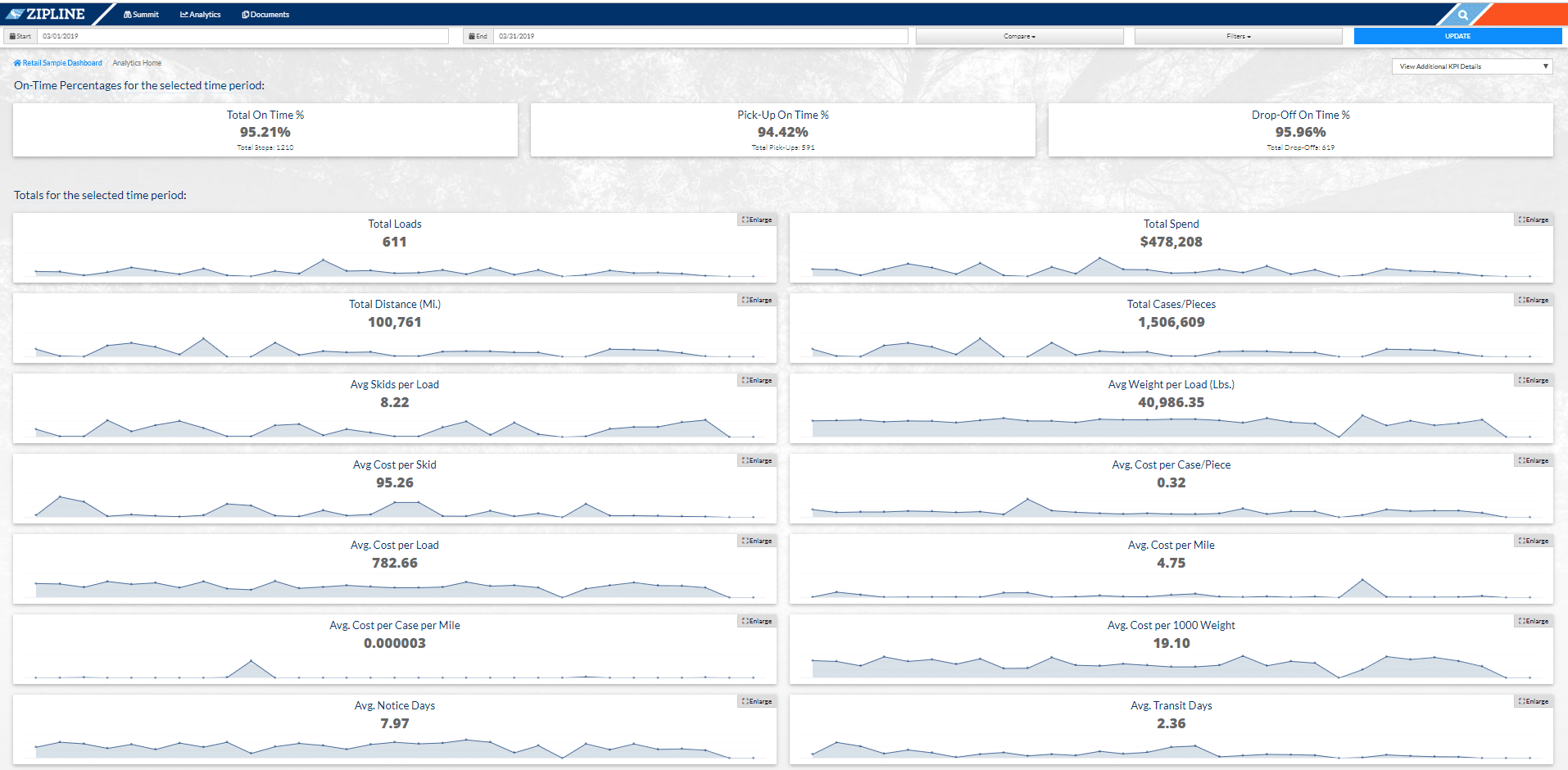 6.       Cross-Departmental Collaboration – It's undeniable that the decisions of different departments can impact one another. For example, if a sales representative approves the expedited delivery of an additional pallet to a retail customer it may seem like a small ask, but the costs and time associated with delivery are often higher than thresholds allow. These causal relationships can be illustrated with data in KanoPI and used to improve cross-departmental procedures. KanoPI helps to bring all parts of an organization's decision-making team into the transportation conversation by granting easy access to information.
7.       The Document Cloud — Transportation is a document-heavy service — proof of delivery (PODs), bills of lading (BOLs), various accounting forms, etc. — which is why we've made it so that each important document can be uploaded, housed and retrieved from KanoPI. Customers can quickly access all materials via our secure portal without having to wait for someone to fulfill a request.
8.       Real-Time Monitoring — In this ever-increasingly digitized world, consumers have grown accustom to constant updates on their product's location. We believe that suppliers should enjoy that same convivence, which is why we armed KanoPI with the ability to do just that. Our freight visibility platform and shipment track-and-trace tool, The Summit, provides Zipline Logistics' customers with illustrated real-time location and status updates for their freight. Through GPS pings and tracking of manual call-ins, Zipline customers can see real-time product location updates on the platform's interactive map.
The cherry on top? Customers can provide a unique tracking link from The Summit to external contacts. Individuals with the link can track a single order, but don't gain access to any other information in KanoPI. This helps cut down on unnecessary back-and-forth communication with outside parties.
9.       Information Sharing – KanoPI has multiple features that make information sharing between companies and departments simple. Customers can have multiple employees or partner log-ins, each with varying levels of access. This helps open visibility while maintaining privacy. Additionally, any graph or chart within KanoPI can be downloaded for use in performance reports or presentations.
10.   Innovation and Customization – The IT team at Zipline is always working to add new features to KanoPI. We're building new systems to incorporate customer requests, improve existing capabilities, and add new offerings that provide deeper insights and further functionality.
—
Data is an ever-present business decision driver. Don't let yours go to waste. If you're interested in seeing even more of what KanoPI can offer, contact one of our expert customer service representatives for a thorough demo of the tool.