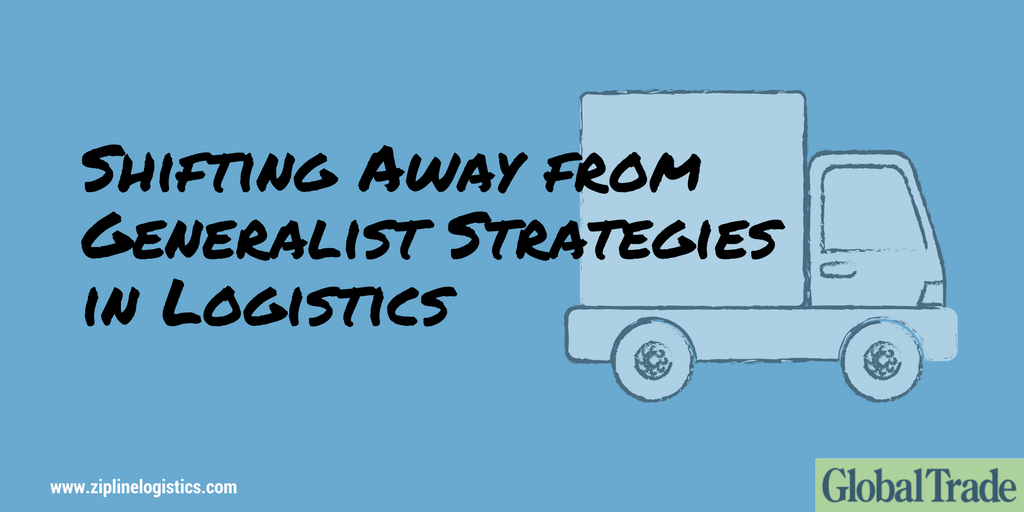 July 28, 2016
A version of this article originally appeared in the August/September 2016 issue of Global Trade Magazine.
Remarkably, the term third-party logistics (3PL) made its way into industry vocabulary just over 20 years ago and with it specialized logistics services. New transportation and warehousing companies seemed to materialize overnight and solutions to complex supply chain issues abounded. We entered into an age of new-found efficiency and extreme growth.
The organizations that dominated these early years of outsourced logistics were high volume generalists – those who sold services to anyone and everyone who needed them. To serve the masses, they utilized trucks from whomever could provide them, looking only at cost and availability. Business was booming and market demand was met.
In more recent years, new regulations, consumer behaviors, and economic shifts have tested 3PLs and their ability to satisfy a broadening array of demographics. Consumers now demand more visibility into the supply chain, laws require adherence to specific equipment and timelines, there is more transparency and there are more opportunities for technology integration. The new dynamics of the 3PL client marketplace represent a monumental shift away from the generalist strategies of the past.
Drivers For Specialized Logistics
No longer can one shop know the intricacies of every industry or possibly invest in all the necessary tools. The idea that you should call the same provider to ship produce and chemicals simply no longer flies. The complexities for ensuring the safety of each product are extremely different, with that range only becoming vaster. Building relationships with the proper carriers takes time and is increasingly out of reach for those who use a generalist approach.
New laws are motivating further specialization, acting as ultimate catalysts. Each new act sets intensive protocols, equipment standards and logging requirements to solve emerging issues, but also equate to training, cultural buy-in and time-consuming, often expensive investments. Added up, it's much harder today than a few years ago for generalists to adopt and institute all of these guidelines effectively.
The food supply chain offers one of the best examples. Rules under the Food Safety Modernization Act (FSMA) will bring a new level of accountability but also a new wave of opportunity for specialists in the transportation marketplace. To prevent contamination, spoilage, mishandling, rejections and other detrimental supply chain issues, shippers will be increasingly motivated to work with partners who know their industry, products and the rules to which they're held accountable. To do otherwise could prove costly or detrimental in the long run.
It is for all these reasons that, while the industry continues to show massive growth, legacy generalist organizations struggle to find significant expansion outside of acquisition. The first quarter in 2016 saw strong megadeal activity in transportation and logistics, according to PwC, with five deals valued at nearly $28 billion. This follows a record-setting year in 2015 for logistics-related mergers and acquisitions. Unable to adapt quickly, they are forced to buy up organizations that can help them meet these changing market demands and fill niche roles. This is the most visible in the large number of recently acquired last-mile and package delivery service providers.
For other players, direct specialization makes more sense. Rather than joining a larger competitor, so-called boutique firms and new-age startups are digging deep and focusing in on their differentiators or formulating brand-new approaches. With more flexibility, they are disrupting the marketplace, driving specialization further and faster. The 2016 Third-Party Logistics Study reiterates: "3PLs are achieving a better focus on what they do best and on what core competencies they can provide to enhance the functioning of customer supply chains."
Technological pressures provide an illustrative example. Demand for freight tracking, electronic payments and data analytics is pushing providers to dig deep and develop new solutions. Some 3PLs have morphed into technology providers, while brand-new software solutions are also starting to hit the market. Unable to retool or build every single piece of needed technology, they are focusing in on what they can do best, amplifying that particular strength or offering.
Niche Logistics: Impacts on the Transportation Marketplace
These changes and challenges should be met with excitement. Specialization will have a positive effect on the entire transportation industry. Looking at historical data around specialization, the benefits are clear. Textbooks paint a picture that shows specialization leading to greater economic efficiency, consumer benefits and opportunities for growth for competitive sectors.
Negative impacts are a threat as well; some providers will be pushed out of the market and others will be at risk for over-specialization. Those unable or unwilling to narrow their scope of services may experience a fall out of customers. Able to find targeted services elsewhere, and for similar prices, buyers will look at alternatives. Other companies may cut down their services too sharply and become locked in and unable to grow. Establishing a strategy that prevents against these scenarios will be vital.
Increased focus on core competencies ultimately leads to higher standards for all those involved. Transportation service providers can focus on what they do best and make targeted equipment and technology investments, avoiding costly transactions that fall outside of their niche. Similarly, customers can build increasingly beneficial and efficient partnerships with experts who solve their specific problems, properly meet their unique needs and ultimately help grow their businesses.
Summary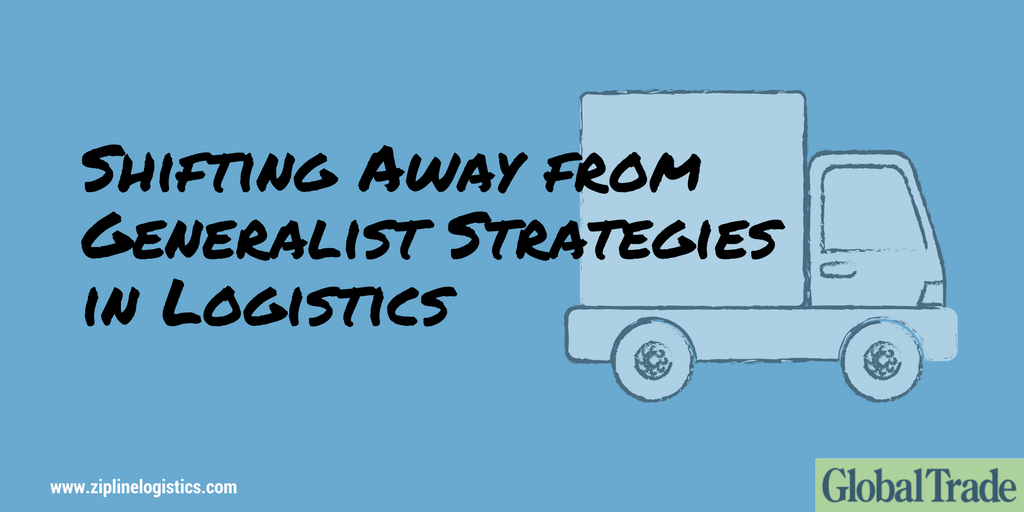 Article Name
Shifting Away from Generalist Strategies in Logistics
Description
New regulations, consumer behaviors, and economic shifts are encouraging the growth of specialized logistics and departure from 3PL generalist strategies.
Zipline Logistics