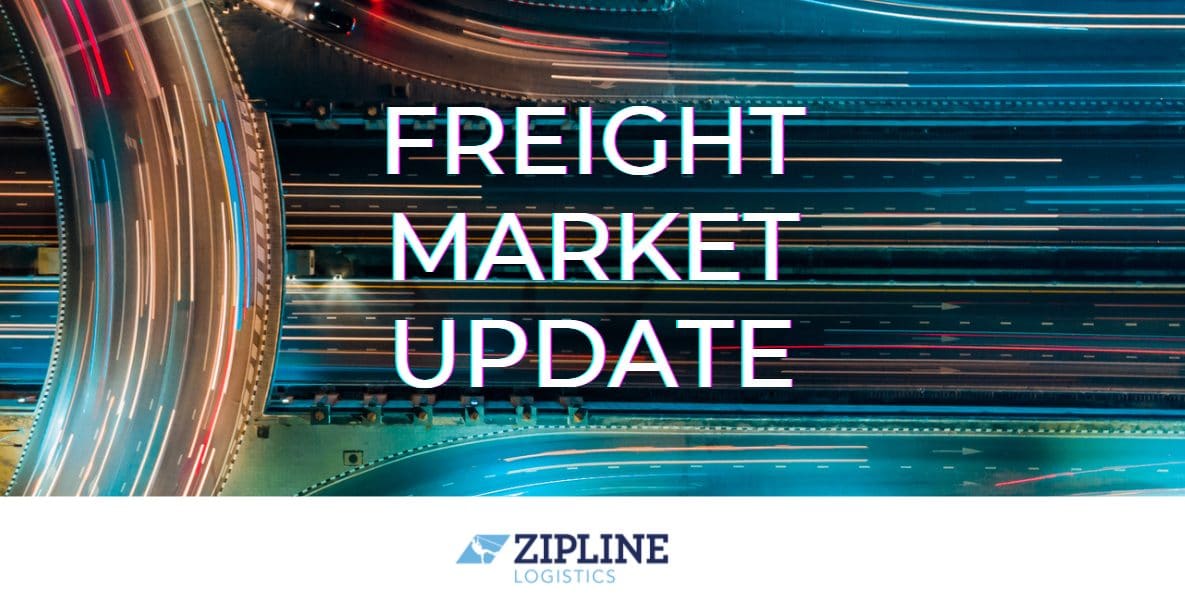 April 5, 2022
No one could have predicted the curveballs we were thrown in the first quarter of 2022. Between record-high oil and gas prices and massive supply chain blockades for days on end, freight rates have been all over the place. 
Freight Market Market Update
Supply Chain Congestion
At the end of January, protestors began forming blockades at major U.S.-Canada border crossings in response to COVID-19 mandates. The protests stopped traffic for days on end and disrupted billions of dollars in goods. Although all major blockades have broken up since, the People's Convoy has been active in Washington, D.C. recently and has the potential to hold up traffic in the future again. As for inbound and outbound Canada, rates are still up three to four times as the backlog caused by the protests has been slow to clear. 
Some good news: the port congestion that's been around for what feels like forever is finally starting to break up. The number of container ships queuing to enter the ports of Los Angeles and Long Beach has been nearly cut in half from its peak.  
Towards the end of the first quarter, consumer demand has been easing up, which has played a part in allowing the ports to clear more efficiently.  
Consumer Demand
Consumer demand remained strong throughout most of the quarter. But March has been unusually soft in the truckload freight market. Normally we see an uptick in volume as shippers stock their shelves for summer. But demand for consumer-packaged goods (CPG) seems to be on the decline compared to all of 2021 (minus holidays).  
Why? One part of it could be inflation and, in turn, the price of consumer goods being extremely high right now. Another could be that big surges in COVID-19 cases seem to be behind us, which means customer mindsets could be shifting again. Disposable income may be redirected to travel and entertainment once more rather than home goods. 
COVID-19
Is COVID-19 our "new normal"? Mask mandates and other restrictions continue to be lifted nationwide even as new variants of the virus continue to emerge. Although the highly transmissible BA.2 subvariant of omicron is circulating the U.S., health experts have stated that another surge in cases appears unlikely. 
While it is certainly not going away, COVID-19 no longer seems to be front of consumers' minds when spending. 
Record-High Oil and Gas Prices
In early March, U.S. oil spiked to a 13-year high of $130 per barrel. For perspective, prices were in the low $60's this time last year. 
Refineries can produce an average of 11-12 gallons of diesel fuel from each 42-gallon barrel of crude oil. The higher the price of oil, the higher the cost of fuel is marked up to cover that cost. The average price of diesel hit a nationwide average at $5.25 per gallon in March, the highest cost on record. 
When oil and gas prices go up, so can freight rates due to fuel surcharges (FSC). Throughout March, as the price of diesel skyrocketed, we were looking at a $0.4-$0.5 per mile FSC for Class 8 Trucks. 
Russia-Ukraine War
Jumping oil prices began in response to Russia's invasion of Ukraine in early March. The market began reacting to supply chain disruptions caused by this as well as the ban on importing Russian oil and gas. 
Both Russia and Ukraine are huge exporters of crucial commodities such as wheat, sunflower oil, and corn. Almost 50 countries rely on them for at least 30% of their wheat imports. 
The U.S. Department of Agriculture projected that wheat exports from both countries would fall by at least 7 million metric tons this year. Ukraine has since banned all wheat, oats, millet, buckwheat, and cattle shipments to retain a supply for their own people. Wheat prices have hit a 14-year high since. 
State of LTL
Volume continues to strain capacity and drive-up rates as the supply chain struggles to fully recover from labor force shortages and backlogs caused by the pandemic. There is also an overflow coming from the FTL world where outbound shipments are incredibly expensive and utilizing LTL is more cost effective. 
With demand being so high for LTL shipments, the ball is in carriers' courts to set rates and shippers have little choice but to meet them. Congested markets to note include Columbus, LA, and Denver.  
Retailers
When it comes to delivering retail orders, the same best practices we have encouraged over the years remain for CPG shippers. 
Retailers want to work with the brands who give them the most communication, visibility, and transparency. In a survey of retail buyers, 93% of buyers report having anywhere from 4 to 20 product choices within a given category – so there's nothing keeping them from booting a brand who does not offer this.  
In fact, 90% say a supplier's ability to deliver product on time impacts their purchasing behavior of that brand and 66% have ended relationships with suppliers over delivery issues. 
Freight Market Q2 Outlook
Coming into 2022, demand for dry FTL was far outweighing supply as rates continuously climbed. In the first half of the quarter, winter storms across the nation generally decreased capacity and lifted rates even higher. In the second half, inflated fuel prices made rates jump as the U.S. imposed sanctions against Russia. 
Freight Rates
Now at the end of Q1, we are seeing carriers struggling to find freight in some areas of the United States. Volumes are down 2,271 index points year over year and tender rejections are at 21.89. Although fuel is more expensive, linehaul rates have dropped enough to offer pricing reprieve to shippers. 
Hot Markets
Looking at dry van hot market maps, Los Angeles continues to be dead. Experts anticipate it will start heating up in mid to late April based on typical seasonal trends. Thanks to automotive imports, southern Texas has been a hot market for the past year and will likely remain as such for the foreseeable future. In Chicago, volumes have been neutral for inbound and outbound freight, keeping rates flat. 
On the reefer side of things, southern Florida is heating up as produce season begins and inbound freight rates go down. Usually, rates will also decline for reefer lanes heading south throughout the spring and mid-summer. 
Major Market Influences
Produce season is right around the corner, which historically drives up rates in every region of the United States. However, the simultaneous downtrend in CPG spending, ensuing conflict in Ukraine, and record-high prices we have seen in the last quarter make it hard to know for sure what will happen next. 
The Russia-Ukraine war threatens to spark a global food crisis, drive up food prices, and send economic shock waves all over the United States. 
Newer trucking companies are not well equipped to handle even more downward pressure on rates, since their operating costs will remain the same while the national rate per mile continues to fall. FreightWaves experts are predicting a huge market downturn and trucking bankruptcies galore. 
Shipping Into Retail
The retail environment is tightening SKUs, pushing substitutions, and choosing to work only with brands that can meet their communication and delivery expectations. CPG brands can win, secure, and grow shelf space just by capitalizing on the strategic advantage acing logistics offers. 
Lean on Logistics Partners to Navigate the Freight Market
As this quarter has demonstrated so clearly, everything can change overnight in the freight market.  
Regardless of all these challenges, CPG suppliers focused on logistics partnerships rather than freight transactions will be the real winners in 2022. Believe it or not, there are still many aspects of your supply chain that you can control with industry experts on your side. 
At Zipline Logistics, we care about each CPG brand's unique business needs and tailor strategies to reduce overall logistics spend, optimize retail performance, and beat out the competition for shelf space. Zipline processes were built specifically to resolve the most critical logistics challenges faced by consumer goods brands shipping into retail.
We tailor strategies to reduce overall transportation spend, optimize retail performance, and beat out the competition for shelf space. 97% of our orders end up on retailer's shelves such as Walmart, Costco, Sam's Club, and Big Lots. 
Don't Miss the Next Freight Market
Update
Want the inside scoop on breaking news and trends? Sign up for Zipline's monthly e-newsletter so you don't miss the next freight market update!