April 20, 2021
Freight rates have risen dramatically over the past year following an unprecedented downturn at the onset of the COVID-19 pandemic.
Since Q2 of 2020, the freight market has posted nearly uninterrupted growth. While this is great news for carriers and truck manufacturers, CPG shippers have paid the price in rising freight rates that came on the heels of many continuous months of favorable pricing.
There are many different reasons behind these climbing freight rates, so we have decided to analyze each component driving up prices.
This week, we will focus on what is occurring at ports around the country, especially on the West Coast, creating a market imbalance and causing rates to remain elevated.
Historic Port Congestion Leads to Freight Difficulties 
After COVID restrictions eased in Q2 of 2020, Asian industrial production ramped up, causing volume at ports to increase well above previous levels.
This import boom continued as consumer demand skyrocketed and continued to operate well above previous levels throughout the pandemic.
Increased buying drove imports. As a result, ports operated at maximum capacity for much of the summer, continuing into September when a surge that coincided with retail peak season exacerbated congestion further.
A fresh round of heightened import volume in 2021 has compounded the situation congesting many of the country's major West Coast Ports.
Retail sales, including food services, increased 9.8% sequentially in March, according to Thursday Census Bureau data. These figures represent a 27.7% increase in sales for the month and 14.3% for the first quarter in year-over-year comparisons.
That elevated demand is not new and its predecessors are the direct cause of a 113% increase in twenty-foot equivalent units at the Port of Los Angeles, where their goal is to clear a backlog of anchored ships waiting to go to port by the early summer. Their situation is not unique, as many other major ports along the West Coast feel the same pinch.
More imports translate to more freight that needs to be hauled via land transport modes, e.g., rail, over-the-road trucking. As more goods have entered the US, more capacity is used to get those products to their proper destination.
For more context into how they are intertwined, we will look at some monthly trends and how they affect freight rates.
What Does Port Congestion Do to My Freight Rates?
Here we see outbound tender volume in blue as it relates to containers being cleared by customs in green. Most products that eventually make it onto trucks come from import volume, which speaks to what we should expect to see in the coming months, illustrated below.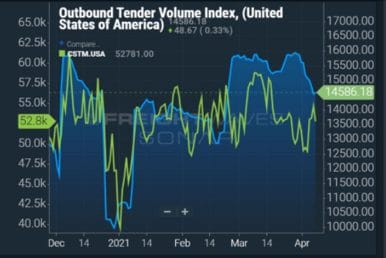 Import volume is again surging above expected levels. Here we see import containers that are currently being cleared by US customs in blue and in green, containers set to arrive at domestic ports within the next several weeks. That means more volume is coming, and shippers should prepare to see capacity further tighten, especially as produce season further intensifies.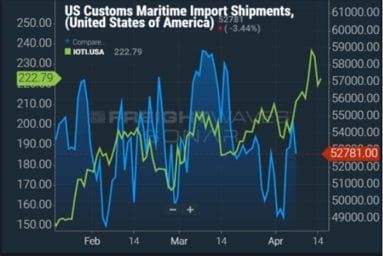 Likewise, consumer demand shows no sign of slowing down for the remainder of the quarter and is possibly poised to last well into the summer. As mentioned above, Census Bureau data shows that retail sales jumped nearly 10% in March, backed by a newfound rosy consumer outlook driven by confidence in vaccinations and fresh monetary stimulus.
This jump in consumer demand and retail sales will only add fuel to the import fire, as inventory restocks will soon follow this increased spending.
Analysts are calling for a longer bull run on the retail side than others are anticipating. In an interview with American Shipper, Amit Mehrotra, head transportation analyst at Deutsche Bank, stated that he believes that "the US inventory restocking cycle is nowhere close to over and import demand is certainly not about to fall off a cliff."
With more imports on deck, shippers should expect capacity challenges to persist. Furthermore, produce season is only in its early stages. As it continues to add more volume to the freight market, shippers will face more upward pressure on rates.
Work with a True Logistics Partner to Mitigate Challenges with Freight Rates 
Shippers will potentially see some relief on the back half of the year as truck manufacturers increase output to give carriers additional capacity to handle the heightened volume. Moreover, demand for truck driving school is hitting a fever pitch and will add more drivers to the labor pool, which currently sits about 50,000 short of demand.
Until then, it will benefit shippers to work with a dedicated logistics partner to ensure conditions do not jeopardize profitability. A true freight partner can help your organization accurately forecast costs and find more favorable pricing through consolidation or mode optimization practices.
To see the difference a true logistics partner can make, reach out to Zipline Logistics today.