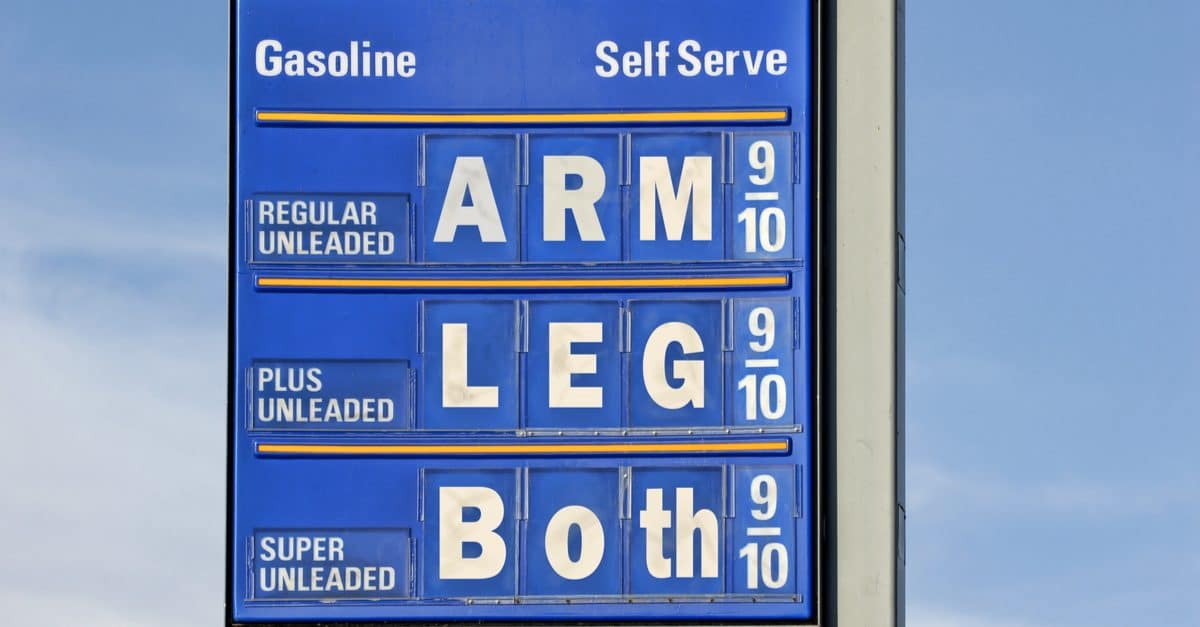 March 29, 2022
If your freight rates have been all over the place lately and you want to know why, you've come to the right place.
The short answer? Record-high oil and gas prices are playing a big part.
Why is the Cost of Oil Rising?
Earlier this month, U.S. oil spiked to 13-year high of $130 per barrel. For perspective, prices were in the low $60's this time last year. 
Jumping oil prices began in response to Russia's invasion of Ukraine in early March. The market began reacting to supply chain disruptions caused by this as well as the ban on importing Russian oil and gas. Giants like Shell, BP, and Exxon all pulled out of Russian energy deals, too. 
U.S. oil production has also been slow to respond because producers don't want their profits to take a hit. How crude. So, with no steady flow of imports or production, the oil supply just can't keep up with demand. 
Why is the Cost of Fuel Rising?
Operating costs, taxes, seasonality, and several other factors affect the retail price of diesel. But the biggest factor is the price of crude oil. Refineries can produce an average of 11-12 gallons of diesel fuel from each 42-gallon barrel of crude oil. The higher the price of oil, the higher the cost of fuel is marked up to cover that cost. 
The average price of diesel hit a nationwide average at $5.25 per gallon this month, the highest cost on record. 
How Do Inflated Costs Affect Freight Rates?
Diesel is the primary source of fuel for Class 8 trucks, also known as tractor trailers. It accounts for 15%-25% of a driver's total cost of operation to move a shipment of goods. 
When the cost of diesel goes up, so can freight rates. When brokers put together an all-in rate to move a shipment, they combine two calculations: a linehaul per mile and a fuel surcharge (FSC).
The linehaul rate is mostly impacted by the simple rule of supply and demand, whereas FSC's are calculated per mile fees added when the cost of fuel exceeds a carrier's costs of operation. FSC's were created to account for ever-changing fuel prices and make sure carriers are not losing money on gas. For example, if a carrier determines that spending a fuel price baseline of $2.50 per gallon lets them breakeven, they will charge an FSC whenever diesel prices are above $2.50.  
Calculating Surcharges
The U.S. Energy Information Administration (EIA) posts the national average diesel price each Monday. Using this number, a carrier's fuel price baseline, and the average miles per gallon (MPG) of a Class 8 truck, we can calculate the surcharge carriers should add to their per mile rate. 
On 3/21/22, the price of diesel was $5.134 per gallon. For a Class 8 carrier operating at an average of 6 MPG and a predetermined spending baseline of $2.50 per gallon, we'd be looking at a $0.439 per mile fuel surcharge. 
Long story short, as oil prices go up, so do fuel prices and surcharges. Depending on supply and demand, this can also increase your overall carrier rate.
Save $$$ With a Retail-Specialized 3PL
With carrier rates all over the place right now, CPG brands may be tempted to chase the cheapest ones to save a buck or two. However, the cheapest carriers are often low quality and can end up costing you more in the long run. 
When you add up the dropped orders, chargebacks, late delivery fines, and headaches that come with the cheapest trucks, those upfront savings hardly turn out to be savings at all. This is when trusting experts to manage your freight helps eliminate these unnecessary costs. 
It might be crude to make oil jokes right now — but with Zipline on your side, everything will be oilright.
Zipline Logistics is the only third-party logistics partner in North America exclusively servicing the consumer-packaged goods sector. Our uniquely qualified carrier network, world-class team of retail transportation experts, and state-of-the-art shipper intelligence tools ensure clients eliminate out-of-stocks on 95% of retail orders. Totally bragging: our customer satisfaction score ranks 5 times the industry average.
We can't control the price of fuel, but we can certainly save you money and headaches where other brokers can't.