July 31, 2018
In today's tight freight market, shippers are encouraged to be more accommodating to drivers, acting as a "Shipper of Choice". But being a shipper of choice is often out of a brand's control and is instead dependent on their warehouse, manufacturing and/or co-packing partnerships.
In all freight markets, but especially in tight ones like our current trucking environment, the behaviors and operating nuances of your shippers and receivers have a huge impact on how smoothly your freight flows. Choosing quality partners who have minimal to no dwell time, act respectfully, and are easy to work with, can help elevate your shipments and make them more appealing to carriers.
With dozens of articles written about what it takes to be a Shipper of Choice, brands can ask their co-packing, manufacturing, and warehouse partners whether they comply. But unless you are a major customer, you are unlikely to be able to affect their operating norms to meet your needs.
What else can you do?
Shippers can also look for a "3PL of Choice." Transportation brokers speak directly with drivers and have a huge influence on how easily freight moves.
At Zipline, we take the accolade 3PL of Choice very seriously. Here's a list of how we operate and what you should look for in any 3PL partner.
Treat Drivers with Respect:
It's simple, just follow the Golden Rule. Drivers deserve the same high level of respect given to other business service providers. This includes all points of communication – checking capacity, negotiating rates, asking for delivery updates, etc.
Act with Honesty and Integrity:
Too often we hear that brokers book a truck then drop the agreement to make a larger profit, even for margins as small as $20. This leaves the previously booked driver in a bad situation searching for another load. Being honest and acting ethically is imperative when working to build trust and a positive reputation with drivers.
Communicate Effectively:
Most often, issues in transportation and logistics are caused by simple breakdowns in communication and misaligned expectations. Sharing handling requirements and facility guidelines upfront is essential. A driver can only execute on what directions they are given. Providing clear and concise coaching is imperative for a successful delivery.
Resolve Issues Promptly:
A 3PL should step in and help solve problems on behalf of customers and carriers. For example, if an order is rejected, the 3PL should provide direction, answer questions, and help keep things running smoothly. This is appreciated by all involved parties.
Loads as Described:
A huge complaint from carriers is that they agree to a load and its parameters but when they pull up on site to pick up an order, things are different than described. This causes a domino effect of inefficiencies and hurdles for the driver.
Pay On-Time:
One of the biggest complaints from drivers is that 3PLs take too long to process payment. 3PLs that offer quick-pay solutions and provide prompt billing services stand above the rest.
Detention/TONU/Lumpers:
We all know that delays happen in transportation, no matter how diligently involved parties try to avoid them. Paying fair prices for extended wait times and added services can help ease strained situations and keep things running smoothly.
Have 24/7 Communication:
Drivers often deliver product to nighttime receivers and pick up orders in the early morning to avoid traffic. Having 24/7 communication enables drivers to find answers quickly and avoid potential complications or delays.
3PL Reviews: Using Online Tools to Check Credibility
Have you ever looked at the Google Reviews of your 3PL partner? It's a great indicator of how they treat drivers and whether they are a 3PL of Choice.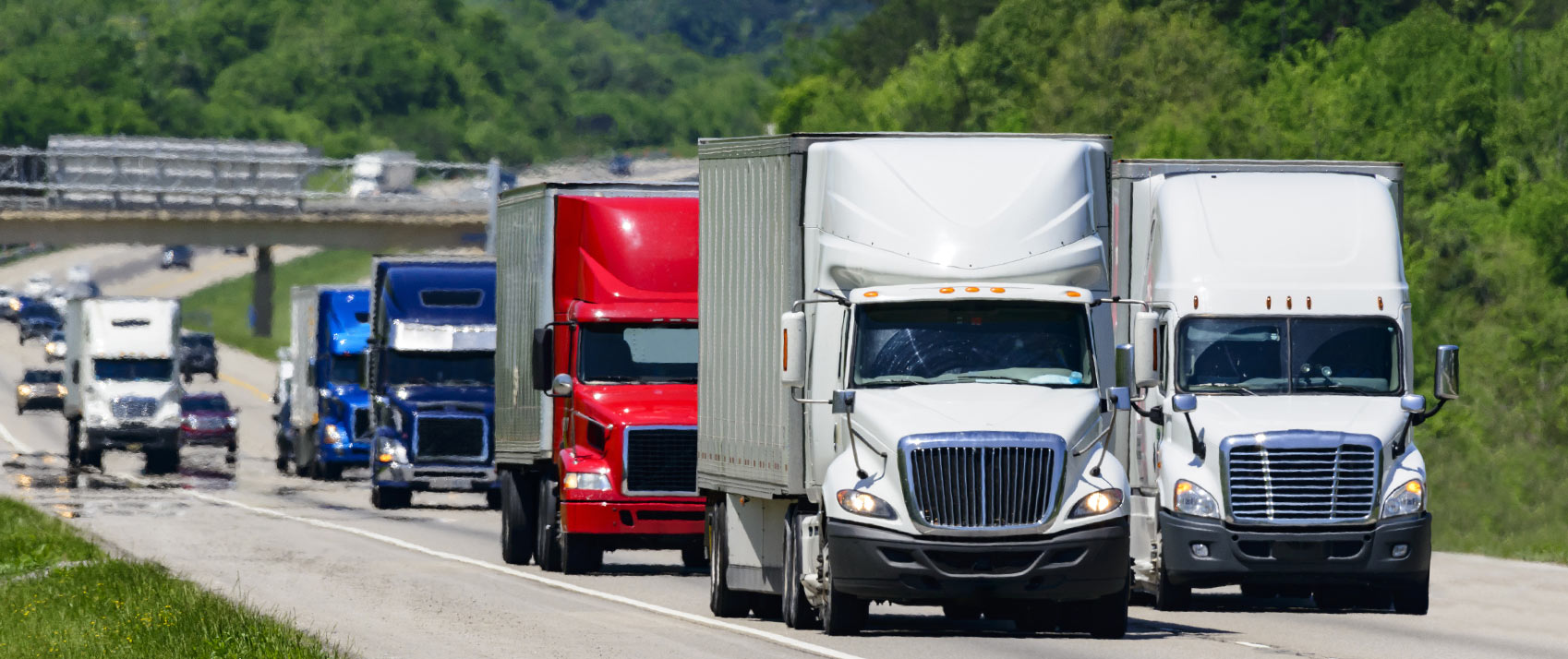 Look for Bad Reviews
If reviews of your 3PL include phrases/words such as, "lying," "do not use," "stay away," "poor service," or "bad experience," then you may want to reconsider your partnership.
How your 3PL interacts with drivers is representative of your brand and can determine the treatment of your product. If a driver is disrespected, they have little motivation to go above and beyond. But if a 3PL is helpful, respectful, and personal, a driver is more likely to accept a special request or schedule change.
Read Responses
Are they responsive to bad reviews? If negative reviews are ignored there is likely little effort being put into rectifying a toxic culture. But if bad reviews are handled promptly and with professionalism, you can be assured that the incident is likely an anomaly and that the 3PL cares about fixing issues when they arise. And issues are bound to pop up in transportation. Having a positive response and willingness to find a solution is what makes the difference.
Quality Reviews
Are they being reviewed by employees, or by drivers and customers? Even if a business is a great place to work and highly touted by employees, it still matters what outside parties think. Feedback from customers and carriers can give you the most honest pulse on what level of service you can expect to receive.
3PL Reviews: Zipline Logistics as a 3PL of Choice
Providing a better experience to carriers and shippers is the entire reason Zipline Logistics went into business. Acting with kindness and integrity is standard protocol for our team.
Over the years we have developed friendships with carriers, forming relationships off of trust and accountability. We truly want our carrier's contact with Zipline Logistics to be the best interaction they have all day.
The DAT Review board exists for carriers to see what their peers have to say about working with a broker. The site is password protected, so here are a few examples from Zipline's profile: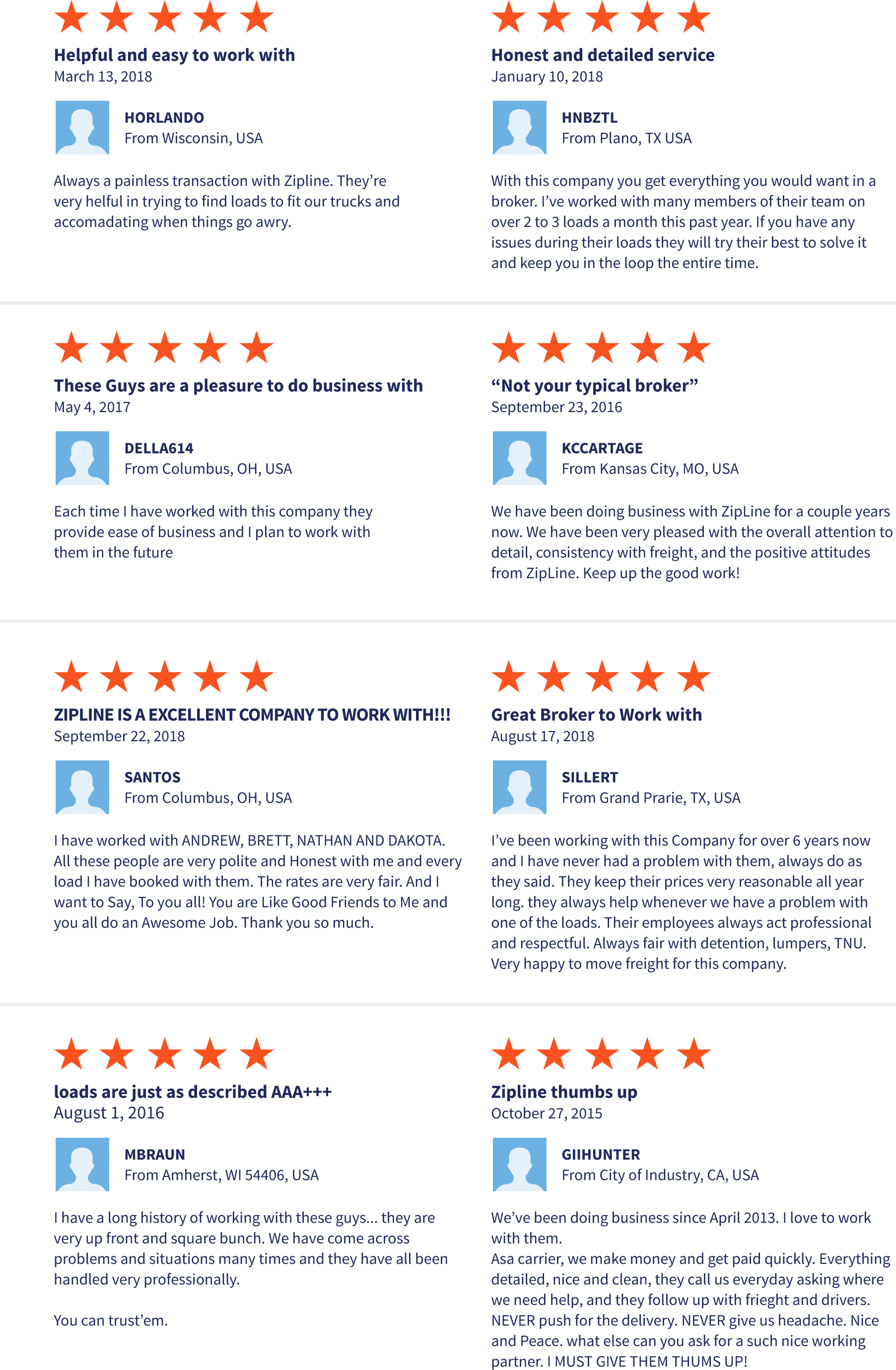 To see public reviews of Zipline Logistics, check out our Google Reviews.
See Zipline's Google Reviews Here