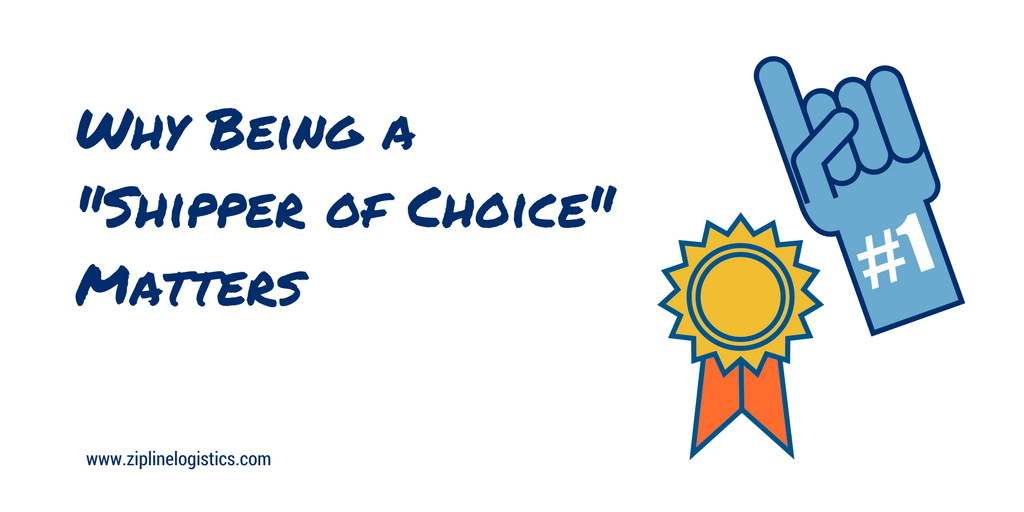 April 4, 2018
The current capacity crunch and the ELD mandate have brought to light the need for improved shipment facilities, overall treatment of truck drivers, and being labeled a "shipper of choice." In a tight trucking market carriers can be far more selective with what business they take on, and they are saying "No" to shipments they previously moved.
Apps like Dock411 are helping drivers see in advance if a shipping or receiving location has a positive reputation. The app includes detailed information about stops across North America. Drivers can look up details like average wait times, local directions, pictures, dock door location, hazards in the yard, parking situations, load/unload procedures, can the driver use the wash room, do they have wifi, and about 35 other attributes.
This fact has drawn a lot of attention to improvements that can be made to shipper and receiver locations to make them more appealing. No longer can a facility operate with poor conditions and still expect drivers to come through.
Becoming a shipper/receiver of choice will help your freight become more appealing to truckers and help you secure better capacity in today's tight trucking market.
But becoming a desired location takes effort.
Here's a list of important factors that all pick-up and drop-off facilities should keep in mind.
Considerations for Being a Shipper of Choice
Little to no detention time, quick turnovers
If shippers/receivers build a reputation for being slow, some carriers may flat out stop servicing that location. Under the ELD mandate, drivers can not afford to sit idle for hours at a pick-up or drop-off location. They need to get in and out quickly to maximize their capacity and ability to earn.
Parking and overnight options
(or at least proximity to nearby facilities.) Under HOS regulations and the ELD mandate, drivers must stop operating after 11 hours. This means if they hit hours while loading or unloading they must stay at that location until they can legally restart. Driving even 30 miles to the next available rest stop could mean an infraction that puts them out of service for 10 hours. This isn't something they can risk. Facilities that provide safe parking instantly become more appealing.
Ease of access and safety
This includes everything from how easy the facility is to find (does it come up on a GPS?), are the roads well-paved, is it easy to turn into without worrying about oncoming traffic, poles, parked cars, etc. If a driver dreads coming to your location because it's tough to navigate or unsafe, they may choose to take on different freight. Facilities should implement safe traffic patterns, streamline their gate check-in procedures, and/or have a dedicated yard jockey for moving trailers in and out without issues.
Proximity to expressways to limit deadhead
Facilities located in desolate areas are having a harder time securing capacity. That's because carriers are using up valuable HOS driving in and out. If location improvements can be made, they are worth consideration.
Lumpers on site
Drivers don't want to load and unload their own vehicles after driving hundreds of miles. This is a service that should be provided by the warehouse staff and charged as a lumper fee. Currently, too many locations refuse to hire lumping staff and alienate carriers as a result.
Courteous and respectful staff
Drivers are more likely to accept a load if they know the facility they're going into treats them with respect, values their time and service, and is easy to work with. Follow the golden rule – treat others they way you want to be treated – it's that simple.
Appointment flexibility and multiple operating shifts
Similar to having quick turnovers, having appointment flexibility is essential to keep things moving smoothly. Facilities need to be understanding of potential mistakes or delays. If a driver is 20 minutes late, try to work him in, not force him to wait 5 hours. Some facilities still operate with abbreviated schedules, closing at 2pm or 3pm. Others only accept drivers during off hours like 11pm or 3am. This makes it nearly impossible for carriers to maximize their hours. Facilities than can accommodate all the above instantly become more attractive to drivers.
Connectivity to the driver while they are waiting
Drivers appreciate when there is a structured way to be alerted about shipment updates. Either staff that's easily available and communicative, or something like a buzzer you get at a restaurant when waiting for a table. Without this, carriers can waste precious time when they could have been on the move.
Accommodating lounge areas
Having a lounge area is a pretty huge bonus for drivers. Nothing elaborate, just a space where they can stretch out after driving or relax while being loaded and unloaded. Lounge areas could include vending, wifi, clean bathrooms (male/female), and temp control.
Work with a 3PL that Values Shipper of Choice Designation
Working with a 3PL partner that treats carriers with respect is also essential. If your facility is optimized, but your coordinating partner is sub-par, then your efforts can only go so far.
Here at Zipline, our daily purpose is to improve the lives of transportation professionals and succeed in the trucking market. This means treating everyone in the trucking market with respect, helping drivers and customers solve transportation issues, and ultimately brightening the day of anyone we engage with.
While we do our part to help carriers navigate the new ELD mandate, we encourage all shippers and receivers to take a hard look at their own operations and see if there is room for improvement.