May 30, 2019
What is the importance of customer service in logistics? Put simply, it can make the difference between a successful shipment or a dropped order.
Providing world-class logistics customer service is one of the guiding principles behind our business and carries over to every interaction we have with drivers and customers.
In an industry rife with challenges, Zipline Logistics believes in providing outstanding logistics customer service. This belief translates to treating our customers with respect, providing proactive solutions, expert analysis, and acting as an extension of customer's organization. We know our dedication to service is part of what sets us apart, and our customers take note.
To tangibly measure impacts, we leveraged the popular Net Promoter Score (NPS) survey to directly ask our customers how we're doing. After weeks of gathering responses, we are proud to share that our customers reported a "World Class" NPS score for Zipline Logistics.
Before diving into what these results mean, we first want to explain what an NPS score is and how it's calculated.

NPS Score Rundown
The commonly used Net Promoter Score is a management tool that can quantify how customers view an organization. Each NPS score survey simply asks the customer: How likely is it that you would recommend our company/product/service to a friend or colleague?
The respondent then assigns a number to their answer of that question along a 0-10 scale.
Customers who give a number from 0-6 are labeled as detractors
Those who give a 7 or 8 are labeled as passive
And finally, those who give a 9 or 10 are labeled as promoters
To determine your final NPS score, you then subtract the percentage of detractors from the percentage of promoters.
Final scores are then assigned a value:
Above 0 is considered "Good"
Over 50 but below 70 is considered "Excellent"
Above 70 is considered "World Class"
These classifications can help both buyers and businesses. Buyers can judge scores when looking for new partners or vendors, finding those that match the level of service they require. Businesses can use NPS scores to identify areas for improvement or elements of success that can be replicated.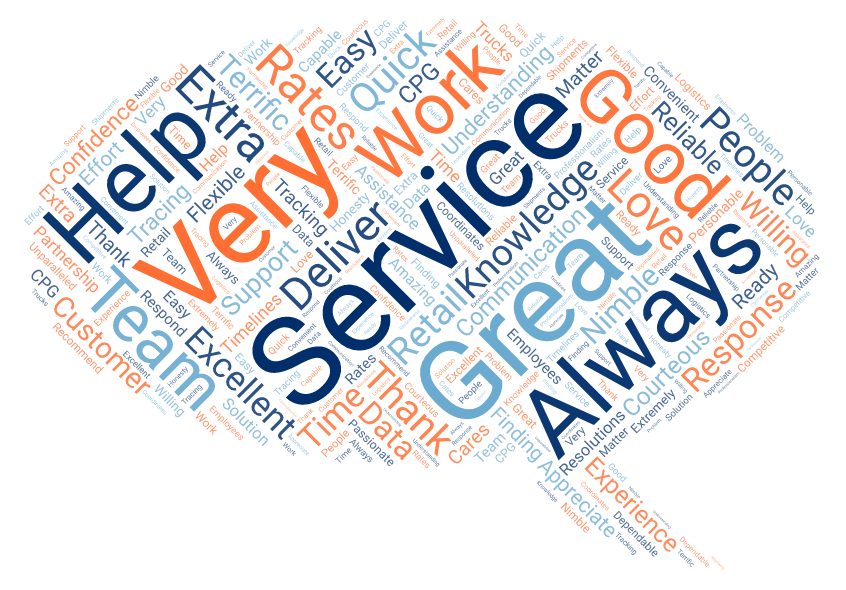 Why Logistics Customer Service Matters
We believe providing stellar logistics customer service is non-negotiable. We know that events like carrier delays from weather or traffic are outside the control of a 3PL, but that many of the issues that arise in transportation can be mitigated by providing proactive and transparent communication and customer service.
So, what exactly does customer service in transportation look like? It can be difficult to nail down a definition. To us, it includes:
Responding quickly to questions and requests
Proposing valuable and proactive solutions to unexpected problems
Not just taking orders, but offering optimized options (modes, routing, etc.)
Regular and thorough communication
Providing order visibility and spend transparency
Acting like a partner or extension or your organization
Being upfront and honest
Educating others on best practices
Delivering on commitments
A company culture that rewards accountability and communication
Technology and analysis for continuous improvement
Zipline Logistics' customer, Canberra Corp., explains it best. During an interview on the topic with Inbound Logistics, their logistics manager says, "Zipline (Logistics) created my definition of customer service: Having the ability to almost read my mind, answer my questions before I even ask them, and react as I would react with my own business."
Without a dedication to customer service in logistics, a shipper could be left in the dark about the status of their freight or forced to deal with a complicated issue on their own. Worse, poor communication and service could result in costly fees, or damaged relationships with retail customers.
On the other hand, quality logistics customer service can result in long-term transportation savings, on-time delivery, peace of mind, happy customers, and more time to focus on other areas of your business.
How Zipline Provides World Class Logistics Customer Service
Our "World Class" status does not happen on accident. We achieve it by living the Zipline value system and striving to be a "3PL of Choice" every day. We believe it is important to act with honesty and integrity with every transaction.
Our goal is to be a valued partner and a logistically driven extension of your organization. But don't just take our word for it, here is some of what our customers said about us during the NPS survey process: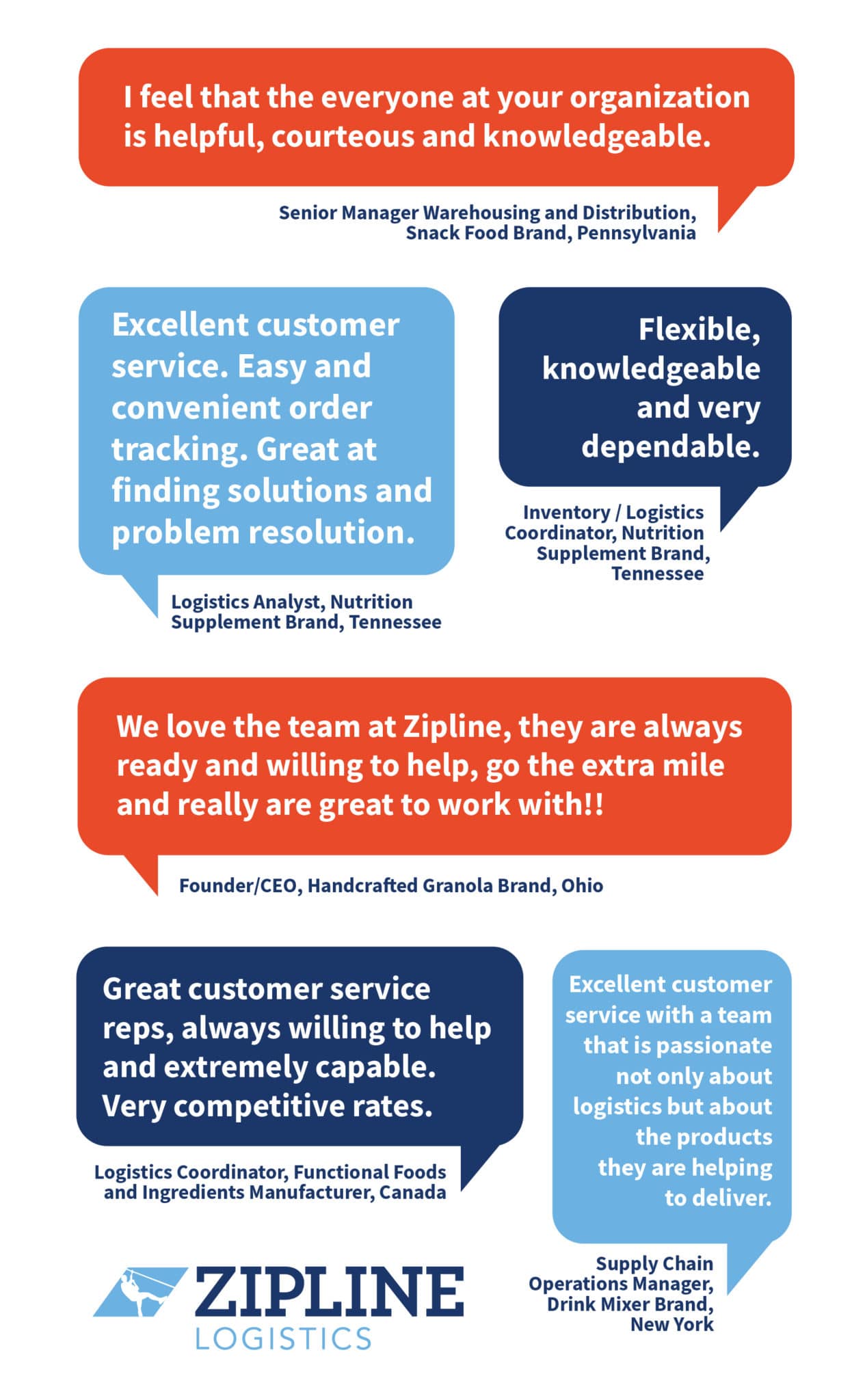 Logistics Customer Service NPS Score Benchmark
While there is no universal standard for NPS scores or customer service in logistics, it's clear that there is room for improvement. Very few 3PL providers hit the Excellent NPS standard and nearly none hit the World Class category.
According to data collected by NPS Benchmark, logistics firms sit at an average NPS score of 53. Data from NICE Satmetrix shows shipping service providers with an NPS average of 35. And, Customer.guru reports an average NPS score of just 13 for logistics and transportation companies.
We're proud to score as a World Class organization with an NPS score above 70. We don't take this honor lightly and work diligently to uphold our high standards for logistics customer service.
—
Do you need a better logistics service provider?
Contact Zipline Logistics Today