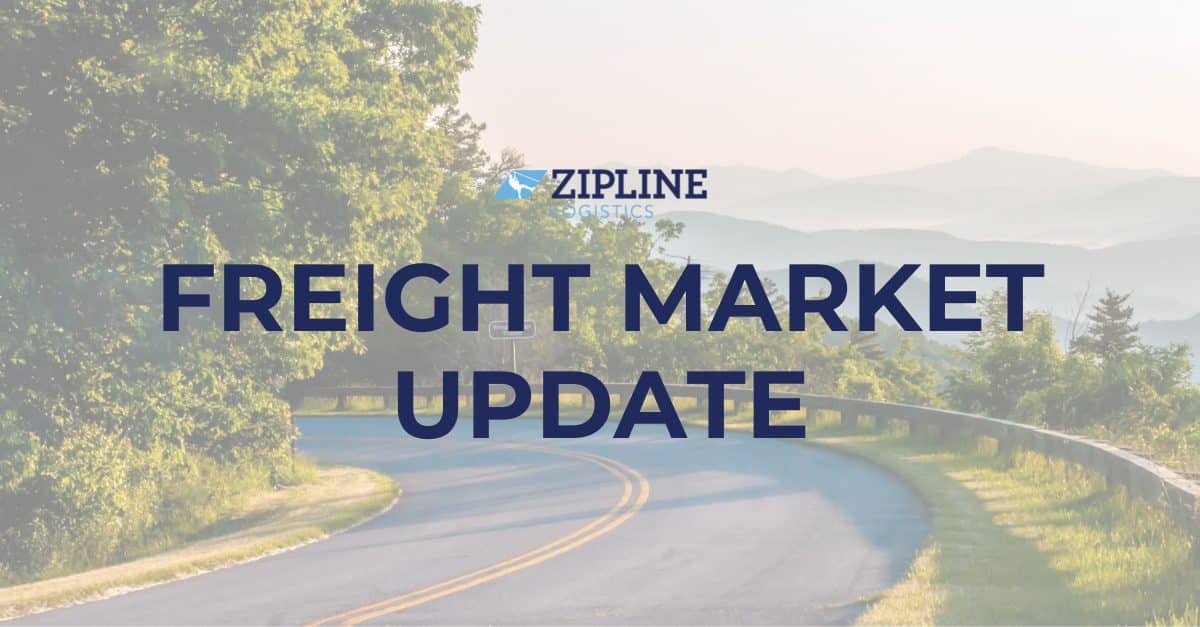 July 5, 2023
The second quarter of the freight market saw rates and tender rejections slow their decline and hover at what many experts believe is the market bottom. Keep in mind, these numbers were recently bolstered by holiday freight and end of quarter inventory crunches that many brands face.  
The soft market is likely to extend well into the third quarter of the year as volumes, rejections, and rates are expected to descend again after the initial boost from Independence Day.  
Economic Factors
Inflation
The inflation rate in the United States has persistently declined, currently standing at 4% in a sharp contrast to the 9.1% recorded in June 2022. 
Fuel Prices 
Average fuel prices across the US have also continued to decline. Currently $3.801, it has dropped just over 30 cents since our last market update, and $1.301 since this time last year. 
COVID-19 
While immediate effects of the pandemic are mostly a thing of the past now, the paradigm shift that occurred will affect our industry for years to come. In April 2023 we referenced this report where industry executives reported that visibility, resilience, and efficiency have become top-of-mind for supply chain managers. 
Cost savings will always be desirable, but the significant disruptions that the pandemic brought on logistics operations made executives re-evaluate their supply-chain values, moving flexibility and resilience higher on their priority lists.  
Freight Market
California AB5 
California's AB5 law, despite opposition from the California Truckers Association and the Owner-Operators Independent Drivers Association, has now been in effect in California since June 30th, 2020. The state argues that trucking in the state has not become more chaotic since the introduction of the law but many owner-operators still feel that their careers have become more difficult. 
As it is still recent, and the freight market has been in flux since the pandemic, solid conclusions on the effects of the law on the industry are difficult to reach. We will keep you up to date on developments in the legislature and the impact of California's AB5 in future market updates. 
NMFC 
There have been no NMFC changes of note for the CPG supply chain sector since our April 2023. As a refresher, here are the most recent changes that affect CPG brands.  
Ports 
Ocean shipping has continued to see relief from the unprecedented highs set during the pandemic and port congestion of 2021 and early 2022. The index has dropped nearly $200 since our April 2023 to the current mark of $1297, a similar rate to pre-pandemic markets. 
LTL 
The LTL market has seen a gradual but steady drop in volume as carriers increase prices to cover higher operating costs. Capacity should remain consistent with slight variations possible due to seasonal fluctuations and/or extreme weather events. 
An ongoing event in the LTL market that could have ramifications throughout the entirety of the freight market is the current financial struggles of Yellow Trucking Company (formerly YRC Worldwide). As one of the largest players in the LTL freight market, a total collapse could send ripples through all modes of freight transportation. 
Volumes, Rejections, Rates 
National Volume ticked up slightly for end-of-month, end-of-quarter, and pre-holiday. It is likely that volumes will come back down post 4

th

of July.

 

Volume has has declined significantly when examined year over year.

 

The national rate per mile is on the rise but is likely to come back down after the holiday.

 

Rejections have increased as spot load posts have spiked pre-holiday. The post-holiday drop is likely for this category as well.

 

CA and the southeast are becoming desirable destinations for carriers, while most of the rest of the country remains cool or neutral for both outbound and inbound.

 
National Average Dry Van Rate Per Mile

Outbound Tender Reject Index

Inbound Hot Market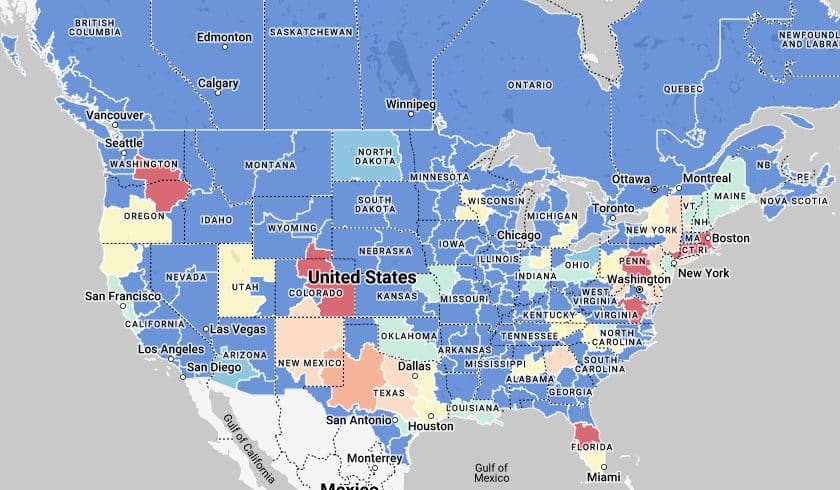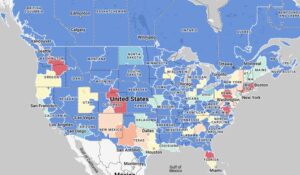 Outbound Hot Market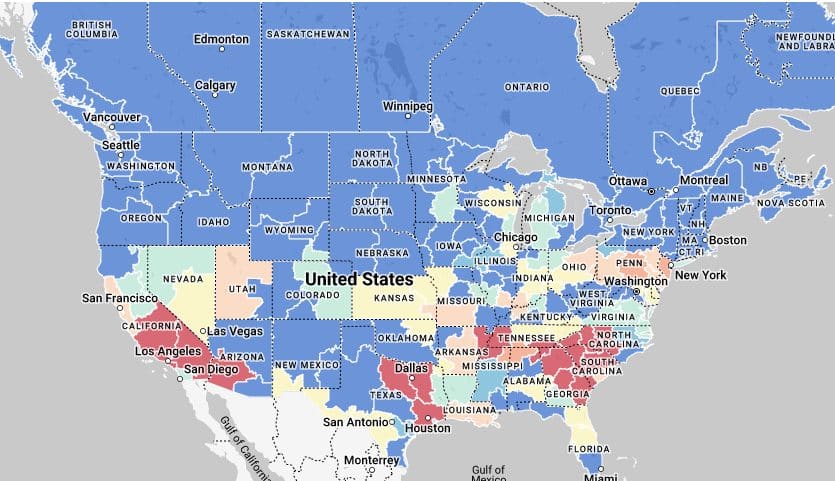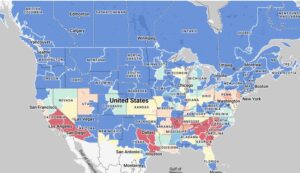 Outbound Tender Volume Index


Retailers
Based on IRI data, the beverage industry was out-of-stock on average 10% in June 2023. In just one category – we'll use water as an example – that equates to $50.17 Million in revenue opportunity cost left on the shelf in just a single week.     
The packaged food industry was also out-of-stock on average 10% in June 2023. In just one category – we'll use snacks as an example – that equates to $208.65 Million in revenue opportunity cost left on the shelf in a single week.     
Retail Buyer Data  
Even in a soft freight market, retailers are being picky with the brands they choose to work with. In a survey of retail buyers, 90% said a supplier's ability to deliver on time impacts their purchasing behavior of that brand and 66% have ended relationships with suppliers over delivery issues.   
Navigating the Freight Market
Regardless of an always changing freight market, CPG suppliers focused on logistics partnerships rather than freight transactions will be the real winners in 2023. Believe it or not, there are still many aspects of your supply chain that you can control with industry experts on your side.      
At Zipline Logistics, we care about each CPG brand's unique business needs and tailor strategies to reduce overall logistics spend, optimize retail performance, and beat out the competition for shelf space. Zipline processes were built specifically to resolve the most critical logistics challenges faced by consumer goods brands shipping into retail.     
We tailor strategies to reduce overall transportation spend, optimize retail performance, and beat out the competition for shelf space. 97% of our orders end up on retailer's shelves such as Walmart, Costco, Bath & Body Works, Whole Foods, and Best Buy.     
Don't Miss the Next Freight Market Update  
Want the inside scoop on breaking news and trends? Sign up for Zipline's monthly e-newsletter so you don't miss the next freight market update!