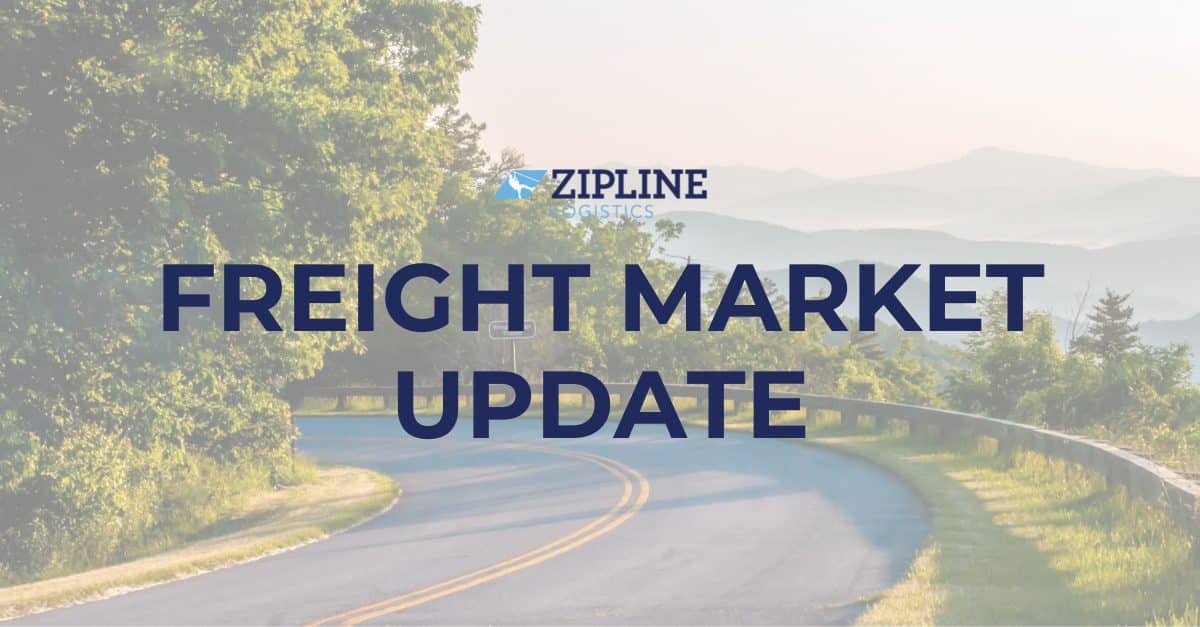 April 4, 2023
As we began the first quarter of the new year, the market was softening and offering shippers relief. Heading into Q2, we are seeing more of the same.
Economic Factors 
Inflation 
The U.S. inflation rate is sitting at 6% as of February 2023. It has been steadily declining since the peak of 9.1% we faced in June of 2022. 
Fuel Prices 
Fuel prices have also been steadily declining since the beginning of 2023. As of March 27, 2023, the average price of diesel is $4.128, which is the lowest it's been since February 2022. 
COVID-19 
Ernst & Young LLP conducted a survey of 200 senior-level supply chain executives in late 2020 and 2022. The survey looked at topics including COVID-19 impact on supply chains, priorities in the coming years, and the path to digital supply chains. 
The report reveals that increased efficiencies and visibility are top priorities for companies over the next 1-3 years. Now more than ever, there is a need to build supply chain transparency and resiliency through technology.  
Russian-Ukrainian War 
The Russian-Ukrainian War continues to rage on over one year later.  
The war has caused widespread suffering and the global economy is still enduring the consequences. These include limited supplies of grain, fertilizer, and energy along with more inflation and economic uncertainty. 
CNN continues to provide real-time war coverage here. 
Freight Market 
California's AB5 
AB5 has the potential to destabilize the trucking market in California, which can create a variety of issues for shippers moving freight in and out of the state. Capacity could suffer a blow if a significant number of truckers decide to leave California. Rates could also rise if carrier expenses increase to compensate drivers as full-time employees.   
FreightWaves reported that a lawsuit against AB5 brought by Uber, Postmates , and two of their gig drivers failed in a lower federal court in California in 2020 but has been partially revived on appeal. 
At this time, the AB5 law is in effect and being enforced. Large impacts on the freight market remain to be seen. 
NMFC Changes 
The NMFTA issued several NMFC changes that may affect CPG shippers in August 2022. It's super important to communicate NMFC updates with your organization and prepare accordingly, as these changes affect your shipping class and therefore, your less-than-truckload (LTL) rates.   
Ports
Ocean shipping rates have cooled from record highs hit during the pandemic. At its peak in mid-September 2021, the average rate to secure a container globally reached $11,109. By contrast, the average price for a freight container in mid-March 2023 was $1,492.  
LTL
The LTL market was relatively stagnant in the first quarter of the year. As we head into Q2, freight volumes in the $83 billion LTL market are down, yet profitability per-shipment is up.  
Volumes, Rejections, and Rates 
Volumes had a few dips throughout the quarter, but have otherwise remained relatively flat. Current volumes are comparable to 2018 and 2019 levels but are well below 2021 and 2022 levels.
Spot rates are down, leading carriers to honor their contracted rates. This has put downward pressure on rejections, which are now drastically lower than 2022 levels.
The hot market map below shows most major markets have cooled, meaning capacity is more abundant.




The charts above depict national average outbound tender volumes and rejections in the United States. Derived from FreightWaves SONAR.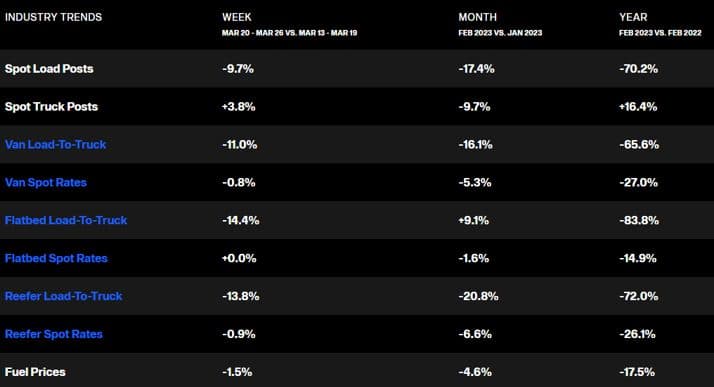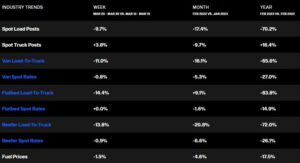 The chart above depicts industry trends from the last week of March 2023 compared week over week, month over month, and year over year. Derived from DAT RateView. 

The map above was derived from DAT RateView. 
Retailers 
Out-of-Stocks 
Based on IRI data, the beverage industry was out-of-stock on average 10% in March 2023. In just one category – we'll use juice as an example – that equates to $50.17 Million in revenue opportunity cost left on the shelf in just ONE week.    
The packaged food industry was also out-of-stock on average 10% in March 2023. In just one category – we'll use snacks as an example – that equates to $208.65 Million in revenue opportunity cost left on the shelf in just ONE week.    
Retail Buyer Data 
Even in a soft freight market, retailers are being picky with the brands they choose to work with. In a survey of retail buyers, 90% said a supplier's ability to deliver on time impacts their purchasing behavior of that brand and 66% have ended relationships with suppliers over delivery issues.  
Navigating the Freight Market 
Regardless of an always changing freight market, CPG suppliers focused on logistics partnerships rather than freight transactions will be the real winners in 2023. Believe it or not, there are still many aspects of your supply chain that you can control with industry experts on your side.     
At Zipline Logistics, we care about each CPG brand's unique business needs and tailor strategies to reduce overall logistics spend, optimize retail performance, and beat out the competition for shelf space. Zipline processes were built specifically to resolve the most critical logistics challenges faced by consumer goods brands shipping into retail.    
We tailor strategies to reduce overall transportation spend, optimize retail performance, and beat out the competition for shelf space. 97% of our orders end up on retailer's shelves such as Walmart, Costco, Bath & Body Works, Whole Foods, and Best Buy.    
Don't Miss the Next Freight Market Update   
Want the inside scoop on breaking news and trends? Sign up for Zipline's monthly e-newsletter so you don't miss the next freight market update!