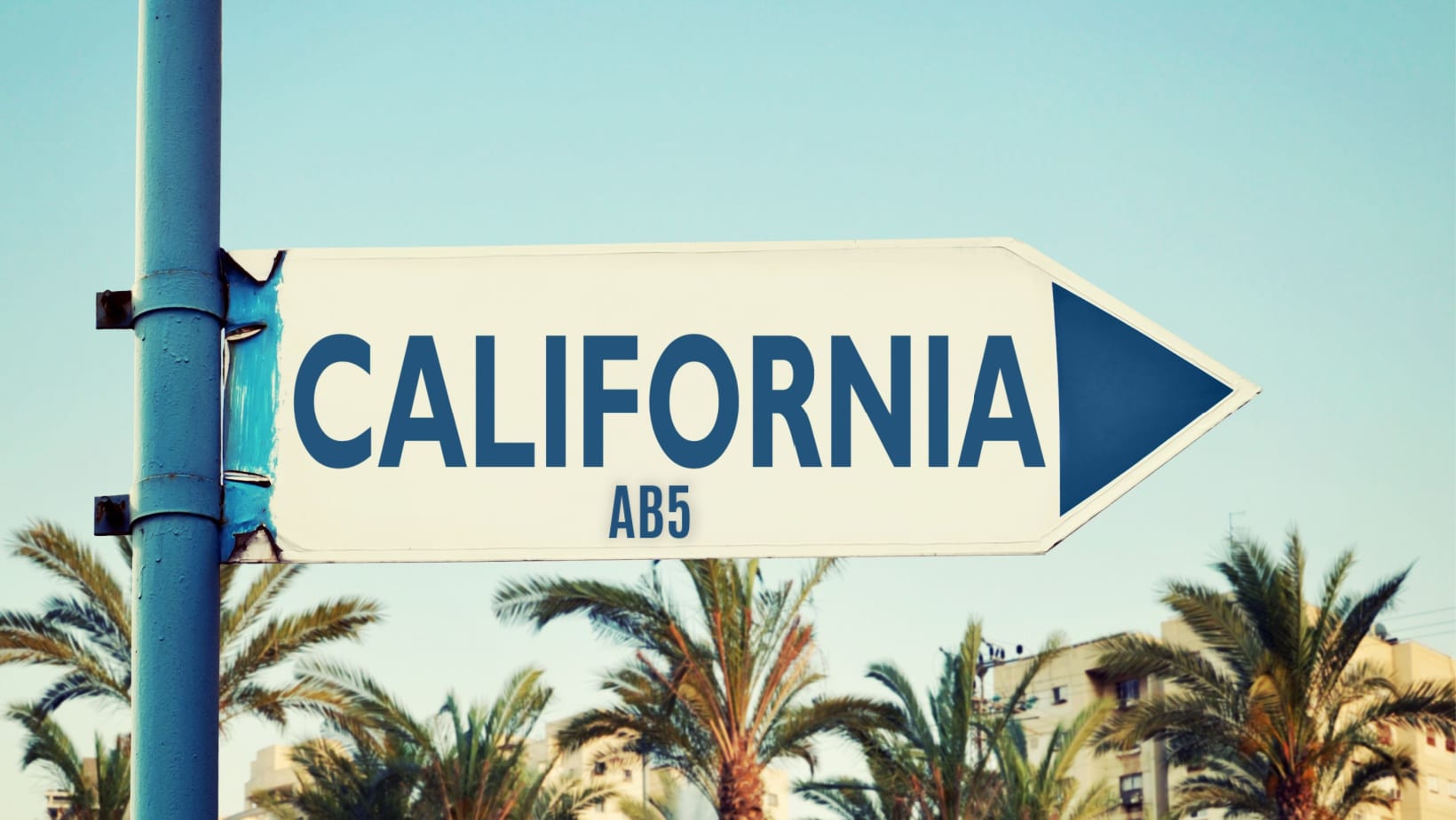 August 29, 2022
On June 30, 2022, the Supreme Court denied the California Trucking Association's appeal of California's AB5. Therefore, the two-year-long injunction will be lifted and AB5 will be law in California retroactive to January 1, 2020.
What is AB5?
California's AB5 requires companies using independent contractors in California to reclassify those workers as employees.  
This bill was originally designed to regulate companies that hire "gig workers" in large numbers, such as Uber, Lyft, and DoorDash. The bill aims to ensure these types of workers are offered protections and benefits such as workers comp, unemployment insurance, paid sick and family leave, and health insurance. 
In order to be considered a true independent contractor, a worker must satisfy all three requirements of AB5's "ABC" test: 
A. The person is free from the control and direction of the hiring entity, both in contract and in fact.

 

B. The person performs work that is outside the usual course of the hiring entity's business.

 

C. The person is customarily engaged in an

independently established trade, occupation, or business of the same nature as the work performed.

 
With few exceptions, the relationship between independent truckers and their carriers, brokers, and shippers will be governed by the "ABC" test. 
What Does AB5 Mean for Truckers?
An estimated 70,000 owner-operators will fail this test and be reclassified as employees instead of independent contractors. This means trucking companies may have to begin paying a base salary and benefits to employees who fail the test, rather than compensating drivers on a per load or contract basis. 
Keep in mind, most truck drivers are independent owner-operators who contract with trucking companies to make deliveries. They individually own their trucks, have flexibility in setting their own schedules, and function as small-business owners rather than large-business employees. 
Paying base salaries, benefits, and payroll tax in order to employ owner-operators is a huge cost that many businesses simply cannot afford. As for owner-operators, this set-up takes away their decision-making power over when and how often they work and the rates they will accept.  
Alternatives include moving their operations from California to another state or opening their own company.  As most business owners know, the latter comes with much more responsibility and time dedication, which some drivers will not be willing or able to take on. 
A recent FreightWaves survey of carriers found some respondents view the bill as an existential threat to the way American supply chains currently function, while others feel it is a necessary legislative step to prevent companies from taking advantage of workers. 
Although AB5 is currently in effect, not all companies are taking necessary steps to comply with the law. Until the state begins enforcing it or misclassified employees take legal action, not much will change.
How Will AB5 Affect the Freight Market?
The timing of this law going into effect is not fantastic.   
"Gasoline has been poured on the fire that is our ongoing supply chain crisis," said the California Trucking Association in a statement on June 30, 2022, "The impact of taking tens of thousands of truck drivers off the road will have devastating repercussions on an already fragile supply chain, increasing costs and worsening inflation." 
Only a few months into AB5 going into effect, we are seeing a driver shortage in California. Long term, the effects may be much greater. 
AB5 may destabilize the trucking market in California, which can create a variety of issues for shippers moving freight in and out of the state. Capacity could suffer a blow if a significant number of truckers decide to leave California. Rates could also rise if carrier expenses increase to compensate drivers as full-time employees. 
California's giant portion of the logistics industry means the entire country will likely feel its effects. There are also concerns that other states will follow California's lead and adopt AB5.
There have also been owner-operator protests against AB5 in early July, which halted operations at the ports of Los Angeles and Long Beach. There is a strong likelihood that protests of this nature will continue and cause additional supply chain disruptions in the future. 
Some experts predict that the major, lasting effects of AB5 will become more apparent in early 2023. 
Keep Tabs on AB5 With Zipline
While it's currently unclear just how deeply AB5 will affect truckers, shippers, and the supply chain as we know it, Zipline Logistics experts will continue to monitor the market for real time updates and insights. 
We will also continue to put our best foot forward to help shippers navigate the ever-evolving supply chain. Partnering with Zipline means you'll receive: 
Consistent market updates and insights

 

Creative retail logistics solutions

 

A dedicated account team available to answer your questions 24/7