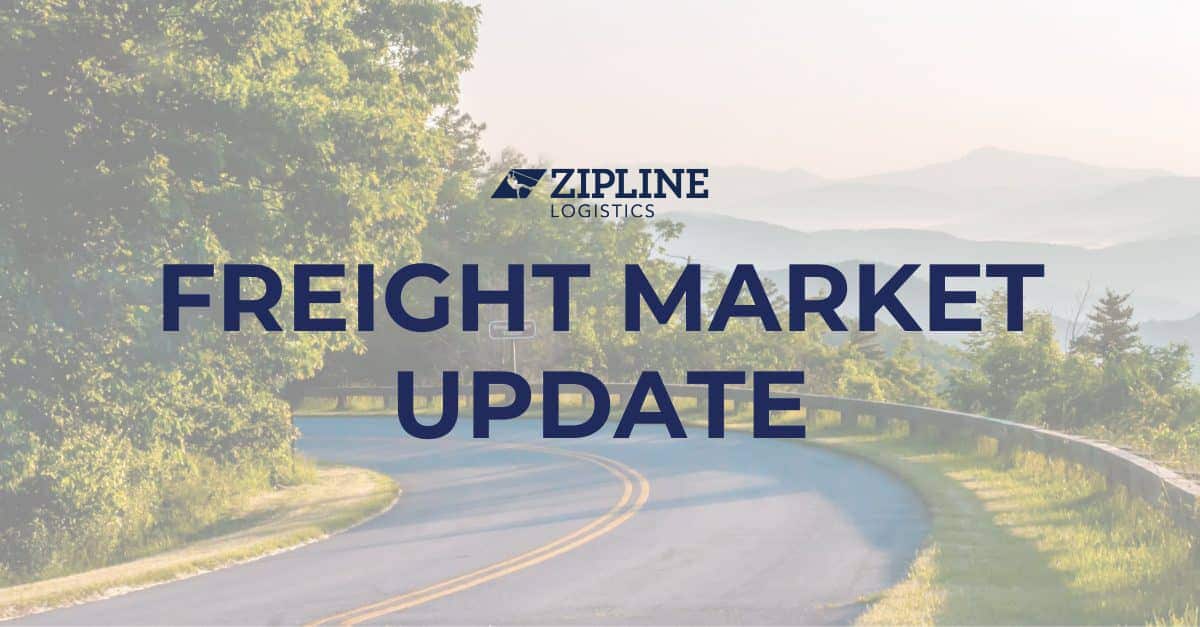 September 26, 2023
Welcome to the Zipline Logistics Q4 2023 Freight Market Update!
Although rates have continued to hover near the bottom of the market, there is some evidence that they could soon turn. Our in-house experts believe this could occur in the back half of Q2 2024, so now is the time to sit down with your transportation provider and prepare your supply chain for rate and capacity changes. 
Rising inflation and fuel rates have pushed freight rates up slightly (but not significantly) heading into Q4. In the coming months, we predict rates will remain flat outside of the usual seasonal fluctuations brought by holiday retail sales. 
Economic Factors
Inflation 
Inflation rates initially dipped during Q3 but have now nearly erased the progress, rising again to a current level of 3.7%.  
Fuel Prices
Average fuel prices in the U.S. have ceased their steady decline that began at the end of 2022. Diesel has risen from the $3.80 per gallon reported in July to $4.58 per gallon. These increased prices have contributed to rising inflation. 
COVID-19 
While immediate effects of the pandemic are mostly a thing of the past now, the paradigm shift that occurred will affect our industry for years to come. Check out this report where industry executives reported that visibility, resilience, and efficiency have become top-of-mind for supply chain managers.  
Cost savings will always be desirable, but the significant disruptions that the pandemic brought on logistics operations made executives re-evaluate their supply-chain values, moving flexibility and resilience higher on their priority lists.  
Freight Market
Ports
Since our last update in July, the ocean rates index has remained stable. After a slight rise in August, they fell again to current levels of $1,251. This is consistent with pre-pandemic ocean rates. 
LTL and the Yellow Shutdown
The LTL market is in an interesting place after Yellow shuttered operations this summer. Yellow was one of the largest LTL companies in the country, and the fallout from their shutdown is still being calculated by other LTL carriers, clients, and truck drivers.  
Ziplines resident LTL experts believe that the initial impact will be minimal as LTL carriers were operating with 15-20% excess capacity before the shutdown and have the capacity to take on additional volumes from former Yellow clientele. Rates will begin to be affected when Yellow's truck and terminal assets have found new homes with new carriers, and those carriers then adjust strategies accordingly.  
You can read a more detailed report here. 
Volumes, Rejections, Rates 
We project that the market will remain flat outside of normal seasonality with retail activity around the holidays.

 

Our experts predict the market to turn around the back half of Q2 2024 at the earliest.

 

National Average Fuel rates have been ticking up steadily in recent weeks.

 

California is a hot market, meaning carriers want to go there because there are high volumes of freight available.

 

Florida is cold. Many carriers would prefer to avoid going into Florida as it can be difficult to find return loads in the current market.

 
National Average Dry Van Rate Per Mile

Outbound Tender Rejection Index

Outbound Tender Volume Index

Industry Trends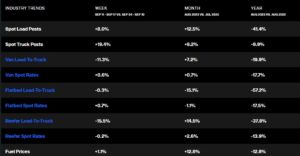 Outbound Dry Van Market Heat Map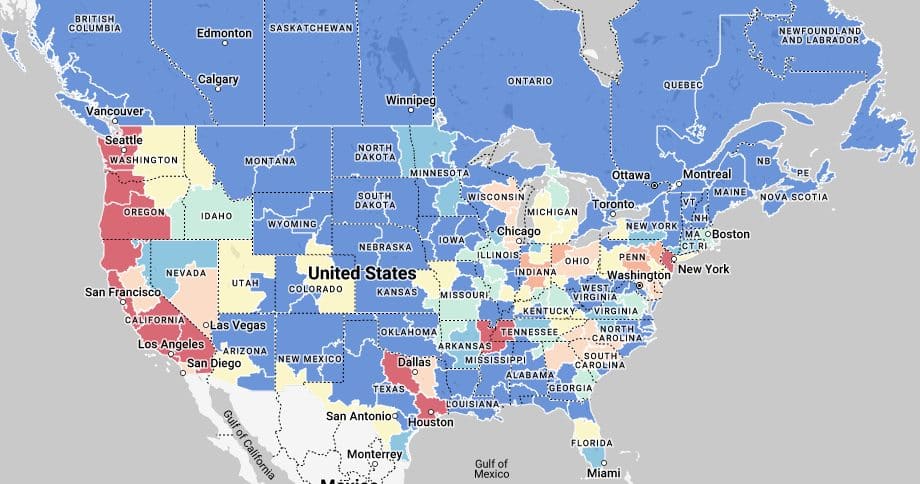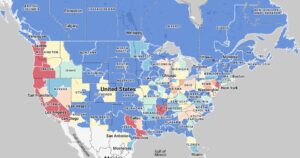 Inbound Dry Van Market Heat Map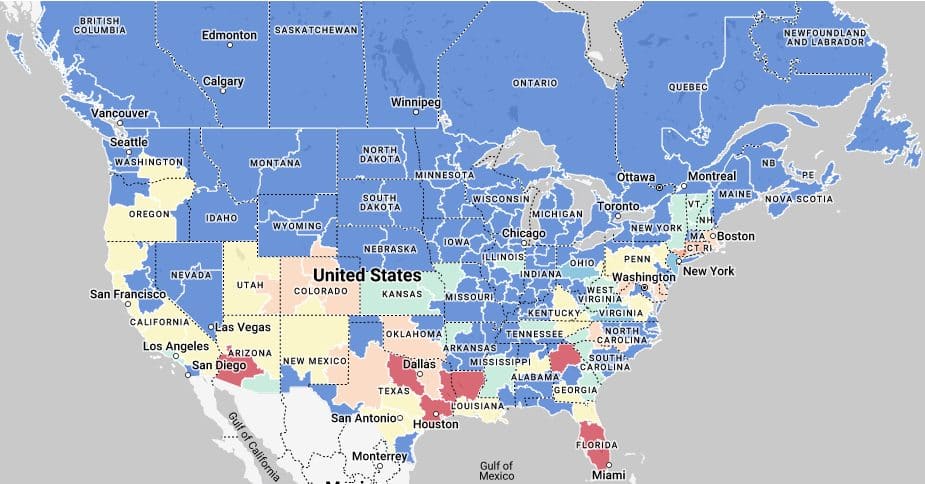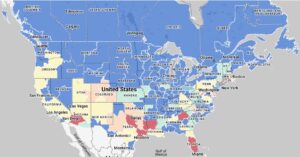 National Average Fuel Rates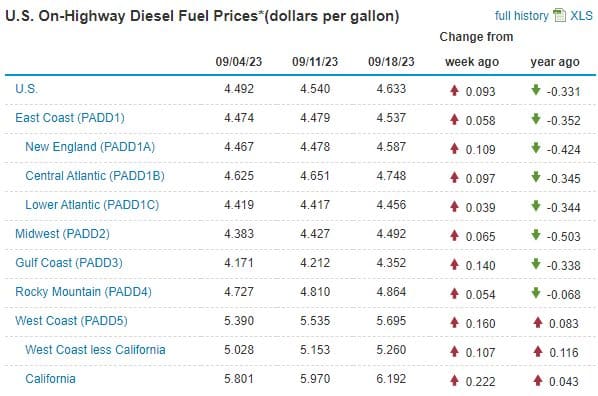 Retailers
Based on IRI data, the beverage industry was out-of-stock on average 12% in August 2023. In just one category – we'll use water as an example – that equates to $217 Million in revenue opportunity cost left on the shelf in just a single week.    
The packaged food industry was also out-of-stock on average 10% in August 2023. In just one category – we'll use snacks as an example – that equates to $208.65 Million in revenue opportunity cost left on the shelf in a single week.    
Retail Buyer Data 
Even in a soft freight market, retailers are being picky with the brands they choose to work with. In a survey of retail buyers, 90% said a supplier's ability to deliver on time impacts their purchasing behavior of that brand and 66% have ended relationships with suppliers over delivery issues.       
Navigating the Freight Market
Regardless of an ever-changing freight market, CPG suppliers focused on logistics partnerships rather than freight transactions will be the real winners in 2023. Believe it or not, there are still many aspects of your supply chain that you can control with industry experts on your side.      
At Zipline Logistics, we care about each CPG brand's unique business needs and tailor strategies to reduce overall logistics spend, optimize retail performance, and beat out the competition for shelf space. Zipline processes were built specifically to resolve the most critical logistics challenges faced by consumer goods brands shipping into retail.    
We tailor strategies to reduce overall transportation spend, optimize retail performance, and beat out the competition for shelf space. 97% of our orders end up on retailer's shelves such as Walmart, Costco, Bath & Body Works, Whole Foods, and Best Buy.   
Don't Miss the Next Freight Market Update
Want the inside scoop on breaking news and trends? Sign up for Zipline's monthly e-newsletter so you don't miss the next freight market update!