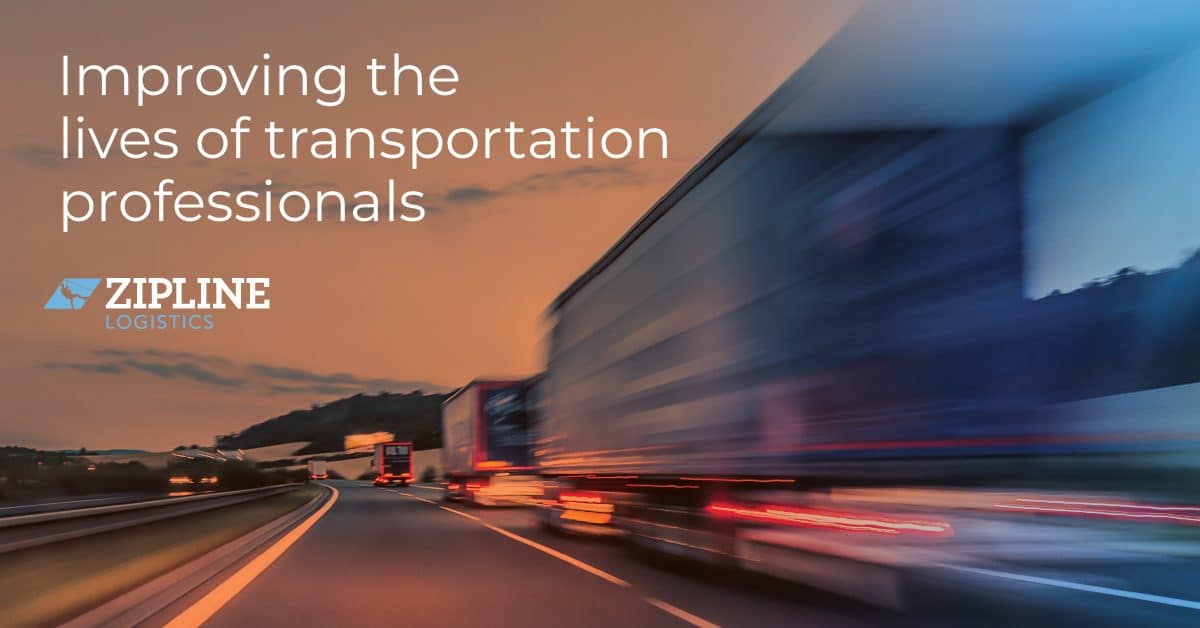 September 1, 2022
At Zipline Logistics, our mission has always been to improve the lives of transportation professionals.  
While our state-of-the-art technology and retail-specialized solutions certainly play a big part, living out this mission really comes down to our outstanding employees and the world-class customer service they offer our clients.  
The overall well-being and mental health of our employees and customers is our number one priority.
Mental Health by the Numbers
According to the National Alliance on Mental Illness:
1 in 5 Americans struggle with mental health issues daily.

 

Half of U.S. adults who have a mental illness (nearly 27 million people) are battling mental illness without treatment.

 

90% of people who die by suicide showed at least one sign of a mental illness before death.

 

50% of people who suffer a mental illness in their lifetime will also suffer from a substance abuse issue.

 
Mental health impacts far more than just mood – it dictates a person's ability to function in daily life, foster and maintain healthy relationships, and so much more. 
Mental Health in the Logistics Industry
Logistics is truly a fast-moving, ever-evolving, and often stressful industry to be in, the global pandemic aside. There is no doubt that the past few years have taken an additional toll.  
While the start of the pandemic forced numerous businesses to slow down and even close their doors, the opposite happened for supply chain workers. The industry has faced major labor shortages, port backlogs, product and material shortages, rising fuel and freight costs, extreme weather events, new government regulations – the list goes on. 
To meet increased demand and keep the economy flowing, supply chains have stretched themselves to the max throughout the last two years. Truck drivers, warehouse workers, and transportation managers alike have taken on bigger and more stressful workloads.  
How Zipline Improves the Lives of Transportation Professionals
Many of our clients bear these titles and interact with Zipline employees daily. We recognize how incredibly overwhelming this industry can be and aim to make life easier for our clients. 
We do this through our: 
Retail Specialization
We work exclusively with consumer-packaged goods (CPG) brands to strategically optimize their retail supply chains and eliminate out-of-stocks. Our national network of 38,000+ carriers are uniquely qualified to haul retail goods specifically, minimizing the delays, fees, and headaches brands usually experience shipping into retail. 
World-Class Customer Service
At Zipline, most freight we manage is time sensitive. With this comes a critical need for our team members to be adaptable, offer creative solutions, and proactively communicate. Account teams are trained to work as an extension of your network and are evaluated and compensated based on their ability to reach customer performance metrics. Our NPS customer satisfaction score ranks 5x the industry average! 
State-of-the-Art Technology
Built in-house and improved daily by the Zipline development team, KanoPI is our proprietary shipper intelligence tool. Our retail logistics experts leverage KanoPI to optimize our client's supply chain efficiency, reduce costs, and skyrocket logistics performance. 
We want contact with Zipline to be the best interaction our clients and carriers have all day. But accomplishing this starts with the environment we create within our own walls.  
Mental Health of Zipline Employees
Zipline Logistics is committed to breaking the stigma around mental health and improving the overall well-being of our employees.  
Our Diversity & Inclusion Committee continues to lead the conversation by organizing pro-mental health company activities, bringing in speakers to touch on important tropics, and sharing valuable and informative resources with the business. Our Human Resources team also goes above and beyond to create an engaging, inclusive, and thriving culture that fosters a healthy work-life balance.  
Some unique Zipline work perks include: 
Free confidential counseling sessions through Employee Assistance Program

 

In-office bar & coffee bar

 

In-office massages

 

In-office guided meditation & stretching

 

3 weeks PTO, 6 holidays, birthday & work anniversary off

 

Tuition reimbursement & certification funds

 

Mentorship program

 

Summer Friday hours

 

Prize wheel spins

 

Financial wellness program

 

Frequent social events & happy hours

 

Weekly engagement surveys

 

Company paid gym membership & discounted Classpass membership

 
These fun and positive perks help to motivate and reward employees, foster individual growth and positive employee relationships, and offer Zipliners well deserved opportunities to blow steam off and enjoy themselves.  
Interested in working for a company that prioritizes your well-being? We're hiring! 
Mental Health Resources
If you or someone you know is in crisis, dial 988 to contact the 988 Suicide & Crisis Lifeline. This new, shorter phone number makes it easier for people to remember and access mental health crisis services. The previous 1-800-273-TALK (8255) number will continue to function indefinitely.  
The 988 Suicide & Crisis Lifeline is a national network of local crisis centers that provides free and confidential emotional support to people in suicidal crisis or emotional distress 24 hours a day, 7 days a week in the United States. 
Additional mental health resources can be found at https://www.mentalhealthfirstaid.org/mental-health-resources/.  
About Zipline Logistics
Zipline Logistics is the only third-party logistics solutions provider in North America exclusively servicing the consumer-packaged goods sector. Our uniquely qualified carrier network, world-class team of retail transportation experts, and state-of-the-art shipper intelligence tools maximize client revenue and gross margin by eliminating out-of-stocks through optimized, on-time in-full performance. 
Our Stats:
Zipline Average OTIF: 95% | Industry Average OTIF: 77%

 

97% of our shipments are destined to land on a retail shelf

 

38,000+ in-network retail specialized carriers

 

15 Years Exclusively Shipping to Retail Locations

 

Zipline NPS Score: 74 | Industry Average NPS Score: 13