July 13, 2021
What was once believed to be a temporary disruption is leaving a lasting impact on the retail industry. We are over one year into the global pandemic, and its effects on the sector are as pronounced as ever.
Challenges brought on by COVID-related disruption are forcing shippers to adjust supply chain strategies to accommodate fervent demand, rising logistics costs, and scarcer trucking capacity.
As we hit the back half of 2021, let's explore what current retail trends are doing to the freight market and how CPG brands are affected.
Consumer Demand Still Going Strong
While last month's retail sales declined by 1.3% from April numbers, they still trounced the previous May in year-over-year analysis. When compared to 2020 figures, sales were up 28.1%.
Consumer spending continues to drive growth in the sector, causing the National Retail Federation to revise its previous estimates for yearly revenue numbers.
The NRF now anticipates "that retail sales will now grow between 10.5 percent and 13.5 percent to more than $4.44 trillion this year as the economy accelerates its pace of recovery." The announcement was made during NRF's inaugural State of Retail and the Consumer event. The new forecast far exceeds their original projection of 6.5% growth.
And a large part of that projection includes non-store and e-commerce growth, which the NRF estimates to grow between 18 and 23%.
This continued level of demand is a significant contributing factor to the freight market boom. It is further exacerbating issues that shippers have faced for quite some time—rising rates and shrinking capacity.
Port Difficulties Set to Continue with Retail Growth
Increased consumer spending drove imports as brands brought in added product to keep up with inventory restocks. A fresh round of heightened import volume in 2021 has compounded the situation congesting many of the country's major ports.
After COVID restrictions eased in Q2 of 2020, Asian industrial production ramped up, causing volume at ports to increase well above previous levels. This import boom continued as consumer demand skyrocketed and continued to operate well above previous levels throughout the pandemic.
Moreover, an early summer COVID shutdown at the Yantian Port in China is a cause for further congestion concerns. The port is now back to full operations after dockworkers fell ill, but backlogs piled up at their facilities and around the region during its downtime.
Clearing the backlog may only take a month, but the effects of the disruption are poised to be a bigger issue for already congested US maritime locations. According to an article published by FreightWaves, "Ocean shipping experts say the cascade of released freight from Yantian will soon add to port congestion and vessel delays at major ports around the world, including in the US." This scenario could also send container rates above their current all-time high.
Since last year, container costs have risen 248% globally. As domestic brands continue to place orders with Chinese manufacturers, the country is scrambling to keep up. Currently, manufacturers are sitting 8-12 weeks behind production schedules. With retail peak season inching closer, brands will likely continue to try to restock inventories ahead of the holiday rush, amplifying freight difficulties.
Increased Retail Demand Translates to Freight Demand 
With the need for more products to keep up with consumer demand comes the need for more capacity to haul it; however, the supply side of the equation continues to fall short of demand.
According to the American Trucking Associations (ATA), 72.5% of all freight in the US was transported by the trucking industry. Demand far exceeded supply during the second half of 2020, and we continue to see the problem materializing today.  
Recently, the ATA reported that the industry would need to hire approximately 1.1 million new drivers in the next decade to offset the current demand strain. As a result of being that far deficient in labor, rates have skyrocketed, charging CPGs a premium to transport their products.
Average truckload costs per mile are about $3.30, a 165% increase from this time last year, and are steadily rising.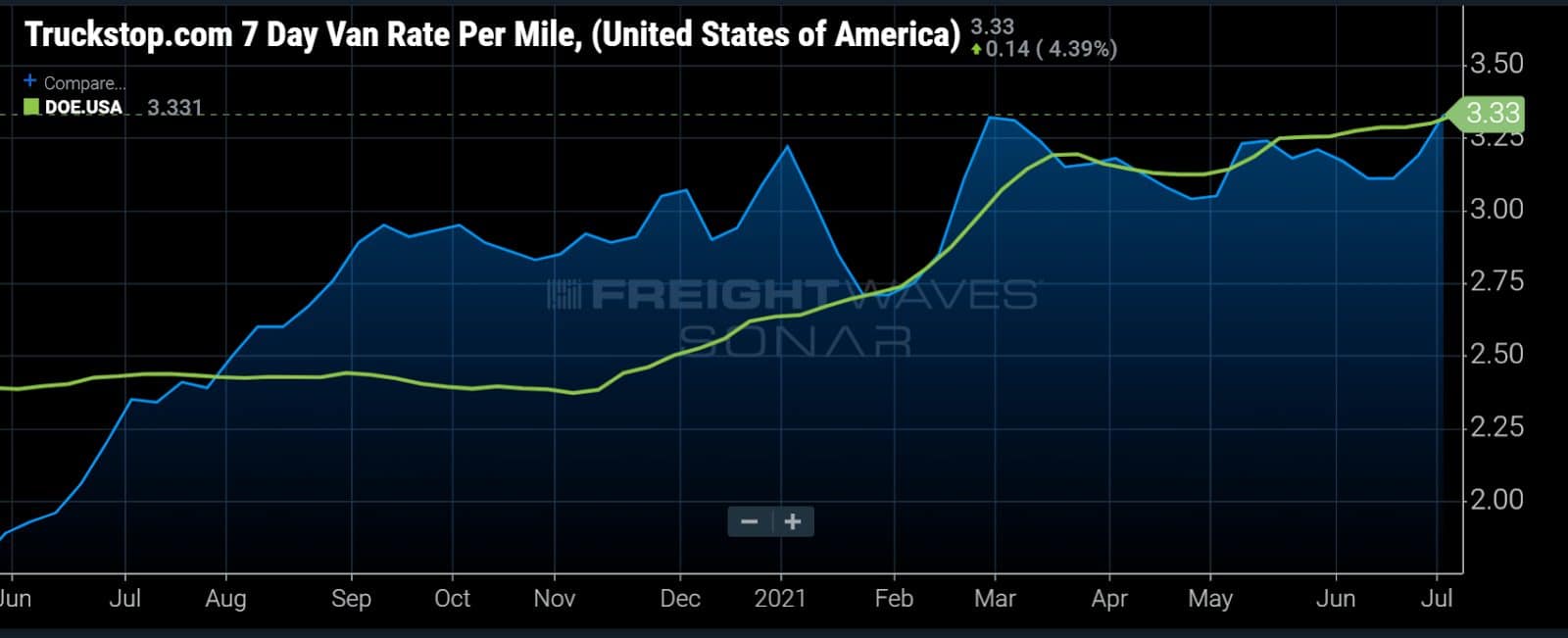 *Image sourced from FreightWaves
Additionally, less-than-truckload freight costs are rising alongside FTL rates. The average base rate continues to increase. Currently, costs are around $36 per 100lbs. An almost 200% increase from April 2020 figures is $20.  

*Image sourced from FreightWaves. The blue line shows 2020-2021 numbers. The green line shows 2019-2020.
Beyond just the massive need for trucking services, a driving reason behind this cost increase is rising fuel costs and an inflationary environment bringing up prices across the economy.
CPG shippers working with retail customers should expect to see higher logistics costs for the remainder of the year.
Retail Trends Adapting to Logistics Challenges
In addition to increasing costs for shippers, the capacity crunch and increased demand have also manifested themselves in the form of out-of-stocks at retailers.
Supply chain performance, specifically transportation, acted as a primary driver of product not being on the shelf. According to a recent CBA study, "transportation accounts for the largest share of order cycle time variability in most supply chains, thus affecting inventory levels, stock-out costs, and on-time delivery."
This variability can leave retailers in a pinch, which is why many have created programs to incentivize timely delivery. It has also forced them to rethink supply chain strategies as many brands have struggled to overcome logistics challenges.
As a response to greater out-of-stock rates and the need to accommodate higher velocity sales, retailers have tightened their selection of products in various categories. In the past, where you might have seen ten different flavor choices, you will now see five or fewer. 
According to an article published in the Wall Street Journal, "In grocery stores, the average number of different items sold was down 7.3%."
That translates to more efficient supply chains for retailers. It also changes the way suppliers create and market products. 
With fewer product lines purchased by retailers, suppliers must ensure that those still regularly selling to big box stores are not subject to production or transportation issues. Manufacturers must meet retailers' growing expectations to ensure that their more limited selection of products stays on the shelf. 
What Can Brands Do to Excel in This Retail Environment? 
With current consumption demands, disruptions, challenges, and pressure from retailers, some see the current landscape as disadvantageous to brands. But those enterprises best positioned to succeed in the long-term are the ones flipping the script on what's happening in the industry.
Forward-thinking CPGs are focusing on logistics performance in the face of inevitable rising costs.
Logistics should no longer be viewed simply as an expense. Instead, organizations aiming to solve the challenges that plagued suppliers in 2020 need to look at it as an investment. Enterprises can get ahead of their peers by delivering to critical retail customers on time.
Zipline Logistics works exclusively with CPG brands on a consultative level to ensure their supply chains are equipped to deal with current retail trends. Despite an industry-wide drop in service levels, our managed transportation customers maintained an average OTIF rate above 95%, bucking the trend, eliminating chargeback costs, reducing out-of-stocks, and increasing in-store visibility. We understand the importance of keeping your product on the shelf and can work with you to ensure that it does.
Through our specialized processes and best-in-industry customer service, we help enterprise CPGs succeed where it counts.