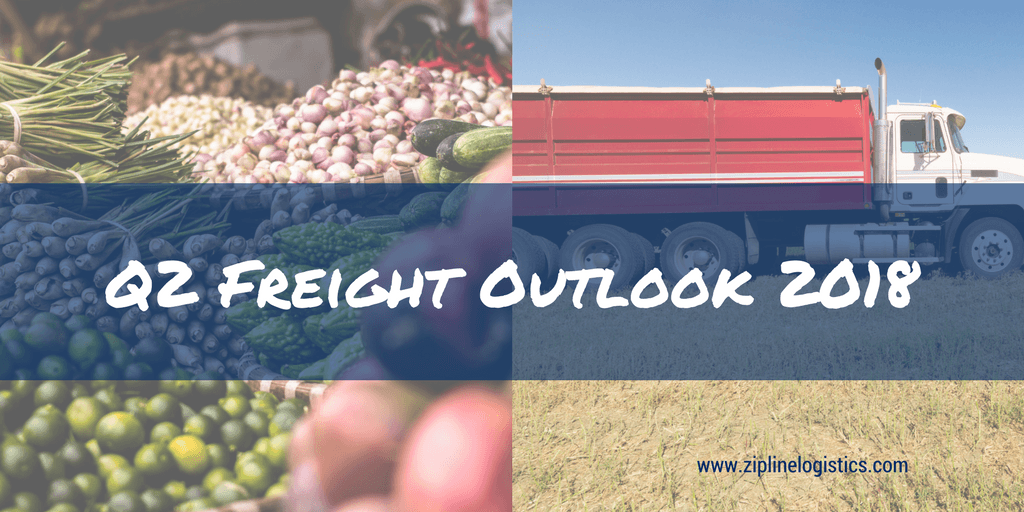 April 11, 2018
"The days of being able to grab a truck for a load on a turn of a dime are going to be coming to an end," said Walt Dasher, co-owner of Glennville-based grower-shipper G&R Farms, to The Packer.
Market conditions support Dasher's freight rate statement. It's new territory for both shippers and carriers nationwide.
Here's a summary of what's driving such massive change:
ELD Update and Penalties
Effective April 1st carriers will now be penalized for operating their trucks without an electronic log.
It is still uncertain how many carriers (mainly owner-operators) will decide to leave the industry, not willing to comply. Many carriers may decide to keep their motor carrier numbers active while remaining idle to see how the situation pans out.
We expect to see a dip in overall capacity Q2, but how big of a dip remains to be seen. What we do know are the penalties that have come into effect that may deter some drivers from staying on the road.
Drivers who do not have an ELD when required will be placed out of service (OOS).
The driver will remain out of service for 10 hours in accordance with CVSA OOS criteria.
Drivers will be allowed to travel to their next scheduled stop but cannot be dispatched again without an ELD.
If the driver is dispatched again, the driver and carrier will be subject to further enforcement action.
As the drivers who decide to keep operating adjust to the new regulations, we can expect a wave of carriers missing pickups and deliveries. Carriers that already have the required equipment installed will be better off, but the electronic logs are still new to many drivers (especially new hires). This means that it will take time and experience to learn how to accurately plan transits and ETAs.
Trucking Capacity 2018 Constraints
While the North American Supply Chain Study showed that shipper's primary concern for 2018 was dwindling truck capacity, many trucking companies have made moves to help fill the void.
Orders for brand new semis reached upwards of 133,900 in the first quarter of this year, more than double the amount of Q1 in 2017. However, trucking companies continue to struggle to keep up with the increased amounts of shipments we have seen through the end of 2017 up to the present.
According to DAT Solutions, the number of posted loads rose 27% from February to March of this year while available trucks only increased 14%.
The underlying problem is that many professional drivers are reaching the age of retirement, and the new generation looks at trucking as a less-than-glamorous job. Long hours, long periods of time away from family, and less than ideal living conditions on the road are not as attractive to those in the current job market.
According to the Bureau of Labor Statistics, the current unemployment rate is at 4.1% which results in a more competitive labor market. The result is that while carriers are increasing the sizes of their fleets, they aren't always able to find drivers to put behind the wheel.
Driver pay is increasing as a result.  With demand for freight services only growing, companies are offering signing bonuses as large as $15,000 and including salary bumps and referral bonuses to attract new drivers.
Wall Street Journal shares that, "Trucking companies boosted payrolls at the fastest pace in nearly three years in March… The trucking sector added 6,700 workers… bringing hiring at fleets to 18,500 new jobs for the first quarter, the strongest quarterly job growth for trucking since 2012."
The industry is working to make the job of a truck driver more appealing. Pay certainly has a role, but so does the treatment of drivers at shipper and receiver facilities.
Many are now focused on how to become a "shipper of choice" and facilities nationwide are implementing changes in order to secure better capacity. Providing drivers with better environments, more flexibility and respect can go a long way.
This all boils down to the fact that even as capacity improves and more trucks/drivers hit the road, pricing is not likely to lower by a significant amount. To keep drivers incentivized and engaged, rates will need to stay competitive.
Produce Season Capacity Impacts
Produce season has already begun in some areas of the country, and the full effects of produce shipments looms on the horizon. As increased shipments of fruits and vegetables (among other things) increase from the southern regions, capacity will be drawn to fulfil demand.
Here are market updates on major crops for 2018:
According to Bill Martin of Haul Produce, lower Rio Grande Valley potato and onion shipments were underway as of late March. Shipments will ramp up in April and continue through late May.
Potato exports from Texas to Mexico and Canada were up 17% last year and the growth trend is expected to continue for 2018.
Florida blueberry shipments are underway and so far, the crop yield looks to be very strong. For example, Wish Farms of Plant City Florida is expecting 250,000 pounds of organic fruit this year compared to 100,000 pounds in 2017.
Meanwhile, Florida peach shipments were just beginning during the tail end of March and are expected to continue through mid-May with the bulk of these shipments occurring in April.
The majority of sweet potato shipments come out of North Carolina. Harvests were down last year from 163,000 acres in 2016 to 159,300 in 2017. The yield may drop again this year but still expect to see strong demand for capacity in this region.
Sweet Corn Shipments will really kick off around April 9th as the country prepares for the upcoming holidays this spring and summer. However, expect to see swings in the volumes of these shipments as the planting season was plagued by cooler weather and rain which is creating inconsistencies in projected harvest times.
The orange crop was badly damaged by hurricane Irma in September of 2017. The orange crop had already been suffering due to a disease called citrus greening and was blasted again by the storms that battered the Southeast. According to the Florida Department of Agriculture, the hurricane caused $760 million dollars in damage to citrus crops. We expect to see a significant decrease in orange shipments out of Florida this year.
Produce routes may change, too. For example, people are having problems getting trucks out of Texas bringing Mexican onions, so it's likely that there will be a trend of using Vidalias in foodservice and less Western onions on the East Coast. Freight demand and truck availability just doesn't support previous setups.
Freight Rates Still Rising
Spot rates are on the rise as a result of multiple factors. ELD's, driver shortages, increased demand for capacity, and the beginning of produce season are the main culprits.
Todd C. Fowler of KeyBank Capital Markets Inc. explains "we expect tight capacity to maintain upward pressure on rates through the early spring food, beverage and produce shipping season."
According to Fowler, we can expect the spot rate index to increase 25-30% "considering normal seasonal patterns and prior-year comparisons" while we can expect to see spot rates over the entire year increase by percentages in the "high teens".
Using information from Internet Truckstop, Fowler concludes that "dry van spot rate ex-fuel is up 34% year-to-date in 2018, which follows a 12% increase for full-year 2017. Refrigerated rates have increased 35% year-to-date following a 12% increase in 2017."
Railroad Congestion
March data confirms total rail traffic was 2.6% higher during the first 13 weeks of 2018 YoY. This suggests that as truck capacity strains, more businesses are looking to rail as a possible solution.
With increased intermodal volumes there have also been service delays. Hub Group stated in a recent NASSTRAC webinar that for containers that normally take 14 days to turn, 15.5 days is the current pace. This equates to roughly a 10% reduction in available boxes.
Yards are adjusting to increased demand, but delays are common in the interim.
—
It's essential that shippers understand current market conditions and adjust to freight rates accordingly. Operating the same way as years past is likely to result in unmanageable cost increases and service failures.
Additionally, transportation providers should be proving transparency and visibility into costs and cost drivers. Armed with this information, shippers can better price product and make more strategic operational decisions with a freight brokerage service.
Want More on the Logistics Industry Outlook in 2018