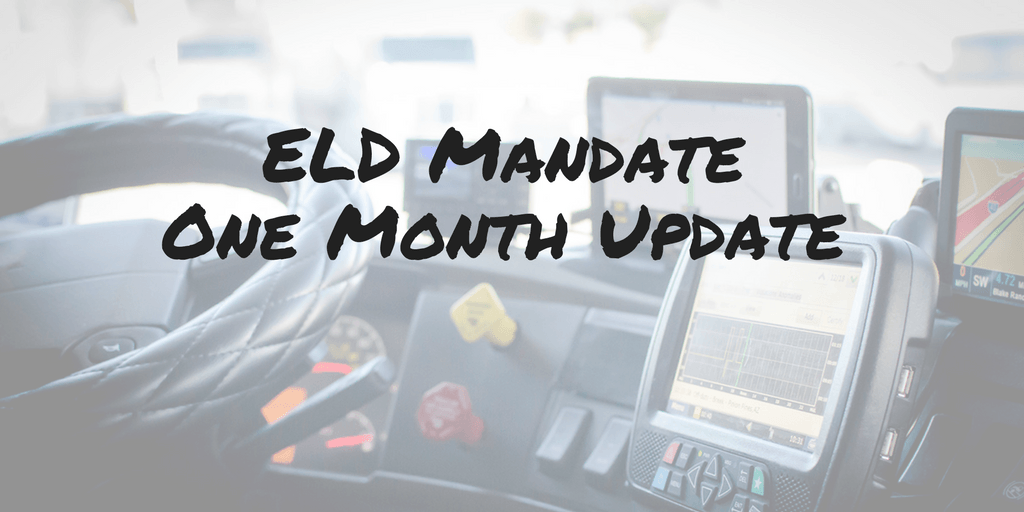 January 18, 2018
The ELD Mandate has officially been in effect for one full month, and nearly everyone has experienced hiccups since its enforcement. In fact, FTR asked its audience if ELDs have had an impact since Dec. 17, 2017, and 97% of survey participants said yes.
It's been a bumpy adjustment period, to say the least. WSJ reports that "The transition hasn't been smooth. Some truckers report delays in getting devices delivered, trouble getting units installed or difficulty logging on to smartphone apps that sync up with the devices. Others said they waited for hours on hold trying to reach customer-service representatives."
Yet, even when installed properly, ELDs are impacting service and pricing. There is much change as a result, with extreme impacts on capacity. Both receivers and carriers are altering their operating procedures.
Here are specific examples of what we're seeing in terms of ELD:
Some carriers are saying "no" to lanes they used to run, particularly if the distance means they can't get home within the stricter HOS rulings. For example, a carrier partner told Zipline they no longer run freight from Denver, CO to Coachella, CA because Coachella is a couple hours outside of Los Angeles, and that once they delivered, the ELDs wouldn't permit their drivers enough time to make it back to Los Angeles for the night.
Raising prices for lanes where they are prone to wait-time or traffic. For example, a carrier Zipline regularly works with had to increase their prices after installing ELDs. They raised their rate for Williamsport, PA to Bronx, NY by $540 to account for the risk of running out of hours when going into city traffic.
Some carriers are closing their doors. Southern Freight decided to go out of business rather than fight new regulations and update all its trucks with ELDs. Unfortunately, they won't be the last.
There have been changes in operating hours. Companies who are prospering during this time of change are those who are acting with flexibility. We've seen some pickup and receiver locations change their operating hours to better serve the needs of drivers. They are keeping docks open a few extra hours, here and there, in the evening or on the weekends to help drivers during this period of adjustment.
Carriers are pickier with freight. Carriers can be choosier with the freight they take on. If your load requirements, location, pay, or hours are non-accommodating or undesirable, you're going to have trouble sourcing capacity. For example, if you are located more than 100 miles off the Thruway, you're most likely going to have to pay more for a trucker to take on the job.
Multi-drop orders are requiring some rearranging. Previous routes may not work. Work with your service providers to rearrange scheduling in a way that is optimal for all parties. You may have to add an extra day to make things work.
Changes are not restricted to just truckload. The current market and recent changes are also impacting modes such as LTL. Logistics Management states that "…if you are an LTL shipper, you should brace for some of the steepest rate increases in a decade because of sharply higher demand."
Current Capacity – January 2018
To illustrate the current constraints on capacity, here is a load/truck ratio map for a selection of ten U.S. cities.
L/T = the number of shipments posted from a city, divided by the number of available dry vans in that area. Any ratio that exceeds 5.5 indicates an incredibly tight market.
Looking at the map, you can see that the majority of U.S. cities exceed the 5.5 ratio threshold. In fact, the week of January 6, 2018, we hit an all-time high of 14.7 for the national L/T ratio.
Loads looking to leave regions with a high ratio face heavy competition for equipment and drivers. As stated in the section prior, carriers can be much choosier about what loads they accept and how much they charge.
ELD Impacts on Shippers and Vendors
So, what should shippers and vendors keep in mind as the industry continues to adjust?
Prices will stay high, at least for a while. Until trucking companies figure out the nuances and costs of operating with ELDs, they will raise prices to make up for lost productivity. There may also be lasting price increases for certain scenarios. Have honest conversations with your service partners to establish new optimums.
Need for increased communication and collaboration. Don't be afraid to ask for different appointment times, to negotiate, or to simply question a shipment. Your service providers are navigating the ELD impacts alongside you, and questions can lead to ideas and new solutions that benefit you both.
Be flexible with your appointments. Your early morning appointments might not be as attractive as they used to be – so, be flexible. And, if you have long dwell times, expect issues with deliveries. Drivers can't afford to work on shipments that eat up their HOS. Be as accommodating as possible. In an article published by Logistics Management, Myron P. Shevll, the Chairman of New England Motor Freight, notes, "…work with your carriers to take costs out of their networks, reduce waiting time at docks and other facilities and realize truckers have to make a profit as well."
Talk to your network. If you work with multiple shippers, warehouses, and carriers, keep up communication to avoid additional stress. Effective communication and teamwork could make a monumental difference; learn from their experiences, too.
Next-day orders could now be two-day orders. Orders you previously scheduled for next-day delivery might need to transition to two-day shipments. We're seeing that anything over 450 miles is subject to this shift.
—
Are you experiencing service issues under the ELD Mandate?
Reach out to Zipline Logistics today for assistance.