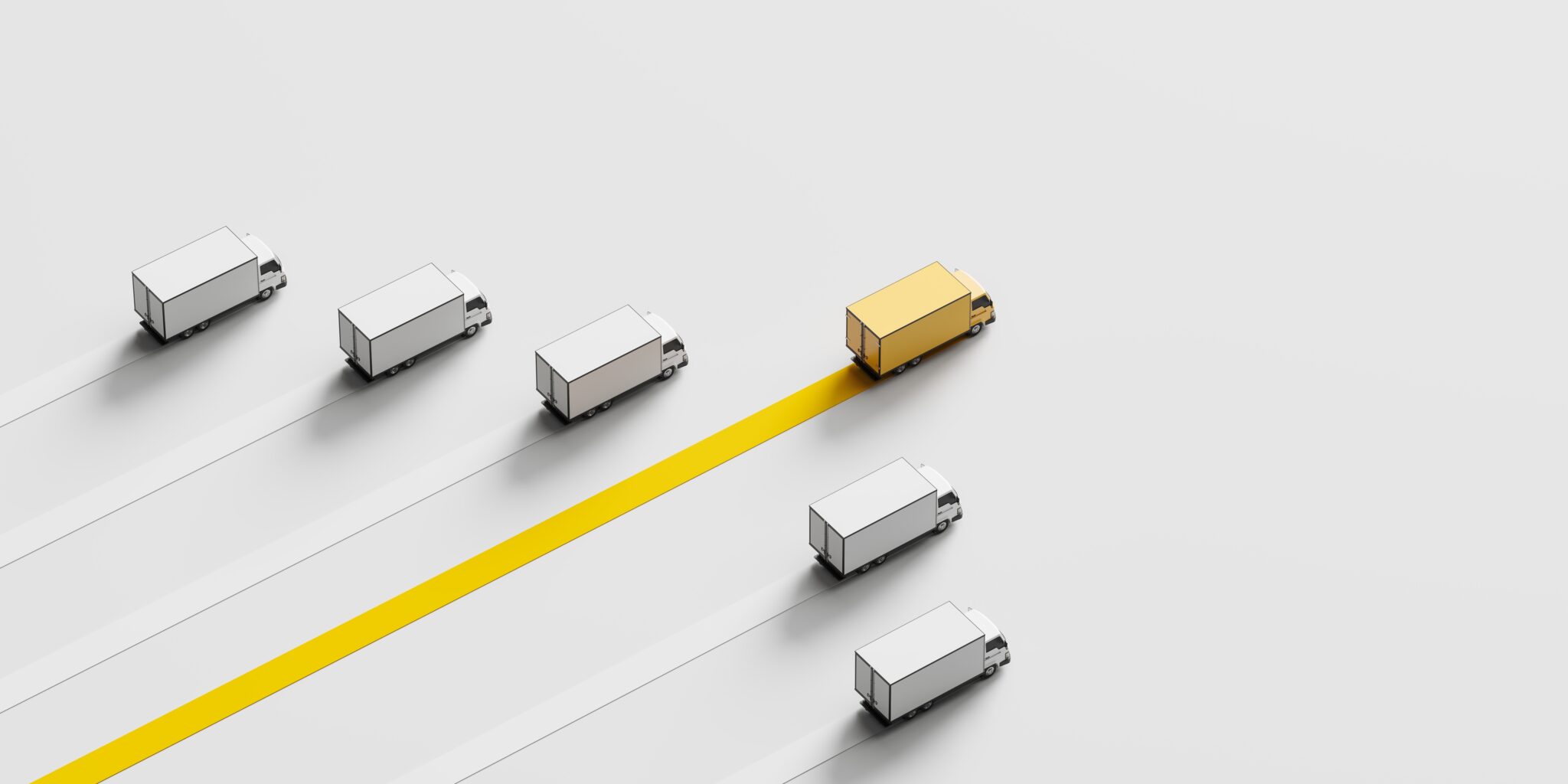 October 10, 2023
If you are an up-and-coming CPG brand that has secured a deal with KeHE, congratulations! Working with a nationwide distributor can open many doors previously inaccessible to your brand and land you a lot of shelf space.  
For those of you that don't know, KeHE is a wholesale food distributor. This means that they purchase products from CPG brands up-front, bring them into their network, and resell to retailers all over the nation, acting as a third-party middleman between your brand and store shelves. 
A relationship like this can be hugely beneficial, but the nuances of delivering your product into their warehouses can present massive challenges for inexperienced brands. 
In this article, we'll run through some common issues that arise for brands entering a relationship with KeHE and provide some tips to maximize your success. 
Common Pain Points When Working with KeHE
Many of the potential pitfalls outlined for UNFI in a previous blog also apply to KeHE, but there are unique nuances. 
Customer Pick Up vs. Delivered
A decision that brands will face when entering a relationship with KeHE is between CPU (customer pick-up) or delivered. Customer pick up means that when KeHE orders product from your brand, they also handle (through contracted or owned fleets) picking up the product and transporting it to their facility. Delivered pricing, on the other hand, is when the vendor handles transporting its own goods to the distributor. 
It can be tempting to choose CPU and take transportation off your plate altogether, but keep in mind that you essentially lose all visibility and control over your freight deliveries when you do. This is no big deal for some brands but can be grating when the carriers making the deliveries miss appointments, damage freight, or otherwise don't comply with KeHE's standards and the resulting chargebacks still come back to you.  
These chargebacks, explained below, are some of the most common pain points we hear about from customers moving away from CPU. 
Chargebacks
KeHE will fine vendors for late deliveries, missed appointments, and damaged freight in the form of chargebacks. These chargebacks, rather than being passed back to the vendor at the time of infraction, are instead added up and sent back at the end of each quarter. Often, KeHE doesn't even notify your brand when a chargeback is added, they simply unload the driver, send them on their way, and add the fine to the total.  
If your brand is utilizing CPU, you are even less aware of these fines adding up. If a driver shows up late for an appointment, KeHE will often unload the driver anyway but still add a fine for late delivery. A vendor may believe that their transportation is going smoothly and then get hit with a chargeback list for thousands of dollars at the end of the quarter.  
Even If you aren't using CPU, these chargebacks can still be an issue if the carriers you are working with don't perform well – and since fines for overages and shortages are often set as a percentage of the cost-of-goods-sold, they can add up extremely quickly.  
MABD vs. MAOD
Since on-time delivery to KeHE is imperative to avoiding fines, you may think delivering ahead of schedule is an option. This is not the case, because KeHE is a 'Must Arrive on Date' facility, rather than the more common 'Must Arrive by Date' facility. This means that the product needs to be delivered on the exact day that KeHE sets. Delivering before or after the MAOD will result in a chargeback.  
Scheduling
Because freight must be delivered on an exact day, scheduling becomes extremely important to success in KeHE. As a result, KeHE appointments fill up fast and are difficult to change. Sometimes the only available appointments are for after the due date, and KeHE won't make exceptions on their fines simply because they didn't have open appointments. 
Getting appointments that fit with your brand and KeHE's schedules often involves much back-and-forth communication between your team and those onsite at the consignee. This means that there are many opportunities for misunderstandings and mistakes, especially if your brand doesn't have extensive logistics experience. 
Steps to Succeed in KeHE
These pain points may appear daunting, but don't be discouraged. It is certainly possible to be successful when delivering to KeHE. At Zipline, we have collected some super helpful tips throughout our 16+ year history of executing high delivery performance into distribution locations. 
Schedule in Advance
Since appointments fill up so fast at these facilities, ample lead time and advanced scheduling can help you avoid many headaches. Our in-house experts recommend scheduling delivery appointments two weeks in advance. This helps ensure you can secure an appointment that works for your schedule.  
It also means that you will have time to adjust the appointment if it becomes necessary. The cushion-time is crucial when changes must be made because moving appointments usually involves a lot of back-and-forth communication with the consignee, and you want to be sure you have time to work things out without risking fines for missed appointments. 
Communicate Carefully
Delivering to a distribution center is already fraught with many challenges, so the last thing you want is a driver to be turned away simply because they have the wrong delivery number. Pro tip: avoid rushing through confirmations, double-check all info before passing to carriers, and make sure your team is on the same page with every outbound order.  
Keep Detailed Records
When working with KeHE and their end-of-quarter chargebacks, keeping detailed records on each load is a must. This applies to all transportation but is particularly valuable when working with distributors. 
If you get your list of chargebacks at the end of a quarter and there are charges there that you want to dispute, it will be impossible to make a case for KeHE to remove the charge unless you have detailed records of the events of the load. 
Overnight Availability
Because many of these distributor locations have after-hours receiving, having an overnight transportation specialist available to answer carriers' questions, provide payment for unloading services, or assist with other issues that arise is a huge benefit. When an overnight load doesn't deliver because no one was available to answer the phone and assist, you then are faced with rescheduling appointments and the fines associated with that.  
LTL – Drop Trailer Agreement
If your brand ships to KeHE through LTL (Less than Truckload), it is beneficial to find a carrier with a drop trailer agreement in place. This means that the carrier drops their loaded trailer onsite, and KeHE unloads it when they are able.  
As long as you are scheduling appointments with enough cushion to allow the trailer to drop and be unloaded on the MAOD, a drop trailer agreement will save you a lot of headaches. 
Be Prepared for Vocal Buyers
Something our operators have found is that KeHE buyers like to know what's going on with the product they ordered while it's in transit.  
At Zipline, we handle this by providing a tracking link through our proprietary shipper intelligence tool, KanoPI, where the buyers can track the load as it travels to its destination. 
If you do not have access to a tool like this, have your freight updates handy to answer any questions with which your buyers approach you. 
Zipline Logistics Can Help You Succeed in Distributor Relationships
At Zipline Logistics, we have 16+ years of retail-specialized logistics experience. Our expert operators, world-class service, and tailored strategies have allowed us to help brands like yours grow effectively. Here are some stats we are proud to share: 
95% on-time in-full average for appointments   

 
World-class customer satisfaction score ranking 5 times the industry average  

 

National network of 38,000+ hand-picked carriers vetted to haul retail goods specifically  

 

97% of our orders are destined to land on a retail shelf

 
We have the tools and expertise to help you reach your goals and scale your business so if you need help delivering into KeHE, do not hesitate to reach out.