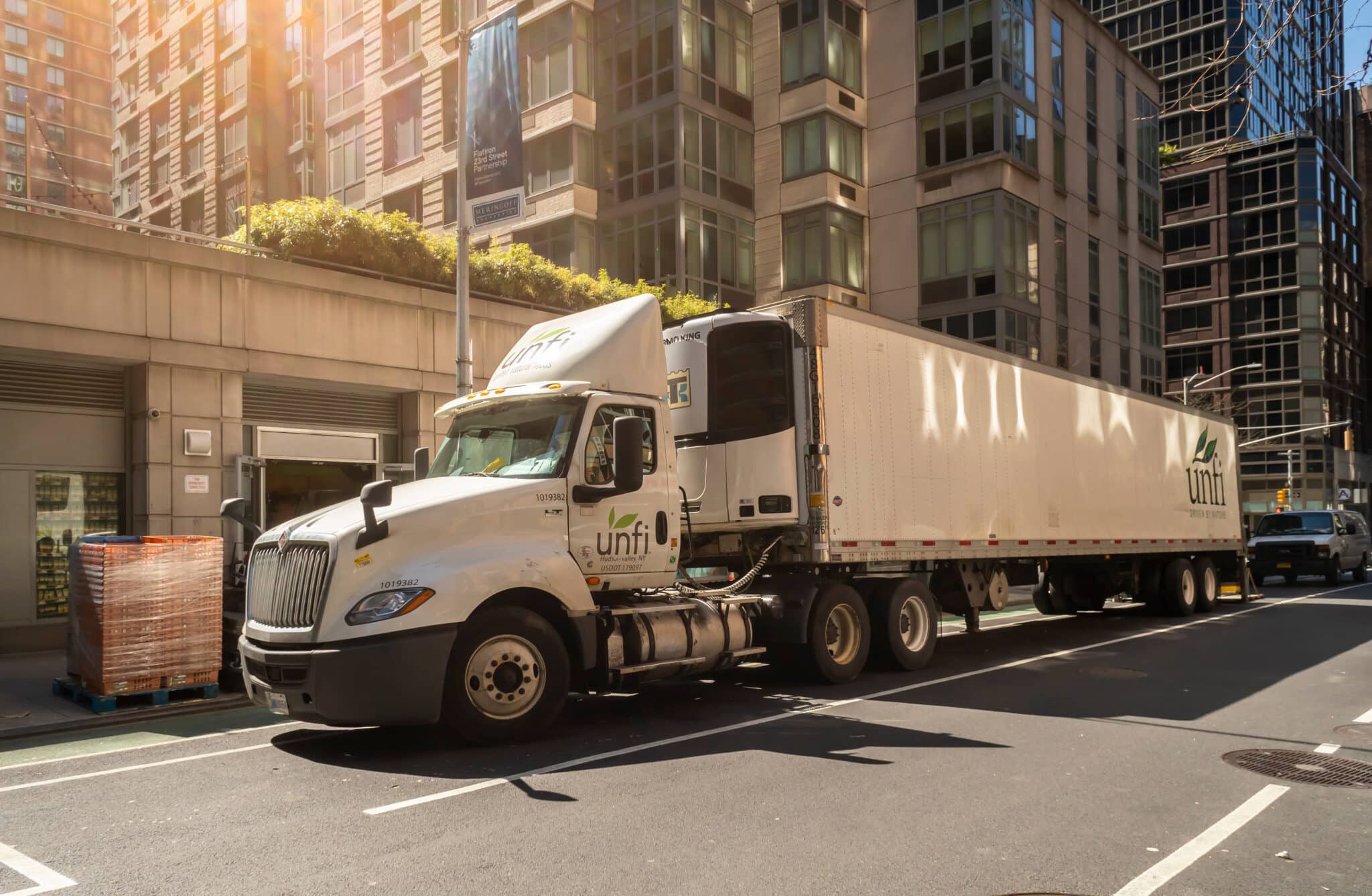 September 12, 2023
If you are an up-and-coming CPG brand that has secured a deal with UNFI, congratulations! Working with a nationwide distributor can open many doors previously inaccessible to your brand and land you a lot of shelf space.  
For those of you that do not know, UNFI is a wholesale food distributor. This means that they purchase products from CPG brands up-front, bring them into their network, and resell to retailers all over the nation, acting as a third-party middleman between your brand and store shelves. 
A relationship like this can be hugely beneficial, but the nuances of delivering your product into their facilities can present massive challenges for inexperienced brands. 
In this article, we will run through some common issues that arise for brands entering a relationship with UNFI and provide some tips to maximize your success. 
Common Pain Points When Working with UNFI
Customer Pick Up vs. Delivered
A decision that brands will face when entering a relationship with UNFI is between CPU (customer pick-up) or delivered pricing. Customer pick up means that when UNFI orders product from your brand, they also handle (through contracted or owned fleets) picking up the product and transporting it to their facility. Delivered pricing, on the other hand, is when the vendor handles transporting its own goods to the distributor. 
It can be tempting to choose CPU and take transportation off your plate, but keep in mind that you essentially lose all visibility and control over your freight deliveries. This is no big deal for some brands but can be grating when the carriers making the deliveries miss appointments, damage freight, or otherwise do not comply with UNFI's standards and the resulting chargebacks still come back to you. 
Fines
UNFI has fines for every eventuality of freight failing to deliver on time and in perfect condition. There are late fees if drivers show up past appointment time, higher fines if a delivery is missed entirely, and fines for damaged or even tilted freight. Even if your brand chooses CPU and does not schedule pickups or deliveries, these fines are still passed on to you. This is one of the most frustrating pain points of vendors utilizing CPU transportation for distributors. 
Cadence
Another common friction point is the cadence and count of orders. Distributors order products when they need them, and for small brands that is often inefficient. For example, if UNFI orders 4 pallets of product every 10 days, the vendor must comply with the order and send a new truck for each. It would be much more cost-effective to send 16 pallets on a single truck once a month, but that is not an option for brands new to the relationship. UNFI will only keep room in their warehouse for those 4 pallets at a time. 
After-Hours Deliveries
As if there weren't enough complications, most UNFI locations have receiving windows from 12AM – 4AM, meaning they will only take deliveries during that time frame. This nuance compounds the complications already listed in this article, as most CPG brands don't have 24-hour availability for their carriers to call and work out issues. A small problem with a delivery that could be fixed with a short phone call can turn into a missed appointment if the driver isn't able to get hold of anyone to solve the problem. 
Scheduling
When scheduling a UNFI delivery appointment, you will utilize a portal to request an available appointment. That request is then sent to a representative at the facility, who then confirms or denies the request. Because of this, the turnaround time for appointment scheduling is often between 12 and 24 hours. If you have plenty of lead time on an order and schedule it as soon as possible, this isn't an issue.  
However, situations arise often in logistics that require plans to be changed. If you are rescheduling an appointment for a carrier who had a flat tire on their truck, you will likely try to get a new appointment for tomorrow, which becomes extremely difficult. Appointment slots usually book up to two weeks in advance, so trying to secure a timely reschedule can be very difficult for your brand. 
Steps to Success in UNFI
These pain points may appear daunting, but don't be discouraged. It is certainly possible to be successful when delivering to UNFI. We at Zipline have collected some tips during our 16+ year history of high delivery performance to distributors. 
Schedule in Advance
Since appointments fill up so fast at these facilities, ample lead time and advanced scheduling can help you avoid many headaches. Our in-house experts recommend a goal of scheduling delivery appointments two weeks in advance. This is particularly important when scheduling LTL shipments and helps to ensure that you can secure an appointment that works for your schedule.  
It also means that you will have time to adjust the appointment if it becomes necessary. The cushion-time is crucial when changes must be made because moving appointments usually involves a lot of back-and-forth communication with the consignee, and you want to be sure you have time to find a solution without risking fines for missed appointments. 
Communicate Carefully
When delivering into a distribution center is fraught with so many challenges, the last thing you want is a driver to be turned away simply because they have the wrong delivery number. Avoid rushing through confirmations, double-check all info before passing to carriers, and make sure your team is on the same page with every outbound order.  
Keep Detailed Records
This applies to all logistics but is particularly valuable when working with distributors. 
As you work with UNFI and face the possibility of fines for late deliveries, missed appointments, or damaged freight, having a detailed record of every load delivered to their facility is invaluable. Sometimes UNFI may attempt to fine you erroneously. It is not malicious; these mistakes happen when dealing with high volumes of freight. 
If your brand doesn't have records detailing the events of the load, you will have no recourse when fighting against the fines. 
Overnight Availability
Because many of these distributor locations have after-hours receiving, having an overnight transportation specialist available to answer carriers' questions, provide com checks for lumpers, or assist with other issues that arise is a huge benefit. When an overnight load doesn't deliver because no one was available to answer the phone and assist, you then are faced with rescheduling appointments and the fines associated with that. 
Perform Well, Re-Negotiate Cadences
At the start of a distributor relationship, order count and cadences are likely to be inefficient for smaller vendors, requiring several shipments with a few pallets instead of one shipment with a higher pallet count. At first, your brand won't be able to change that.  
However, after you have a proven track record of high performance against deadlines, appointment times, and freight condition standards, you will have more leverage to re-open that conversation and negotiate a different order cadence that is more convenient for you. 
Zipline Logistics Can Help You Succeed in Distributor Relationships
At Zipline Logistics, we have 16+ years of retail-specialized logistics experience. Our expert operators, world-class service, and tailored strategies have allowed us to help brands like yours grow effectively. Here are some stats we are proud to share: 
95% on-time in-full average for appointments   

 

World-class customer satisfaction score ranking 5 times the industry average  

 

National network of 38,000+ hand-picked carriers vetted to haul retail goods specifically  

 

97% of our orders are destined to land on a retail shelf

 
So far in 2023, we have delivered nearly 1400 loads for our customers to UNFI locations, nearly 171 loads per month on average. We have the tools and expertise to help you reach your goals and scale your business – so if you need help delivering into UNFI, don't hesitate to reach out.