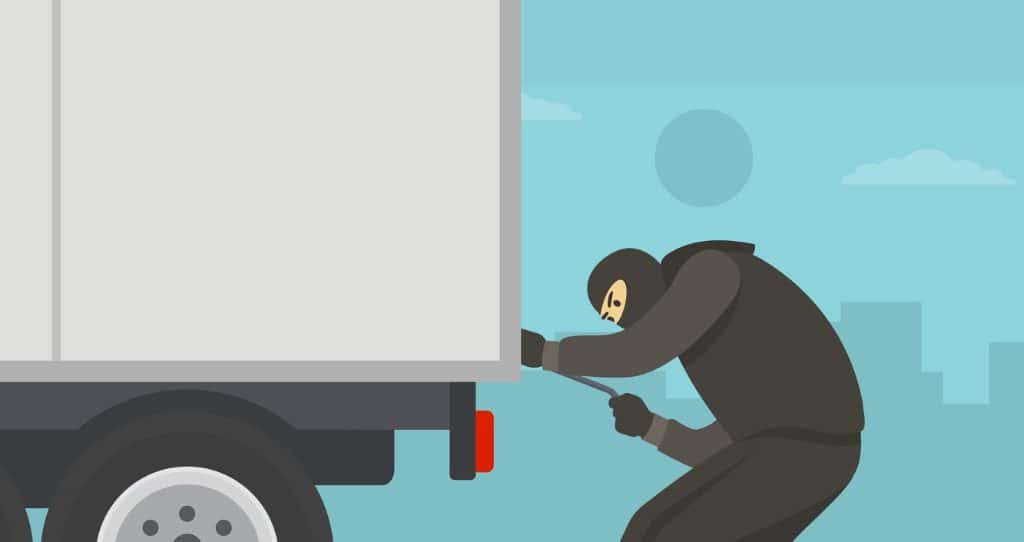 April 11, 2023
Cargo theft is surging across the United States — and food and beverage products seem to be the main targets. According to CNBC, this is a "sign of the economic times" and adding further pressure to already inflated prices.
Cargo Theft Increases in the United States
Cities seeing a spike in freight theft include Los Angeles, Houston, Miami, Savannah, Newark, New Jersey, Memphis, and Chicago. This cities are being targeted for their high population density combined with ports, warehousing, or rails leaving freight vulnerable.
Physical theft is the primary form of cargo crime, but now thieves are also targeting their victims through cyber scams and identity theft. They do this by creating fictitious pickups in which they pretend to be a legitimate trucking company operating on load boards (online freight management systems). Sometimes they even call freight brokers and shippers directly to solicit the ability to move loads.
As the logistics industry moves more data to electronic systems, thieves will have more opportunities to steal cargo if freight owners and logistics providers are not careful.
Protect Your Cargo From Theft
The good news is that a specialized 3PL like Zipline Logistics can spot fraud a mile away. At Zipline, we have very specific processes and protections in place to ensure our clients are never left vulnerable to theft and are on-shelf at top locations on-time and in-full. 
Zipline Carrier Qualification Process
Before onboarding, Zipline Logistics conducts an in-depth background check to ensure all carriers we work with meet the below criteria. 
DOT and FMCSA Requirements: 
Minimum auto liability of $1,000,000

 

Minimum cargo liability of $100,000

 

Equipment that is no more than 10 years old

 
Zipline Logistics Carrier Expectations: 
No history of fraud

 

Experience shipping into retail

 

GPS tracking capabilities

 

Consistent check-ins

 

On-time performance

 
Zipline Transit Process: From Pickup to Delivery
To protect against theft, our carriers are advised and held accountable to the best practices below when handling each shipment.
Before accepting an assignment, drivers must: 
Ensure they have sufficient hours and fuel available to drive at least 150 miles without stopping, where applicable.

 

Complete a thorough inspection of the truck and trailer or container to reduce the risk of breaking down in transit.

 

Use the most direct and safe route to their destination.

 
While a load is in transit: 
Team drivers should be used whenever possible to avoid frequent stops.

 

The truck and trailer must always remain hooked until the load is delivered.

 

The driver should contact 911 and follow company protocol if they notice anything unusual or suspicious.

 
When stopping, drivers should: 
Park in a well lit area (against a building or pole) to prevent the rear doors from being opened.

 

Lock all doors and remove ignition keys when exiting the vehicle.

 

The driver should communicate with dispatch and inspect the seal at each stop, checking the seal number against BOL paperwork.

 

Avoid stopping in high-risk locations.

Zipline maintains a running list of locations where theft and other crimes are abundant. We advise our carriers to simply pass through these areas.
When delivering a load: 
Shipments are never to be taken to the driver's home (or the homes of relatives or friends).

 

It must be taken to a secured drop yard.

 
Track and Trace with Technology
Zipline's proprietary shipper intelligence tool, KanoPI, provides clients with high-powered visibility and data to track and trace shipments every step of the way. KanoPI's illustrative maps display real-time updates pulled from GPS tracking and manual check-ins with carriers so you always know where your freight is and have peace of mind.
In addition to providing high visibility that protects your shipments against theft, KanoPI optimizes supply chain efficiency, reduces costs, and skyrockets logistics performance. 
KanoPI has helped Zipline clients achieve up to: 
Cargo Theft Insurance Coverage
Zipline Logistics maintains cargo theft insurance coverage on every load we move. For more information, contact Zipline using the button below.
Trust Zipline With Your Shipments
Specialized in high-visibility retail deliveries, we are so much more than a rate and a truck. At Zipline, we leverage our retailer logistics expertise, best-in-class processes, and uniquely qualified carrier network to ensure our customers are protected from theft and on-shelf at top locations on-time and in-full.