October 26, 2021
One of the most consistent ways to find savings in transportation is through flexibility. But in the world of retail transportation, very few shippers can be flexible with their deliveries.
As the retail industry evolves and changes to meet the demands for the modern consumer, retailers are looking for perfection from their suppliers, removing flexibility from the equation.
E-commerce has permanently altered consumer expectations for near-instantaneous product fulfillment, and retailers have adjusted to remain competitive. Over the past several years, key industry incumbents have built their supply chains and retail freight requirements to match the new reality of consumption.
Big box stores now keep a low, agile inventory for quick turnaround and replenishment from its suppliers. To keep that inventory adequately supplied and functioning as intended, stores now require that vendors have error-free supply chains.
Though some blame retailers for creating too challenging a logistics environment for their suppliers, there is well-founded reasoning behind their increasingly stringent delivery standards.
According to an article published in Retail Dive, "Today's shoppers experience out-of-stocks during one of three store visits, costing retailers nearly $1 trillion in annual sales as consumers shift to online alternatives. Reports estimate that 24 percent of Amazon's online revenue comes from this issue alone."
What Does that Mean for Your Retail Freight Efforts?
With all that is at stake with out-of-stocks, retailers have built-in strict delivery deadlines that require their vendors to fall into on-time compliance.
Despite all the variables in play during a typical transit – like weather delays, vehicle issues, driver service hour requirements, and other unforeseen problems that can crop up on any given day – the delivery appointments set at retailers have little to no flexibility built-in.
Having a logistics function that can meet and exceed retail delivery requirements is necessary for success in today's business landscape. Shippers need to know the ins-and-outs that each big-box customer requires, and no retailer is the same. Each appointment process, fee structure, and preferred carrier list is different from store to store.
There are many moving parts in retail shipping. Even a small misstep or delay can have a domino-like effect that adds up to substantial costs for your organization.
What Does the Demand for Perfection in Retail Shipping Equate To?
To illustrate what we mean, look at the following real-world examples from shippers around the country. See what's at stake when trying to ship perfect retail orders and how to avoid the potential for expensive problems.
Simple Truck Issue Equals Retail Shipping Headache for Snack Company
A manufacturer of snack foods was shipping product to its retail customer in Chino, CA.
The straight forward order was picked up on schedule, two days before its due date. But when the driver stopped for fuel, his truck would not restart. After roadside assistance diagnosed his vehicle as temporarily out of service, it was clear this order would not be making it to its retail destination on time.
As a result, it was necessary to request a new appointment with the receiver. Unfortunately, the location did not have another appointment time available until 15 days out.
Retail receivers operate on extremely tight schedules, and there was no availability to work the delivery back in the next day. Outside the retail supply chain, a simple truck delay would not have been as disruptive or caused such a significant delay.
The load had to be rerouted and delivered to the customer's warehouse provider and held until the next available delivery appointment time.
Eventually, a new carrier was able to move the product from its temporary warehouse home to its intended destination at the receiver. It was not without much deliberation and coordination with several parties.
The total additional costs incurred by the shipper after the simple truck breakdown:
$400 for the second carrier

$900 for warehousing

Potential lost sales due to extended time window between delivery appointments
Pallet Configurations Not Fit for Retail Freight Delivery
A food manufacturer was shipping a 26-pallet order into Costco. When the truck arrived, it was turned away for not meeting the retailer's strict standards for pallet configuration.
Retailers have more than just timing regulations for their suppliers. All Costco shipments must comply with the retail store's non-negotiable pallet requirements.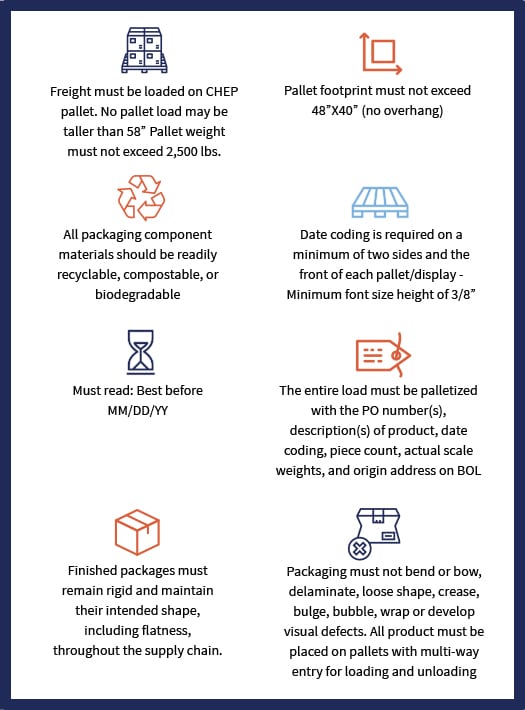 Because the shipper didn't meet one of these requirements, their freight was rejected. As a result, their order to be taken to a nearby rework facility where it was reconfigured to meet Costco's pallet standards.
The product was then picked up and delivered to the retailer's distribution center. This cost the vendor:
$60 in detention to diagnose the source of the rejection

$75 to have product taken to the rework facility

$1170 to have all 26 pallets reworked

$325 to redeliver to Costco
In all, this cost the shipper $1630, which would have compounded further if the vendor did not have a relationship with a rework facility. Fully understanding the expectations of retail customers is essential. If aware of the pallet configuration standards, all added costs could have been avoided.
Carrier Choice Leads to Late Delivery
A shipper was sending an order to one of its east coast retail customers. The multiple skid order was correctly picked up and delivered to the selected carrier's LTL terminal well in advance of its due date.
The shipper thought that there would be no issue. Unfortunately, that wasn't the case.
LTL carriers will not send half-filled trailers into receivers. Instead, they will wait until they have enough product to fill a trailer and justify a move into a delivery location.
As a result, it is critical that you are aware of how often a specific LTL terminal services a delivery location based on their retail volume. It could be twice per day or once per week, but when shipping into a receiver, it is crucial that you know.
In this instance, the shipper did not. So, the product arrived at the carrier's terminal on Wednesday, but this carrier did not deliver to the shipper's retail customer until Tuesday because of volume constraints.
Since the product was scheduled to be delivered to the retailer on Friday, it was delivered four days late. Despite arriving ahead of schedule, the shipper was forced to absorb the costs of:
Late fees and delivery compliance fines

These vary depending on the retailer

Can be a flat fee of $100-$300

Or can up to 3% of the cost of the order

A mark against their scorecard with the retailer
As a shipper, it is sometimes difficult to know which LTL carrier is best equipped to handle the delivery. Just because a carrier provides a rate, that does not mean they can meet your service requirements. In fact, many shippers find out too late that the carrier they booked a shipment with does not service the delivery location they are sending the product. With retail shipping, it is crucial to know which carrier is best suited for delivery into each receiver.
Because this is dependent on the location and can vary from receiver to receiver even inside a singular retailer's network, having access to ample logistics data can determine a "preferred carrier" for each delivery your organization has. This a crucial piece of the puzzle in retail shipping.
To Avoid Additional Retail Freight Fees Work with Logistics Specialists
Issues are bound to happen in transportation. It's the nature of the industry. Traffic delays, wait times at pick up locations, small paperwork errors, and others.
In traditional shipping, these issues can be quickly fixed, and orders not derailed. Yet in retail shipping, the demands of perfection result in inflexible and costly situations.
If your supply chain is not built to handle the pressure applied by today's retail delivery standards, costs can get out of hand quickly.
It's essential to know which carriers are best suited for each facility, to have rework relationships established near all receiving locations, and to have quick access to back-up capacity that is reliable and food safe.
Most entrepreneurs and up-start food and beverage brands don't get into business to navigate the complex world of retail logistics. Most get into business to follow their passion or produce a great product.
Why not focus on that aspect of your business and leave the retail compliance requirements to the logistics professionals?
A retail logistics professional can help you solve problems before they snowball into unmanageable and expensive situations.