May 25, 2021
The past 12 months have been a year unlike any other for suppliers and providers in the CPG logistics world. While those in other sectors sputtered, brands and retailers alike spent much of the year trying to keep up with skyrocketing demand.
According to data from the Consumer Brands Association (CBA), CPG sales in 2020 grew by 9.4% over 2019—a significant leap in the face of much uncertainty during the first quarter of the year.
Everything from food and beverage products to home improvement items saw a significant consumption bump as buyers, sidelined by pandemic restrictions, diverted their purchasing habits from experiences to consumer goods. As a result, enterprises involved at all stages of getting a product to market faced an interesting 2020.
A new report from the Food Marketing Institute and Boston Consulting Group highlights the effects increased demand had on organizations in the CPG marketplace. The study analyzed supply chain performance at manufacturers, wholesalers, and retailers throughout 2020.
It illustrates the trends that plagued shippers throughout the past several quarters. Let's explore some of those a bit more in-depth.
COVID's Effects on CPG Logistics 
Increased demand did more than spur revenue growth at CPGs. It strained production functions and increased the need for trucking services, which led to falling performance metrics that rippled across organizations.
According to the report, the largest brands in North America reported an 8% decline in on-time in-full (OTIF) delivery performance at retail customers throughout 2020. This drop coincided with the rapid, widespread increase in demand that followed the onset of COVID-19. However, even as the marketplace adjusted to the effects of the pandemic, these service levels never fully recovered.
This performance decrease also came as shippers were forced to pay more in transportation costs across the board. Because of the massive demand influx on capacity and notable shortage of drivers, carriers dramatically increased freight rates and brands paid the price.
Since the first quarter of 2020, CPG logistics costs have risen by 37% to an average of $1.71 cost per case.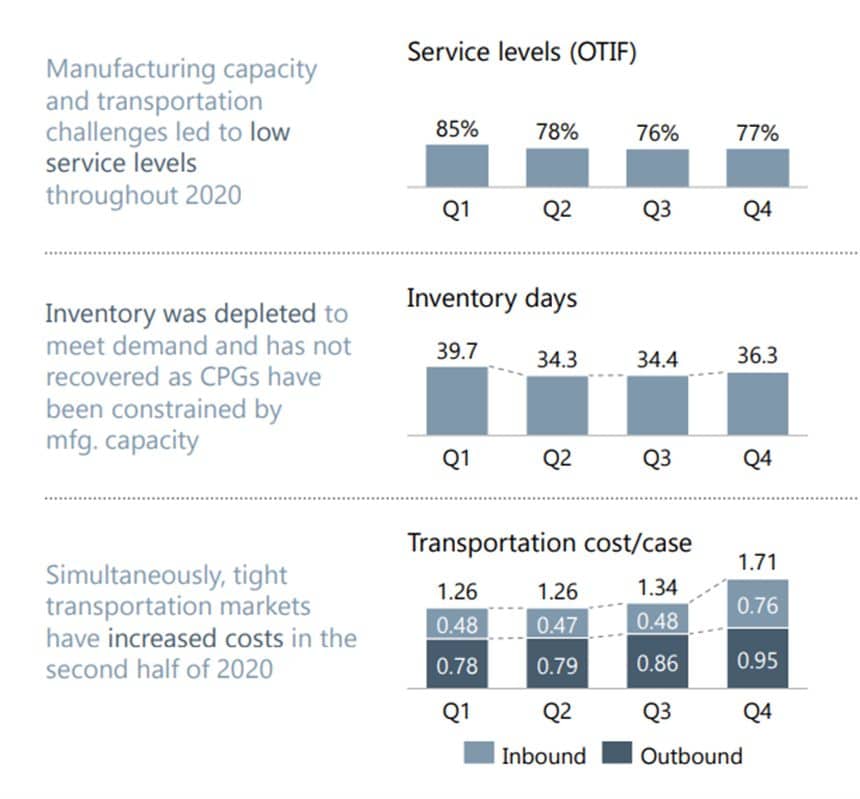 *Data pulled from the previously mentioned FMI report.
** Some of the companies featured in the report
But despite this year of price increases, many of the country's largest CPGs were met with what was previously below-market-average logistics performance. Not only can this be a direct hit to order profitability with chargebacks, but it can also cost organizations substantially in out-of-stock fees.
Why Does CPG Logistics Performance Matter?
In a year partially defined by out-of-stocks, supply chain performance, specifically transportation, acted as a primary driver of these struggles. According to a recent CBA study, "transportation accounts for the largest share of order cycle time variability in most supply chains, thus affecting inventory levels, stock-out costs, and on-time delivery."
Utilizing carriers that are not equipped for retail delivery is one key reason for these poor service outcomes. Budget carriers, not suited for service-sensitive orders, can cause shippers to miss critical appointments for their most important orders. During the capacity crunch of 2020, it was more important than ever to source retail-optimized capacity, something that can escape organizations without specialized experience.
But regardless of widespread service level decreases from CPGs, retailers did not attempt to reduce the stringency of their chargeback programs. In the late third quarter of last year, Walmart increased its OTIF threshold to 98% for all suppliers across all modes.
That increase, when extrapolated to performance data for CPG manufacturers last year, would spell issues for even the largest shippers.
The average organization surveyed in the above-mentioned FMI report would have been penalized for 21% of their Walmart orders at 3% of the cost of goods sold. That is a substantial figure and one that can add up to significant chargeback costs, difficult for any sized brand to absorb.
However, this monetary penalty of non-compliant OTIF orders is not the only thing that looms large for CPG brands. The ramifications for missing retailer delivery standards can be even more costly.
In a survey of retail buyers, 100% of respondents said that a vendor's ability to deliver product on time impacted their willingness to work with them. Furthermore, 73% of those surveyed indicated that they had ended a relationship with a brand over non-compliant delivery.
These stats demonstrate why it will continue to be important for CPGs to get a handle on faltering performance metrics especially with what analysts are predicting for the remainder of 2021.
According to the CBA, "the annual rate of purchases still is expected to grow by 7.4% to 8.5% compared with 2019," and the first four months of data from 2021 suggests this prediction is ringing true. Retail sales, including food services, increased 9.8% sequentially in March. That figure was again matched in April as numbers stayed consistent.
Demand is not going to dry up anytime soon, which means CPGs will need to optimize their supply chains to meet the needs of consumers and retailers alike.
What Can Shippers Do to Increase CPG Logistics Performance?
With current consumption demands, disruptions, challenges, and pressure from retailers, some see the current landscape as disadvantageous to brands. But those enterprises best positioned to succeed in the long-term are the ones flipping the script on what's happening in the industry. Forward-thinking CPGs are leveraging their retail-optimized supply chains as a competitive differentiator and a dependable way to secure additional shelf space.
Logistics should no longer be viewed simply as an expense. Instead, organizations aiming to solve the challenges that plagued suppliers in 2020 need to look at it as an investment. Enterprises can get ahead of their peers by delivering to critical retail customers on time.
Zipline Logistics works exclusively with CPG brands on a consultative level to ensure their supply chains are equipped to deal with current retail trends. Despite an industry-wide drop in service levels, our managed transportation customers maintained an average OTIF rate above 95%, bucking the trend, eliminating chargeback costs, reducing out-of-stocks, and increasing in-store visibility. We understand the importance of keeping your product on the shelf and can work with you to ensure that it does.
Through our specialized processes and best-in-industry customer service, we help enterprise CPGs succeed where it counts. Want to make retail chargebacks and out-of-stocks a thing of the past?