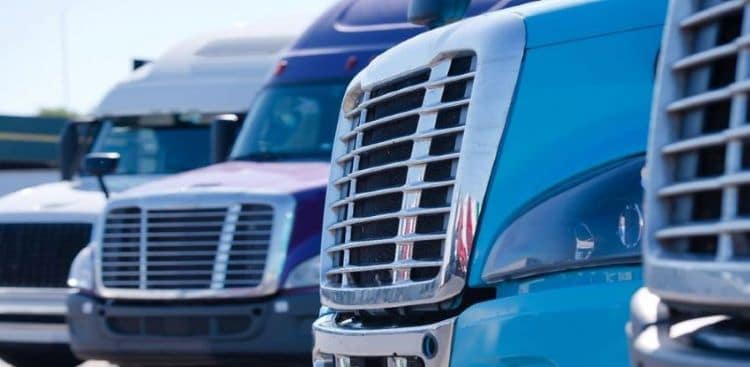 January 4, 2022
Another wild year for the trucking market comes to a close. For the second consecutive four-quarter period, the freight market faced continual capacity challenges as the global supply chain wrestled with the effects of the COVID-19 outbreak.
Freight rates continued to climb as demand far outstripped supply, and providers could not add capacity quickly enough to combat the increased need for trucking services. Driving that increased demand was another year of above-average consumption, buoyed by the increasing reliance on e-commerce.
Will these forces continue to play a part in the freight market in the coming year? Only time will tell, but factors seem to point to similar conditions for shippers in 2022, at least to start the year. However, unlike at previous points in the pandemic, underlying conditions could topple the consumption frenzy that largely drove voluminous freight conditions.
According to a Heavy Duty Trucking article, analysts from FTR expect spot market rates to remain elevated in 2022 despite decreasing from the estimated 2021 level.
FTR's vice president of transportation, Avery Vise, said, "By the end of next year, spot rates should still be running higher than they were even at the peak of the market in 2018." In the year ahead, analysts at FTR see contract rates also climbing by 4%.
So, what are the trends currently shaping the market? And what could come into play in 2022?
Consumption Drives Freight Market Growth
The past year's consumer spending continued to build on the momentum established during the first year of the pandemic. Shoppers continued to divert spending from experiential purchases to consumer goods, consistently increasing up to the holidays. According to data from Adobe Analytics' Digital Economy Index, US consumers spent $8.9 billion on Black Friday.
That shopping significantly contributed to volume throughout the holiday season and continued to add more freight to the marketplace. This trend was present during much of 2021 as consumption grew or matched 2020's explosive figures.
However, unlike last year, consumers have reasons to slow spending habits in the coming year. Despite growth in year-over-year comparisons, retail spending figures were more sluggish than analysts initially predicted as shoppers expressed concerns over rising prices, as the YoY inflation rate reached a record high of 3.5% in November.
According to data from Trading Economics, "US retail trade rose 0.3 percent from a month earlier in November 2021 after surging 1.8 percent in October and well below market expectations of 0.8 percent, adding to signs of slowing domestic demand amid the fastest inflation in decades."
"The so-called core retail sales, which correspond most closely with the consumer spending component of GDP, edged down 0.1 percent in November." The retreat from spending habits established in 2020 and 2021 could have a market-wide loosening effect on freight if it comes to fruition.
Continued Congestion Causes Out-of-Stocks
Congestion at domestic ports received much attention throughout 2021 and with good reason. During the peak of issues off the coast of California, as many as 80 vessels waited to unload cargo destined mainly for retailers. This logjam diverted capacity otherwise dispersed throughout the country to port areas as drivers looked to scoop up lucrative late freight.
Additionally, the situation resulted in goods not hitting retail shelves as intended, as out-of-stocks plagued shoppers throughout the holiday season. According to an article from Forbes, "US shoppers received 3 billion out-of-stock messages in November, up from 2 billion in October."
The inability to purchase goods deterred some spending and out-of-stocks continues to be an issue for brands and retailers alike as some continue to look to the federal government to help solve transportation challenges.
Trucking Legislation Aims to Increase Capacity
The truck driver shortage has also gotten notable media attention and coverage throughout the past year. While there have always been rumblings of a shortage, it appears to have worsened by some estimates since the freight explosion at the start of the pandemic.
According to the American Trucking Associations (ATA), 72.5% of all freight in the US was transported by the trucking industry. That equates to close to 12 billion tons of goods. As a result, the industry is valued at a little over $790 billion.
Despite its size, the industry runs notoriously lean. Very few carriers employ excess drivers, and disruption can drastically impact the market. With the increased volume brought on by COVID-19, industry forces struggled to keep up.
According to some experts, the industry is now short 80,000 drivers, up 33% since 2019. This has exacerbated the domestic logistics market as demand continues to outstrip supply. However, after the passage of the wide-sweeping infrastructure bill that focuses on improving the supply chain, 18–20-year-olds may be eligible for trucking positions.
Previously, only truckers 21 and up could haul goods across state lines. With the focus on adding younger drivers, the legislation aims to solve the problem trucking has with average age and losing available workers to other trade professions.
Additionally, the Consumer Brand Association looks to legislative means to increase available truck capacity in the marketplace. The trade group proposed a newly created federal body to monitor freight demand and capacity on a public level.
The group found that "transportation accounts for the largest share of order cycle time variability in most supply chains, thus affecting inventory levels, stock-out costs and on-time delivery."
Depending on how quickly carriers can add drivers, measures like these could add more capacity in the coming year.
What's Ahead for the Trucking Market in 2022?
Economic growth, despite inflationary concerns, is expected to remain solid next year, according to analysts at FTR. But the group expects the struggle to find drivers to persist.
Some of the trends established during the pandemic, like increased e-commerce volumes, are likely to continue well after the virus wanes, which will continue to drive retail growth figures.
However, there is a possibility that purchasing could look more like the pre-pandemic normal if buyers opt for more experiential purchases after the threat of COVID-19 subsides.
Regardless of demand, rates are likely to continue to climb for shippers. FTR forecasts truckload contract rates to be up about 13% for the year. It is projecting contract rates for 2022 as a whole to be about 4% higher than this year. While the group projects less-than-truckload rates to flatten or drop slightly negative for 2022.
This upward pressure is due to several factors. The first being continuing capacity constraints. The driver shortage is real and pervasive. And even if the driver pool significantly expanded as new legislation and increased pay lure workers, it's unlikely carriers can grow their fleets to match it. There is an ongoing chassis shortage preventing many from right-sizing their equipment to meet demand.
The other reason for higher rates in 2022 comes from increased costs. Prices are rising throughout the economy, as are wages and other inputs for carriers. Fuel and insurance costs continue to climb, and carriers are increasing prices for shippers to offset them.
Choose Logistics Partnership to Navigate Freight Market in 2022
Trucking market conditions can change quickly. Regardless of how the market shapes up in the coming year, vendors focused on partnerships stand to win in 2022.
Finding a logistics partner centered on partnership will prove to be an effective choice irrespective of market conditions.
Working with a 3PL strategically can unlock previously untapped profit, offer more visibility, and streamline overall operations.
It is critical in current market conditions not to chase rates. Lower prices do not translate to less logistics overall spend and often are accompanied by poor service,
With cheaper trucks, you can expect dropped orders, late deliveries, rate hikes, additional fines, fees, and headaches that don't move your supply chain forward towards its goals.
Instead of chasing rates, work with Zipline to find a competitively priced carrier that best suits your delivery needs.
Stay Up to Date with the 2022 Freight Market
Want to keep up to date with the most recent news affecting freight rates? Remain in the know of transportation market updates by signing up for Zipline's monthly e-newsletter.