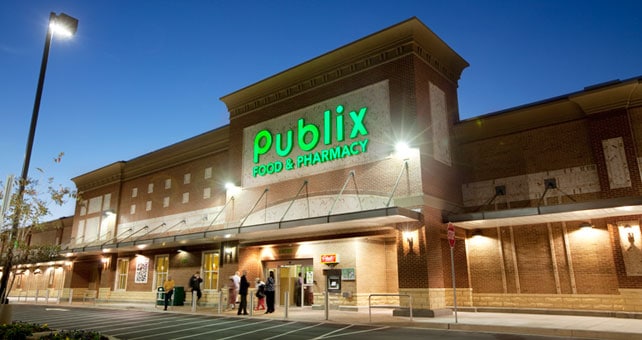 March 31, 2020
Photo Credit: The Catalyst  
Publix, just like many others in the industry, has begun monitoring its suppliers' delivery performance.  
The southeastern purveyor has instituted a stringent on-time compliance program for all vendors working with the grocery chain.  
It measures on-time delivery performance and tracks metrics through a supplier scorecard given to all vendors working with Publix.   
The retailer calculates the percentage of cases received against the number of cases ordered to quantify a brand's order fill rate. Publix calculates this metric monthly and reported to vendors.  
The reason for Publix's program is protection against costly out-of-stocks. This phenomenon is estimated to cost retailers nearly $1 trillion in annual sales.  
Because of changing consumption patterns and expectations, consumers expect near-instantaneous product fulfillment.  
When a product is not on the shelf, retailers fear that buyers will look to an e-commerce alternative to complete the transaction. And more often than not, they are correct. Reports estimate that 24 percent of Amazon's online revenue comes from this issue alone.  
As the competition among retailers has grown stiffer with e-commerce crowding more of the space, grocers and big box stores alike have instituted vendor compliance programs. Doing so keeps inventory on hand and products on the shelf.  
What to Expect as a Vendor for Publix Delivery 
The Florida-based grocer requires that all suppliers schedule delivery appointments at its distribution center to get product into its supply chain. All appointments must be made at least 48 hours before an order's due date and can be scheduled up to two weeks in advance.  
If your brand cannot deliver as scheduled, orders can face rejection.  
Orders going into a distribution center must be palletized and comply with Publix standards. Vendor pallets must meet the following criteria: 
Pallets 

must be 

48" x 40"

 

They must have 4-way entry

 

Not be broken, split, or have metal plate repairs

 

Pallets must also not be made of soft wood, pine, or other white wood

 

If pallets are rented, they must be done so through CHEP, PECO, or 

iGPS

 
Your delivery can also face rejection for not meeting Publix pallet specifications.  
Why Do Publix Vendor Guidelines Matter? 
Publix has not yet begun to fine its suppliers for non-compliance like many of its peers.  
However, the grocery chain evaluates scorecard performance when assessing brand purchasing decisions. According to the company's supplier guidelines, "Publix expects 100% of deliveries to be on time."  
Vendors that fail to meet an acceptable compliance threshold can damage existing relationships and threaten expansion prospects with the retailer.  
According to a Zipline Logistics survey of over 300 retail buyers, 100% of respondents said that a vendor's ability to deliver product on-time impacted their willingness to work with them. An additional 73% of respondents said they had ended vendor relationships over delivery issues.  
Brands that cannot meet delivery compliance requirements can jeopardize retailer relationships. 
How Can I Improve Publix
Delivery Performance
?
On-time delivery performance is one of the most critical metrics for Publix suppliers to master. If you are having issues meeting requirements, it might be time to reevaluate your supply chain practices.  
Vendors that struggle with on-time performance frequently do so because of misaligned production and transportation operations.  
It is essential to set and manage expectations with your teams to ensure they are aware of ready-by and delivery dates. Publix employs a just-in-time inventory strategy, which means it requires vendors to ship smaller, more frequent orders. 
Some brands also have networks that do not effectively work with their customers' receiving locations and distribution centers. Since Publix is located predominantly in the Southeast, it may be beneficial to consider moving warehousing or production facilities to the area, if volume with the retailer justifies the shift.  
It can also be beneficial to evaluate your shipping practices. Publix expects suppliers to implement a "cut and ship" approach to order fulfillment. If a shipment is at risk, you should weigh the decision to send an incomplete order vs. a late one.    
Work with CPG Logistics Specialists to Master Publix Delivery 
There are other methods you can take to improve on-time performance. Often, it takes thorough visibility into and deeper assessment of your supply chain to make permanent improvements. If you are unable to measure your retail transportation performance effectively, it could be beneficial to work with a specialized logistics solutions provider.  
Zipline Logistics works extensively with every major national retail and grocery outlet. We provide a consultative approach for CPG brands looking to improve performance, reduce spend, and enhance retail relationships.  
Not all logistics providers are created equal. Some 3PLs don't have the expertise necessary for excelling in the nuanced world of retail delivery. Ensure that you are working with a logistics solutions provider that understands complex delivery issues and can help you master on-time performance.