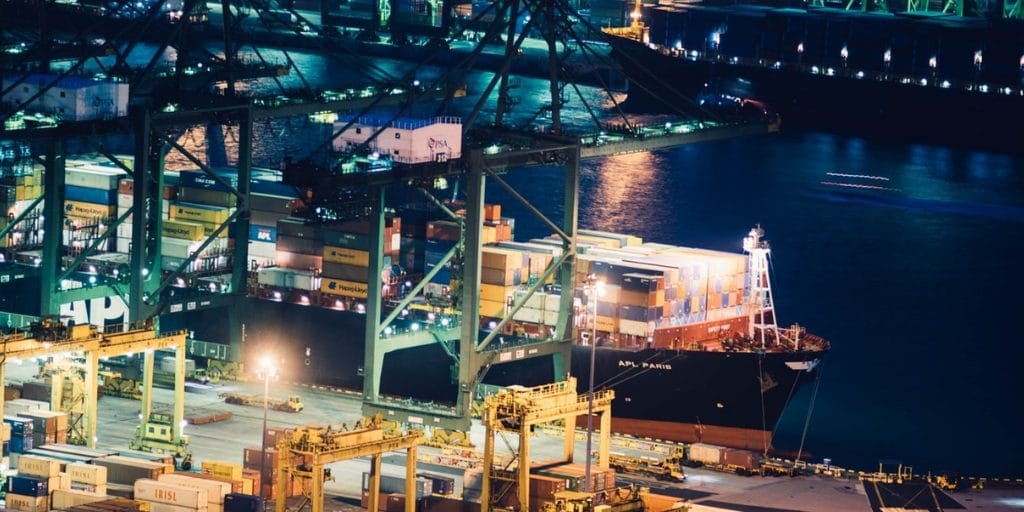 June 7, 2019
Editorial Note: Since publication, the Trump Administration reached a trade deal with the Mexican government, which suspended the steep percent tariff rate scheduled to be applied on June 10. Although the tariff will not be instituted as proposed, the threat of the duty temporarily strained capacity along the US-Mexico border, which does affect freight pricing. Additionally, we have yet to see the full impact of the product import surge from suppliers but will relay the information as soon as we see the outcome.   
If you have been dialed in to the news cycle over the past month, then you likely have heard a lot about tariffs and their potential impact on US trade.
Though we can only speculate as to their effects on the entire economy, we can say for certain CPG manufacturers and their national retail transportation networks will feel the immediate effects should the tariffs be instituted.
But with a trade war now opened on two fronts, how much will Trump's proposed tariffs affect the spend and operations of suppliers in the retail and grocery sectors?
To effectively answer that question, we must provide a bit of background to detail how the trade situation devolved into its current state.
Trade Talks Turn to Tariffs
Over the past few decades, China has emerged as the US's largest trading partner accounting for $636 billion in annual trade, according to an article published by Forbes. But despite the volume, much of that trade is done at a deficit to the US.
In an attempt to remedy the situation, the Trump Administration reopened trade talks with China in 2017. Those negotiations between the two nations have since soured.
As a result of the breakdown, President Trump instituted a 10 percent tariff rate on $50 billion worth of Chinese goods in 2018 and threatened to apply an additional 25 percent tariff rate to $200 billion more goods by the beginning of 2019. The measure was temporarily stalled at the end of 2018, but due to missed deadlines for an agreement, the threat is once again rearing its head.
Further muddying the global trade waters, Trump announced in May 2019 that the administration also plans to institute a 5 percent tariff rate against Mexican imported goods. This punitive duty is scheduled to take effect on June 10.
Short-Term Capacity Impact on National Retail Transportation
If the tariffs are enacted as proposed, they could pose a significant short-term disruption to the trucking market, especially along the West Coast and southern US border.
Last summer, we saw the CPG market react as Trump initially proposed his tariff plan. Though the tariff rollout was tabled for the time being, the market was affected in the short-term. The threat of tariffs caused suppliers to import an influx of goods ahead of the rate hike.
This ensued capacity issues at large ports and warehouses along the West Coast. As we draw nearer to these new tariffs becoming reality, we can expect to see similar behavior this time around.
Add in the fact that a wider berth of suppliers could be affected due to the proposed tariffs with Mexico, we will undoubtedly see a capacity crunch at the southern and western borders as shippers look to beat the duty hikes.
In fact, we have already seen the impact of the southern trade threat in places like Laredo, Texas as shippers began to rush goods into the country before the June 10 deadline.
This intensified import effort at both the US-Mexican border and the West Coast will likely increase truck rates in these areas to compensate for dwindling capacity. Increased truck rates translate into higher transportation costs for CPG manufacturers.
Whether you're a footwear distributor importing finished goods from China or a health food company bringing in avocados from Mexico, domestic trucking rates will likely reflect the uncertainty that tariffs bring into the market. And uncertainty in any sense historically leads to higher transportation rates.
This uncertainty will not solely affect suppliers, as we expect to see tariff effects extending to retailers. Many of them rely on nationwide distribution channels that are constructed to import, manufacture, or distribute their product via the West Coast, Southern Texas, or Arizona. However, regardless of their location, we will see a substantially diminished capacity pool for all and pricing will reflect that scarcity.
Mitigating Transportation Risks with a Long-Term 3PL Partnership
The impact of the tariffs could permanently alter other areas of the US economy and leave short-term transportation volatility and uncertainty in their wake. In an ever-changing market, it is critical to partner an expert 3PL firm to help mitigate risks that fluctuating pricing can bring.
Zipline Logistics specializes in CPG sector transportation and can help your brand navigate a volatile trucking market. Our logistics experts work with a vast, retail-qualified network of national, regional, and local carriers in all North American markets to ensure that you receive the best transportation pricing for your organization even in times of uncertainty.
We don't know for sure how long tariff-driven pricing spikes will last, but we can say that only those shippers with strategically optimized and aligned logistics functions will be successful in smoothing the inevitable national retail transportation disruptions.
We will continue to stay at the forefront of global trade trends that could affect the CPG and retail logistics sectors and work to proactively communicate price changes before they happen. Effective and transparent communication allows you to prepare for any changes in the transportation market before operations are significantly impacted. It's part of what we do and how we continually work to improve the lives of transportation professionals.
To stay up to date with industry trends as they occur, sign up for our newsletter.