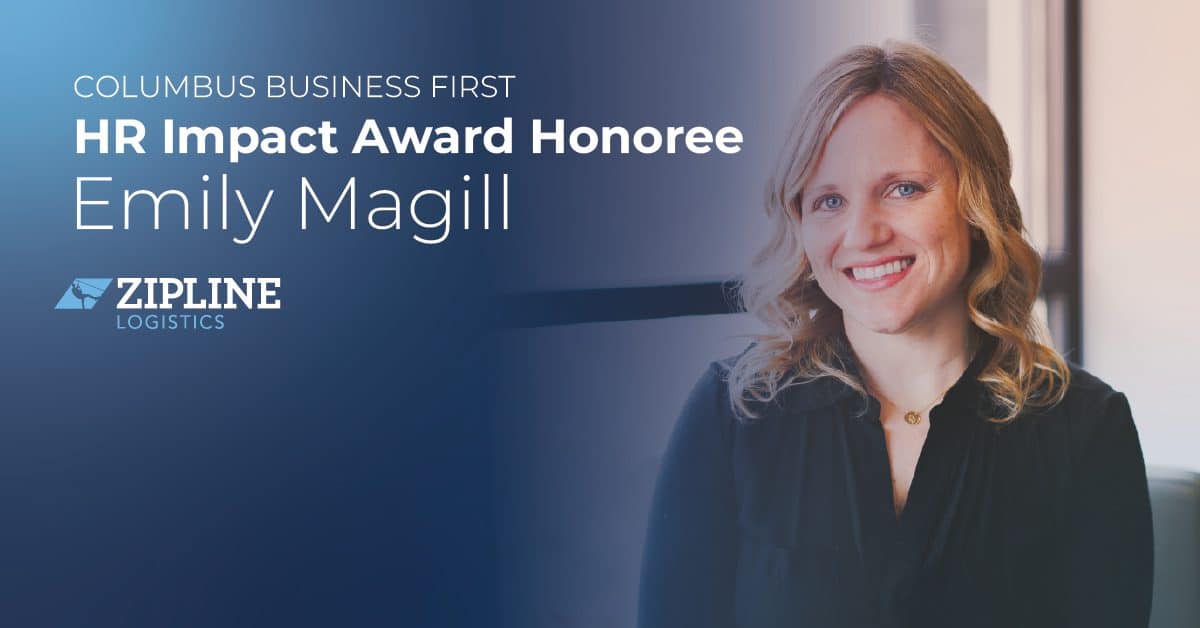 September 12, 2022
Emily Magill, Director of Human Resources (HR) at Zipline Logistics, was honored by Columbus Business First last week as an HR Impact Award Recipient! 
This award recognizes HR professionals who go above and beyond their job description to make a positive impact on their organization. Out of a large pool of nominees, Magill was one of 18 final recipients. 
Magill was the first HR professional to join Zipline Logistics at its beginning stages. Since her arrival, she has instituted numerous policies that have helped Zipline track performance, which has been a crucial step in growing the company.  
TINYPulse Sparks Change
One of the first goals Magill set for herself (which she has since accomplished) was to become a data-driven Human Resources professional. Her introduction of TINYPulse – a weekly survey plaform – propelled the company to the next level of maintaining a people-first culture at Zipline through real time data. 
A theme in workplaces nationwide post-pandemic was low employee morale and overall motivation. TINYPulse surveys indicated some Zipliners were feeling similarly. Magill sat down with senior leadership to talk through their observations and come up with a plan to improve Zipline's in-office environment. She also began hosting employee engagement and retention focus group meetings. 
One of the initiatives that resulted from these efforts was "Wellness Wednesdays," during which leadership busts out a microphone, music, and healthy snacks halfway through the workday and leads the office in a 10-minute pause and stretch or dance. Other improvements made include increased office snacks/catered lunches and special Friday hours (in which employees end the workday at 3 P.M. instead of 5 P.M.). 
Since implementing these changes, TINYPulse has indicated they are sparking change. Asking the same questions to employees in both 2021 and 2022, Magill has been able to compare results year over year and pinpoint data-backed improvements in several TINYPulse categories including (but not limited to) Happiness, Empowered Work Environment, and Diversity & Inclusion. 
Unique Initiatives Led by Magill
Additionally, Magill has overhauled the company's orientation and training framework, expanded its employee recognition programs, and grown one-on-one leadership coaching efforts. She has also established monthly happy hours, introduced a rotation of weekly food trucks at the office, and launched multiple company-paid fitness options. 
Along with that effort, Magill oversaw the creation of several affinity groups that advance different perspectives of Zipliners within the company including a Parents' Group, an LBGTQ+ Group, and Women in Logistics Group. Sustainability, Diversity & Inclusion, and Engagement Committees were also created to ensure that all voices are heard within the company. These committees have started hosting events like weekly trivia contests, in-office guided meditation, and group happy hours, among other activities. 
This isn't the first time Magill has made headlines for her contributions. In 2018, she was the recipient of the HR Executive of the Year Award and HR Innovation Award as part of Columbus CEO Magazine's annual HR Excellence program.
Work Environment at Zipline Logistics
Magill is one of many Zipliners who have made Zipline a unique and fun place to work, especially for young professionals. Earlier this year, Zipline was honored by CityPulse Columbus as a Top 40 Wonderful Workplace in Central Ohio! 
Some unique Zipline work perks include:  
Free confidential counseling sessions through Employee Assistance Program 

 

In-office bar & coffee bar 

 

In-office massages 

 

In-office guided meditation & stretching 

 

3 weeks PTO, 6 holidays, birthday & work anniversary off 

 

Tuition reimbursement & certification funds 

 

Mentorship program 

 

Summer Friday hours 

 

Prize wheel spins 

 

Financial wellness program 

 

Frequent social events & happy hours 

 

Weekly engagement surveys 

 

Company paid gym membership & discounted Classpass membership 

 
These fun and positive perks help to motivate and reward employees, foster individual growth and positive employee relationships, and offer Zipliners well deserved opportunities to pause work and enjoy.   
Interested in working for a company that prioritizes your well-being?