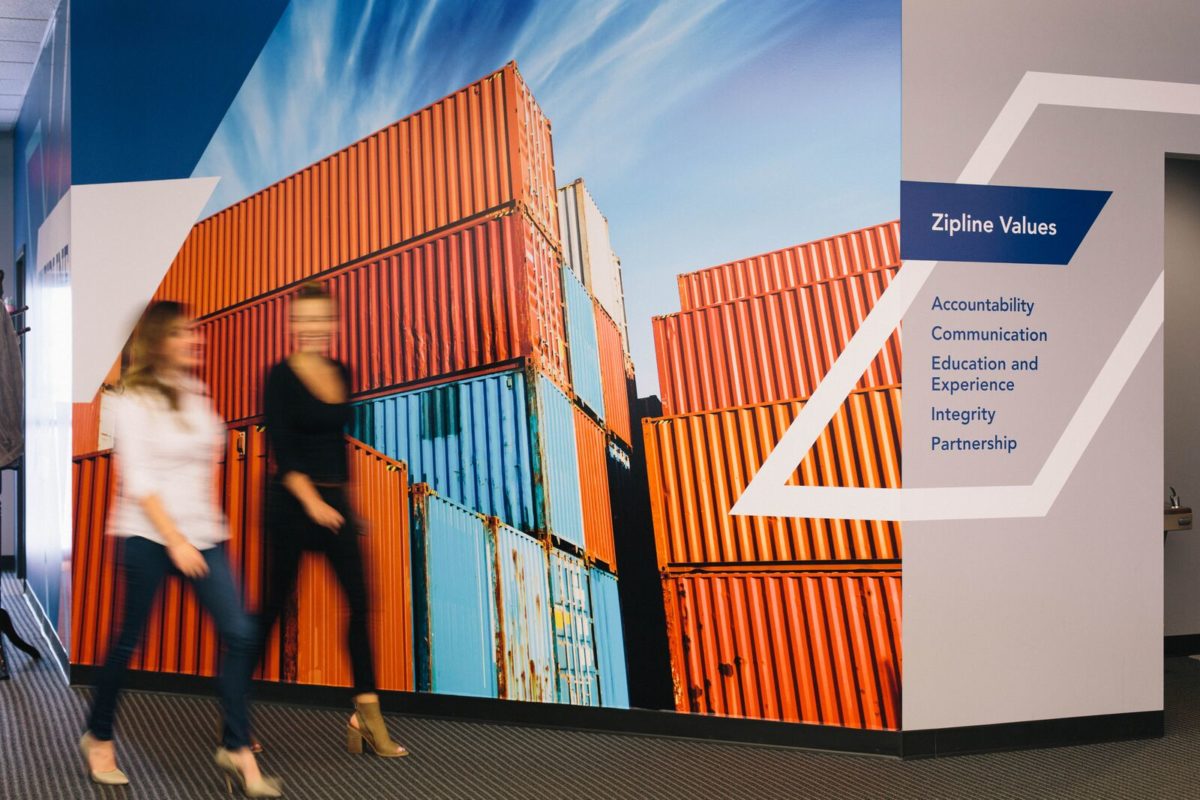 September 1, 2020
Accelerated expansion and a great workplace typically seem to be odds with one another. A company can rarely achieve and be recognized for its efforts at both ends of the spectrum.
But that is exactly what Zipline Logistics has done through a commitment to cornerstones of its operational philosophy—its value system and specialized expertise.
Sticking to its mission set in 2007 – to improve the lives of transportation professionals – Zipline has continually been recognized as one of the best workplaces in Columbus while making Inc. 5000's list of the fastest-growing private entities in the country.
How is the logistics provider able to grow rapidly while maintaining an outstanding workplace? By focusing on people both internally and externally.
Zipline works to instill its mission amongst employees and works to provide a world-class customer service experience for its clients.
Through a shared belief in respectful interactions with both customers and fellow employees, the company can achieve smart, deliberate growth while maintaining the culture it has created.
Rapid but Purposeful Growth through Specialization 
Throughout the company's 13-year history, purposeful expansion is part of the story. Since 2010, Zipline has continually been recognized as one of the fastest-growing private entities in the country.
The Columbus-based logistics provider was chosen to the Inc. 5000 list nine times. The most recent recognition in 2020 resulted from the company's 62% expansion in customer base and 210% revenue growth over the past five years.
Last year's development is particularly exceptional as most logistics world experienced a downturn in an environment that largely favored shippers. Zipline can credit bucking this trend due to its specialized, niche focus and commitment to customer service.
The organization was built to exclusively serve the consumer product goods space and help some of the country's largest in the space solve the difficulties of retail delivery.
"In spite of being fixated on the most challenging segment of the global transportation market for consumer product goods, we are still experiencing growth, which attests to our strong capabilities," said Zipline Logistics President Andrew Lynch. "We often say 'no' to industrial freight because we want to remain focused on owning our segment and providing the best possible service to those specific corporations."
Providing world-class customer service is one of the guiding principles behind Zipline's value system, which carries over to every interaction with drivers and customers.
This belief translates to treating customers with respect, providing proactive solutions, expert analysis, and acting as an extension of a customer's organization.
That focus on customer service for CPG customers has also helped Zipline excel even during the challenges of COVID-19.
By providing expert logistics consultation to companies, many Zipline customers have seen uninterrupted operations even as other industries experienced ebbs and flows resulting from pandemic restrictions.
Focus on Building Culture While Expanding 
Accompanying the company's growth recognition, Zipline has also been recognized by publications for its outstanding workplace, a rarity in the logistics industry.
This year, the logistics provider was again awarded one of the state's best workplaces by Ohio Business Magazine. It is the second time the company has received the honor.
A driving force behind creating an employee-centric culture is the Zipline value system. When applied outward, it is largely the reason for new business, but turned inward, and it is what makes the logistics provider a great place to work.
Leadership believes in the importance of a company culture that features a tight-knit environment that celebrates individuality and professional development. The company allocates substantial resources for continuous learning opportunities and training.
From things like paid time off on birthdays and work anniversaries to quarterly massages, Zipline also aims to have its people strike the right work/life balance.
In addition, employees are encouraged to maintain healthy habits as the company provides gym access and monthly fitness class opportunities, and weekly in-office yoga. Leadership believes in maintaining a holistic approach to employee well-being.
Zipline also holds regular workshops, known as "Training 2.0", to reinforce essential topics and office procedures. These are often focused on industry updates or legislation and can also be spurred by employee requests.
Additionally, employees are also given the opportunity to obtain professional accreditation to further their skillsets. The company pays for certifications, as well as provides membership to influential industry and community associations.
Innovation Adds Value Internally and Externally
One of the most definitive aspects of Zipline's operational philosophy is a focus on innovation. The company relies on a dynamic innovation lab for improvements.
All employees are encouraged to submit ideas for process enhancements and office tweaks, which benefits business development and workplace viability.
The executive team evaluates submissions monthly and moves ideas quickly through an "innovation queue." Employees who submit ideas that are moved into implementation are recognized and rewarded.
During its first year, in 2018, more than 150 ideas were submitted. At the end of 2019, 83 of these ideas have been moved forward or actively developed.
Work for Zipline Logistics 
Despite increasing its customer base by 62% and growing its revenue by 210% over the past five years, Zipline maintains its core belief set and is not interested in diluting its values.
Zipline's celebrated and awarded company culture is not the result of a singular event or belief. It is the amalgamation of many pieces that combine to make the 3PL one of the top places to work in Columbus.
If you are interested in a quickly growing company that values its employees and customers, Zipline Logistics is hiring.