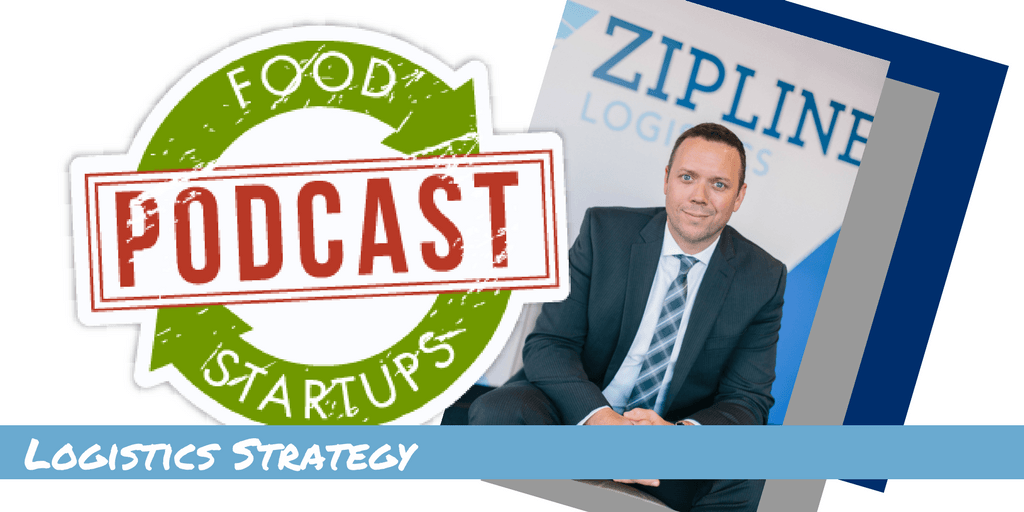 September 22, 2017
Logistics strategy can often be an afterthought, or at least not an area of focus, for new brands. Product development and marketing take center stage and shipping is seen as a necessary (but aggravating) part of doing business.
However, when brands start to think about logistics from a strategic standpoint, particularly in the early stages of growth, it can become an area for opportunity.
Our President and co-founder, Andrew Lynch, recently had the pleasure of talking logistics strategy with Matt Aaron of Food Startups Podcast – a show focused on helping listeners learn how to grow their food businesses.
Some of the major issues discussed included:
The most common issues shippers have
Customer-pickup pricing vs. delivered pricing
Shipment tracking and data reporting
What makes for a good logistics partner
What a high-level of service looks like, or should, in transportation
When to negotiate pricing
With so many details to cover, the conversation is broken out into two 30-minute podcast episodes. You can listen via the links below, or via your preferred podcast streaming platform.
If unable to listen, here are a few of the important concepts covered, and links to further reading:
Transportation and shipping are typically not core competencies for any food business founder. Why should they be? Yet, it's easy for founders to get caught up in managing shipments – it is relatively easy in the beginning with minimal calls and tracking. But once a brand scales up, it takes a lot of energy to manage transportation.
Logistics is naturally complicated. Unless you've invested a great deal of time into learning the nuances of each mode, each customer, and each carrier, you're going to miss key details that will end up being costly. Transportation can be a place where things go wrong for a startup if these details aren't heeded.
Overcoming Core Logistics Issues
Lynch shares core problems that new customers often come to Zipline with:
Customers/retailers are upset because trucks aren't delivering product on time.
Even when the brand works to provide enough lead time, carriers still seems to miss scheduled appointments. Some carriers aren't even picking up orders, leaving requests unfulfilled, or showing up day(s) late.
Bills are significantly higher than estimates.
Small issues or paperwork exasperating into complex situations that derail timelines.
Lack of proactive solutions from service providers.
Lynch explains that most transportation companies are built to provide the cheapest possible truck to answer whatever request customers bring forward. Unfortunately, those requests from brands aren't always optimized or correct.
The requests could be unrealistic, outside of operational hours, or missing essential details. Yet, the typical transportation provider doesn't coach shippers on how to adopt better transportation behaviors, and instead just overcharges and/or underdelivers.
A quality logistics partner should coach shippers on how they can switch things up to achieve better results, set proper expectations, avoid unnecessary complications or fees, and better deliver on customer/retailer requirements.
Lynch explains, "You can go find your own trucks, anyone can… You can filter through and find someone to come pick up your product today… The devil is in the details. Why would anyone call us (Zipline Logistics) if all we're going to do is take the order and execute on what they ask us to do. That's not service, that's just operations and execution."
Here are 10 topics Zipline regularly coaches clients on:
The Right Carrier for the Job
Aaron and Lynch talk in detail about how important it is to use the right carrier for the right job. If using the wrong trucking company for a certain region, route, or customer, emerging brands can end up dealing with issues, upcharges, and frustrated customers.
For example, retailers tend to work with certain carriers more often than others. It's important to book shipments with these "preferred carries" because they provide better service and can better deliver on retailer-specific demands. These preferred carriers may charge $50 more, but the headaches they eliminate are worth far more than the slightly higher price.
The fact of the matter is, there's no easy way for an emerging brand to know who preferred carriers are. Fortunately, this is the type of knowledge a specialized logistics partner can share.
Growing Margin with Logistics
Even if your "shipping behaviors" are fine (easy and fast loading/unloading, flexible hours of operation) you could still change things up to help grow overall profit.
Lynch talks about how behaviors in other departments can impact transportation spend. For example, when a sales representative approves a small order to be shipped via full truckload and on a short timeline, the company ends up spending far too much. Yet, unless departments are talking to one another and have optimal metrics outlined, these behaviors will continue.
Identifying optimal metrics/behaviors – such as notice days given for shipments or pallet count and distance minimums – is essential if trying to control business expenses.
Finding these optimal behaviors and tracking data is something Zipline Logistics regularly helps customers execute. Here's more information on the subject — Using Data to Marry Transportation and Sales Departments for Increased Logistics Efficiencies.
Finding a Logistics Partner as a Food Startup
Lynch also shares how important it is to choose a logistics provider who will act as a partner. He explains, "If you allow me to be an active part of your business, I can guide you through complicated decisions and coach you away from bad transportation behaviors. When accountable as a partner – we can be more creative with problem solving."
A real partner also puts his/her fellow partner's needs in front of their own. This includes self-reporting on problems, offering correction plans, being proactive with solutions, and admitting when someone else may be better leveraged to execute on a request.
All these behaviors let the other party know that you place value on what they do. And it goes both ways – at Zipline we know someone is not the right partner for us when they shop between providers for something as small as a $25 savings.
—
Throughout the podcast, Lynch and Aaron share examples and discuss personal experiences. We encourage everyone to listen – and promise you'll step away with new, usable knowledge!
Have other questions for our team?