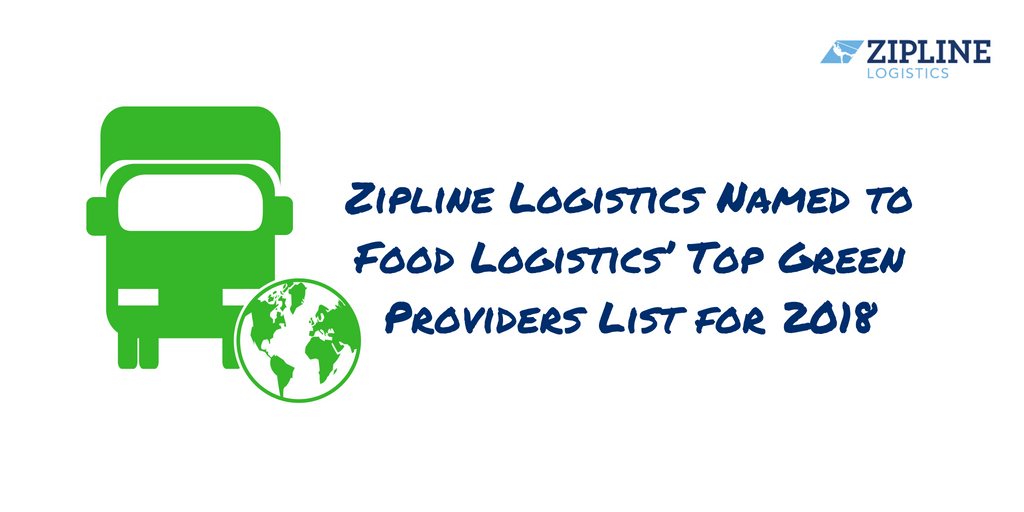 June 19, 2018
Columbus, Ohio—Food Logistics, the only publication exclusively dedicated to covering the movement of product through the global food supply chain, has named Zipline Logistics to the Top Green Providers list for 2018. This is the second year that Zipline has been awarded.
Food Logistics' annual Top Green Providers recognizes companies whose products, services, or exemplary leadership is enhancing sustainability within the food and beverage industry. Each year, the criteria for earning a spot on the list become more stringent for applicants. For example, the editorial staff evaluates a company's participation in such programs as the EPA's SmartWay and other recognized sustainability programs; facilities that are LEED-certified, and/or feature solar panels, LED lighting and other energy-saving installations and retrofits that produce measurable reductions in GHG emissions, to name a few.
"It's standard practice for our team members to aid customers with reducing emissions and spend," explains Walter Lynch, Zipline Logistics CEO. "We use advanced technology to evaluate every order that comes in and present new opportunities on a regular basis."
With rising transportation costs and growing compliance requirements from retailers, consolidation solutions are growing in necessity. Through the use of data analytics, reconfiguration of production schedules, remapping of delivery routes, rescheduling of pickup and delivery times, and altering of due dates, Zipline successfully consolidated customer orders to cut total miles traveled by 1,179,541 in 2017. On a smaller scale, these solutions reduced the average miles traveled per order from 1,363 to just 739.
"The agricultural sector and food supply chains at large have long recognized the importance of environmental stewardship for long-term sustainability in both business and for future food production globally," notes Lara L. Sowinski, editorial director. "Food Logistics remains committed to promoting those in our industry who understand their leadership role in sustainability and work to raise the bar with new products, services and strategies each year."
About Food Logistics
Food Logistics is published by AC Business Media, a business-to-business media company that provides targeted content and comprehensive, integrated advertising and promotion opportunities for some of the world's most recognized B2B brands. Its diverse portfolio serves the construction, logistics, supply chain and other industries with print, digital and custom products, events and social media.
About Zipline Logistics
Zipline Logistics, founded in 2007, is a digitally-enabled transportation partner that specializes exclusively in serving the food, beverage, and consumer product sectors. Managing tens of thousands of shipments annually, Zipline Logistics proudly serves clients ranging from some of the largest retail organizations in the world to the brightest up-and-coming food and beverage brands in North America.
The 3PL's capacity procurement team utilizes a proprietary qualification process to identify and contract the highest quality providers to operate within its network. This selectively procured carrier group is leveraged, along with Zipline Logistics' proprietary data analytics software, a retail-trained operations staff, and service-first organizational culture, to deliver the absolute best client experience in transportation.
For more information or to request a quote call 888.469.4754 or contact us here.