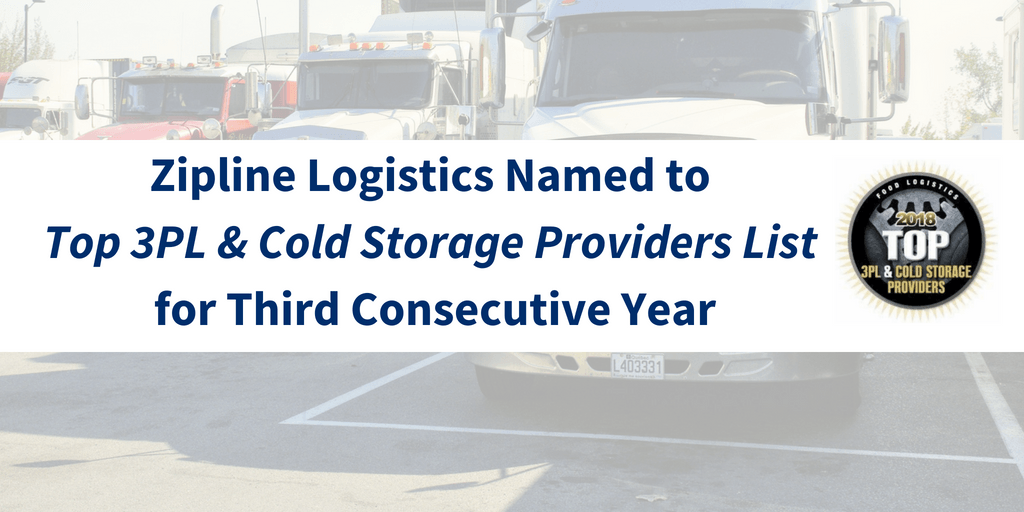 August 21, 2018
Columbus, Ohio— Food Logistics, the only publication exclusively dedicated to covering the movement of product through the global food supply chain, has named Zipline Logistics to its 2018 Top 3PL & Cold Storage Providers list for the third consecutive year.
"Food and beverage transportation continues to evolve with added complexities," explains Walter Lynch, CEO of Zipline Logistics. "We're proud to be recognized for our ability to grow with the market and provide logistics services that help brands meet their promises of fresh and timely delivery."
Zipline Logistics aids shippers with the selection and management of qualified carriers to ensure both on-time delivery and adherence to handling, temperature, and safety protocols. The company is known for its retail and grocery expertise, unparalleled customer service, and effective use of data analytics to identify opportunities for load optimization and cost savings.
The Top 3PL & Cold Storage Providers list serves as a resource guide of third-party logistics and cold storage providers whose products and services are critical for companies in the global food and beverage supply chain.
"Leading 3PLs and cold storage providers that support the global food supply chain are increasingly tasked with providing more value for their customers while simultaneously controlling costs," notes Lara L. Sowinski, editorial director, Food Logistics and Supply & Demand Chain Executive, "Companies that earned a place on Food Logistics' 2018 Top 3PL & Cold Storage Providers list demonstrate their ability to meet the current marketplace demands with the latest innovations and technology combined with customer care and collaboration."
This year's Top 3PL & Cold Storage Providers list will appear in the August 2018 issue of Food Logistics, as well as online at www.foodlogistics.com.
About Food Logistics
Food Logistics is published by AC Business Media, a business-to-business media company that provides targeted content and comprehensive, integrated advertising and promotion opportunities for some of the world's most recognized B2B brands. Its diverse portfolio serves the construction, logistics, supply chain and other industries with print, digital and custom products, events and social media.
About Zipline Logistics
Zipline Logistics, founded in 2007, is a digitally-enabled transportation partner that specializes exclusively in serving the food, beverage, and consumer product sectors. Managing tens of thousands of shipments annually, Zipline Logistics proudly serves clients ranging from some of the largest retail organizations in the world to the brightest up-and-coming food and beverage brands in North America.
The 3PL's capacity procurement team utilizes a proprietary qualification process to identify and contract the highest quality providers to operate within its network. This selectively procured carrier group is leveraged, along with Zipline Logistics' proprietary data analytics software, a retail-trained operations staff, and service-first organizational culture, to deliver the absolute best client experience in transportation.
For more information or to request a quote call 888.469.4754 or contact us here.