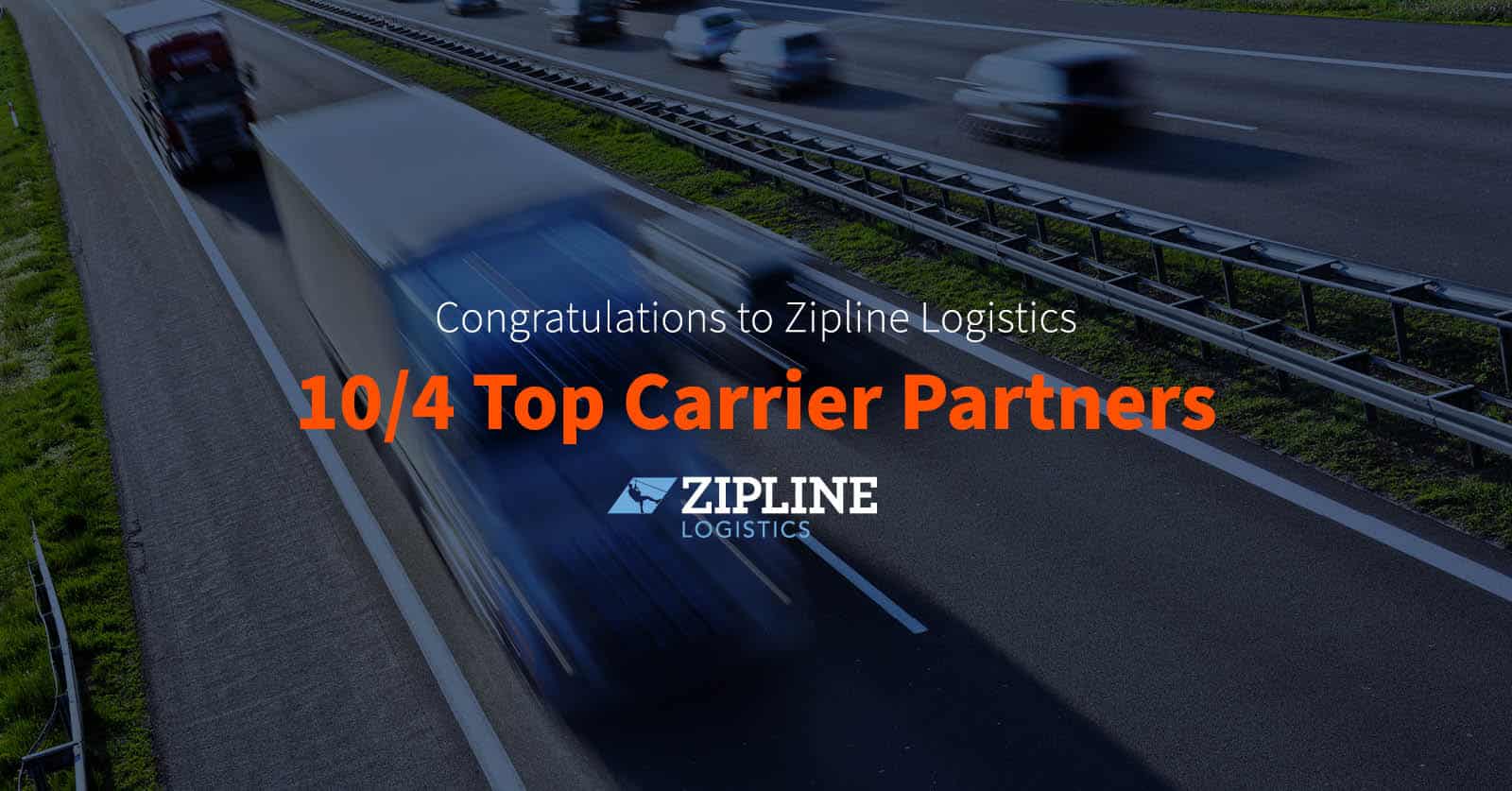 October 4, 2023
(Columbus, OH) – Zipline Logistics is proud to once again be celebrating our valued carrier partners on "10-4 Day"! We created this holiday in 2016 to recognize the top trucking companies in our network who go above and beyond for us and our customers.  
Congratulations to Zipline Logistics 2023 Top Carriers! 
East: Rhono Express Ltd. 
Central: Mercer Transportation 
West: Albert's Trucking LLC 
Drayage: Bayview Logistics 
Reefer LTL:  H&M Bay, Inc. 
 LTL:  Tazmanian Freight Forwarding 
Operations Team: Quick Express LLC. 
What it Takes to be a Zipline Top Carrier
Zipline's carriers are organized and structured into three distinct regional groups, as well as additional groups for intermodal-based providers. This allows representatives to build impactful carrier relationships and effectively minimize volatile market swings. Regional and modal coordinators are true retail logistics experts, acting as authorities on area lane activity, rate changes, and geographic influences.  
We selected this year's top carriers based on numerous characteristics, including:  
Overall performance  

 

Commitment to high-quality service 

 

Personal relationships with Zipliners 

 

Load volumes 

 
Our 2023 Top Carriers embody all of these characteristics and continue to do amazing work for our clients. 
History of 10-4 Day 
"10-4" is a common phrase used by truck drivers to close radio correspondence. It loosely means "agreed" or "understood." Zipline Logistics began publicly celebrating the event on October 4, 2016 but we have recognized the date internally and with our carriers since our inception in 2007.  
Operating on the purpose of "improving the lives of transportation professionals," this holiday is a hallmark for Zipline. We issue certificates and gifts to recognized carriers and throw a huge party for employees inside our own walls.  
About Zipline Logistics 
Zipline Logistics is the only third-party logistics solutions provider in North America exclusively servicing the consumer-packaged goods sector. Our uniquely qualified carrier network, world-class team of retail transportation experts, and state-of-the-art shipper intelligence tools maximize client revenue and gross margin by eliminating out-of-stocks through optimized, on-time in-full performance.   
By focusing on retail-specialization, we have maintained a customer satisfaction score ranking 5 times the industry average throughout 12 consecutive years of award-winning growth.