June 9, 2017
Columbus, Ohio — This month Zipline Logistics celebrates 10 years of improving the lives of transportation professionals. The multimodal transportation service provider was launched in 2007 with a goal of building a better freight brokerage that put customers and carriers first by delivering on service, innovating strategies, and treating partners with respect. Successful, Zipline Logistics has since worked with nearly 800 customers, traveled more than 75 million miles with its national carrier partners, and is poised for continued growth.
"We didn't have lofty expectations when we launched," adds John Rodeheffer, Zipline Logistics co-founder and Director of National Sales. "We just knew that we wanted to provide a better option to shippers that didn't leave them stuck in difficult situations or with hidden costs. We've delivered on that goal repeatedly."
A dedication to ethics, transparency, and customer service has helped Zipline Logistics attract and retain its customers. Regular investments in back-end and front-facing technology solutions have also enabled the company to improve operations and continue to deliver on their high standards.
"Every technology decision we have made in the last 10 years was done through the lens of improving the customer experience and making it easier for them to do their jobs," explains Zipline's President and co-founder, Andrew Lynch. "Viewing decisions this way allows us to filter through the overwhelming noise of over-hyped tech in today's transportation marketplace and focus on that which is actually relevant and impactful to our clientele."
Employee engagement and business culture are also paramount to the company's success. More than 40 percent of current employees were referred to the company by other "Zipliners" and all team members embody the company's values of accountability, education and experience, communication, integrity, and partnership.
"Our biggest accomplishment remains our culture and our employees," remarks Walter Lynch, Zipline Logistics CEO and co-founder. "I'm humbled by the family we've created and the dedication Zipliners have to our mission and customers."
Zipline Logistics' strategy has been confirmed again and again by consistent growth and industry recognition. The 3PL has been included in the Inc. 5000 list of fast-growth companies for six years in a row and is a seven-time winner of Columbus Business First's Fast 50 List of high-growth companies in Central Ohio. The company was additionally recognized for its ethical business practices with the prestigious Better Business Bureau's Torch Award for Ethics in 2016 and has won multiple personnel awards for excellence from Supply & Demand Chain Executive, Food Logistics, and Institute for Supply Management® (ISM®).
Zipline Logistics is positioned for continued growth and poised to be the logistics service provider of the future.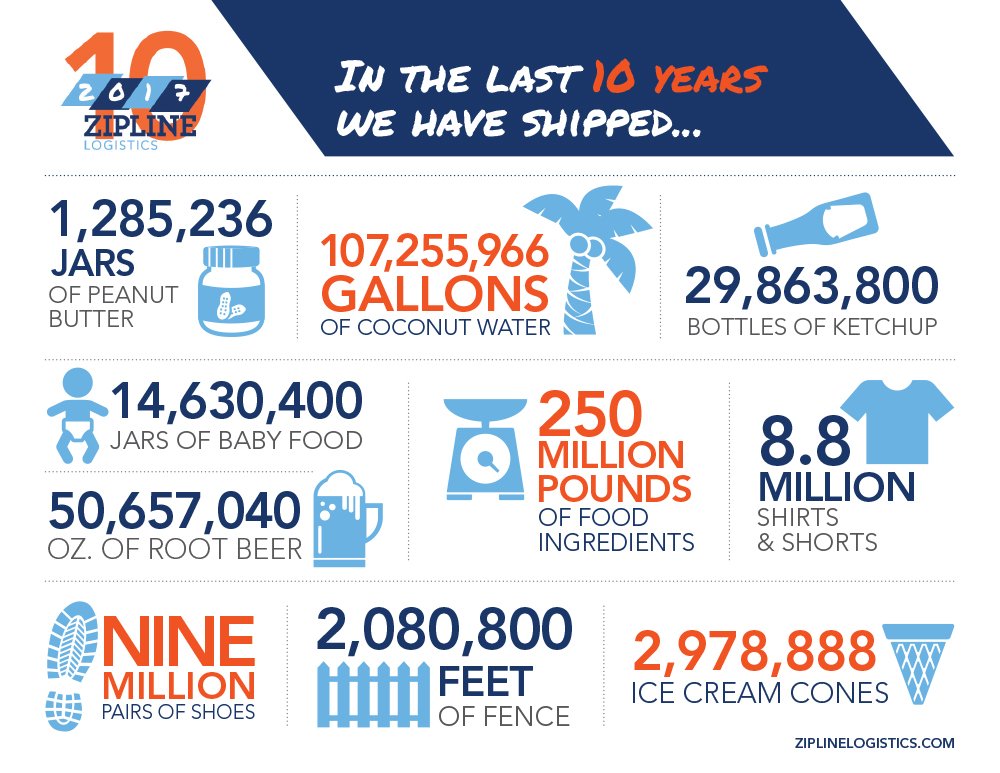 About Zipline Logistics
Zipline Logistics, founded in 2007, is a multimodal transportation provider that specializes exclusively in serving the food, beverage, and consumer product sectors. Managing tens of thousands of shipments annually, Zipline Logistics proudly serves clients ranging from some of the largest retail organizations in the world to the brightest up-and-coming food and beverage brands in North America. The 3PL's capacity procurement team utilizes a proprietary qualification process to identify and contract the absolute highest quality providers to operate within its network. This selectively procured carrier group is leveraged, along with Zipline Logistics' proprietary data analytics software, a retail-trained operations staff, and service-first organizational culture, to deliver the absolute best client experience in transportation.
For more information or to request a quote, go to www.ziplinelogistics.com or call 888.469.4754.