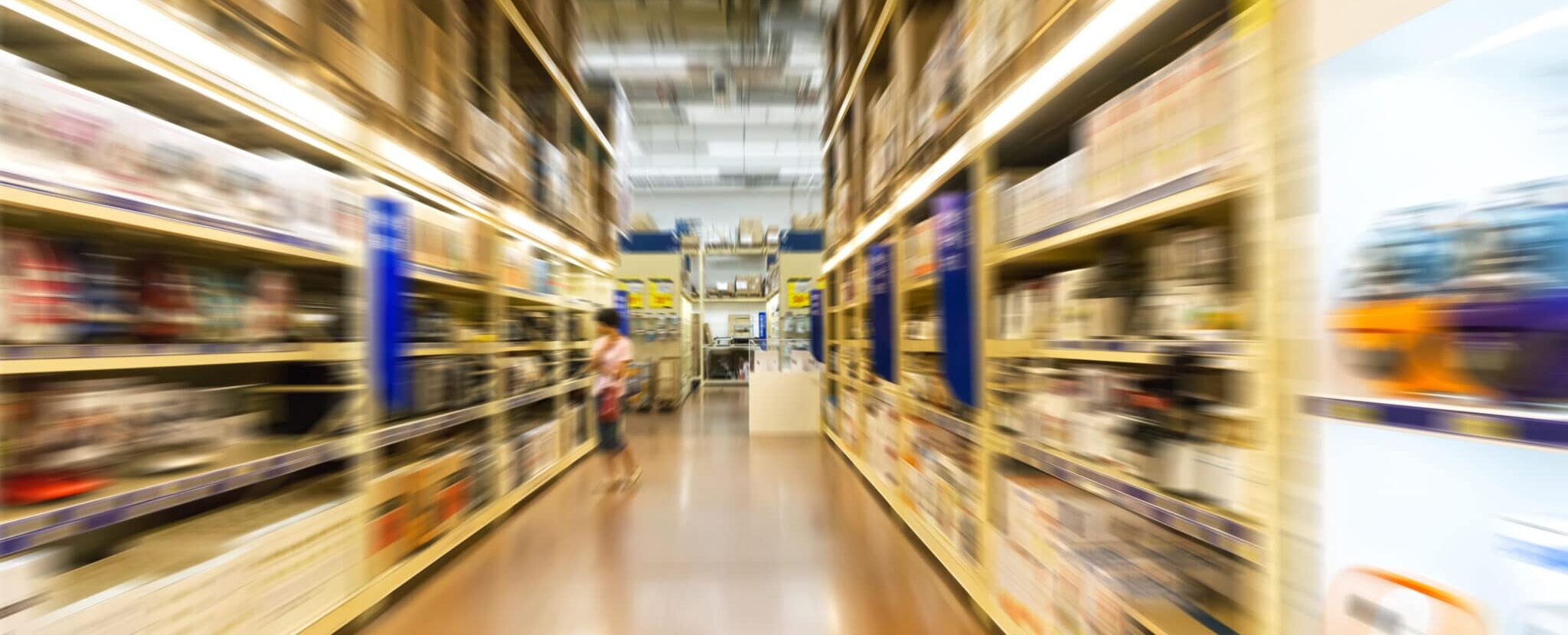 October 19, 2021
Competition in the consumer goods space is at an all-time high as venture capital continues to pour into the industry and products hit the market at record speed.
With more brands looking for an edge, organizations can find a dependable competitive advantage in their retail logistics function.
Retailers have shown that they intend to work with CPG brands that can get their products to a big-box distribution center promptly. But accomplishing that feat requires a sense of urgency and a correctly optimized retail supply chain.
What does urgency mean in this context, and what exactly does it look like? We'll explore the concept more in-depth and why it matters for CPG shippers.
Out-of-Stocks Shape Retail Logistics Conversation 
As retail has evolved to meet the modern consumer's needs, stores have implemented stringent compliance programs to ensure products are on the shelf when shoppers aim to buy them. Retailers have instituted appointment times, must arrive by dates, and OTIF metrics to measure a brand's ability to make timely deliveries and get its product to the end destination when it is needed.
For deliveries that fall outside a pre-arranged set of on-time expectations, retailers pass punitive fines or detrimental scorecard marks to a brand. These penalties can be damaging monetarily and hurt a brand's standing with its retail buyer.
The logic behind these increasingly tough-to-hit standards is the need to eliminate costly out-of-stocks, which are estimated to lose retailers $1 trillion in revenue due to online replacement transactions.
Because transportation is a substantial source of late deliveries and, subsequently, out-of-stocks, it is critical to implement urgency into your logistics function. According to a recent CBA study, "transportation accounts for the largest share of order cycle time variability in most supply chains, thus affecting inventory levels, stock-out costs, and on-time delivery."
However, the issue with transportation delays can be avoided by correctly implementing a few retail logistics best practices into your supply chain function.
What is Urgency in Retail Logistics?
Having a sense of urgency matters when working with retail partners. We can eliminate many of the challenges that result in late delivery just by placing more importance on orders bound for big-box locations. Here are some ways to do that:
Utilize More Lead Time
There is no such thing as too much lead time with retail orders. As soon as you know what your buyer has purchased, begin working on securing transportation. Whether through a third-party provider or arranging transportation in-house, it is vital to work ahead to ensure your product will arrive at its destination on time. 
A Zipline study of a CPG shipper found that increasing notice time on deliveries by a modest two days decreased average cost per skid by $23, decreased average cost per load by $154, and improved on-time performance by 1%.
Effectively Communicate with Logistics Partners 
Communication is a cornerstone of successful supply chain performance. Accurately evaluate and communicate your freight needs with your transportation partners far in advance. This will allow you to lock in capacity and properly schedule freight pickups and deliveries. In these situations, err on the side of over-communicating.
Retain Supply Chain Visibility and Control
Maintaining a sense of control over your supply chain can help your organization implement the practices that allow you to schedule transportation for your freight urgently. It is also essential that vendors steer clear of customer pickup (CPU) arrangements.
When a vendor opts to let a retailer handle transportation of their orders, they lose the ability to maintain these essential supply chain attributes. The retailer dictates transportation terms, which means that you must have orders ready to ship when they are scheduled.
It is crucial to keep in mind that pickups will be scheduled when convenient for the retailer, not your operation. If that falls outside critical production schedules, it can strain your operations, leading to reduced efficiency and potentially jeopardize profitability.
Your retail customers are busier than ever, which can spell issues for shippers involved in CPU arrangements, translating to more missed pickups and appointments, translating to fines, fees, and out-of-stocks.
Work with Retail Logistics Experts
Partnering with a logistics firm that understands the complex, nuanced world of retail shipping can help offset the challenges of big-box shipping. A retail-geared transportation partner can pair your freight with a vast network of preferred carriers that understand the delivery needs of the nation's most challenging receivers.
Why Urgency Matters for CPG Shippers  
Besides the monetary penalties associated with late deliveries, there is more at stake for CPG shippers working with retailers. The intangible damage that non-compliant deliveries can do for your retail relationships can be more detrimental than the fines associated with late delivery.
In a survey of retail buyers, respondents pointed out that delivery compliance was a deciding factor in relationship continuation:
100% of respondents said that a vendor's ability to deliver product on time affected their willingness to work with them

73% of respondents said they had ended supplier relationships over delivery issues
Conversely, brands that master these relationships position themselves to stand out from the competition. A well-optimized retail supply chain can act as a differentiator, putting an organization's product on the shelf where the competition is not.
Finding Success through Retail Specialized Logistics Partnerships 
Zipline Logistics is built to help organizations like yours get their product on the shelf. We specifically constructed our teams to meet the needs of consumer goods enterprise organizations, assisting them in delivering to their most important customers as intended.
We work with established brands to meet receivers' growing demands through a specialized approach to moving time-sensitive and high service-level products.
Zipline can help you find supply chain improvement opportunities through our consultative approach to logistics.
We provide value-added logistics services by delivering on promises, reducing supply chain costs, modernizing best practices, increasing logistics flexibility, and providing needed visibility into operations.