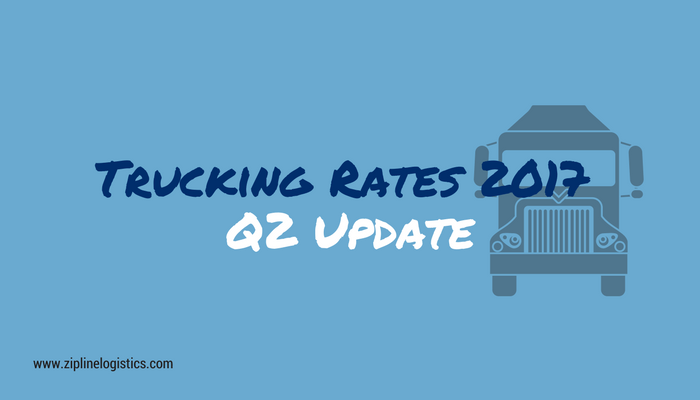 April 25, 2017
Everyone predicted a rise in freight and trucking rates for 2017 (including Zipline). But the spike has yet to hit. So, where do market pressures and transportation pricing currently stand?
Transportation Impacts from 2017 Produce Season
Produce season impacts all shippers, regardless of whether they are in the market for fresh fruits and vegetables. When crops are ready to ship, demand for transportation – particularly refrigerated – rises, available capacity shrinks, and rates increase.
Typically, the peak in produce season runs from April 15 to July 4, but depending on the winter, it changes every year. For 2017, extreme shifts in weather are disrupting yields. Here's how transportation is shaping up:
The mid-March hard freeze that hit crops from North Carolina to Southern Georgia is having an impact.  Spring produce shipments – blueberries, peaches, watermelons – from these areas are expected to be smaller than usual, up to 40-75%.
Warm growing conditions are resulting in an early start for Georgia vegetable shipments – cabbage, yellow squash, and zucchini, soon to be followed by eggplant, cucumbers, peppers and later, sweet corn.
Due to heavy rain in the west, California and Arizona are also anticipating a much lighter produce season this year.
A warmer winter in the Midwest is hurting production of apples, maple syrup, and other fruits.
Overall, produce season should have less impact on rates than past years, but may also be extended further into the summer months. An already soft trucking market will also make produce season less of a disruptor.
Why Driver Pay Will Rise, Then Rates
According to the National Transportation Institute, trucker wages averaged $38,618 annually in 1980. If adjusted to today's dollars, that would be more than $111,000 a year. But the average driver currently earns somewhere between $40,000-$80,000 depending on who they work for, with private fleets paying more. The bleak reality is that driver pay hasn't increased alongside cost-of-living expenses. To keep drivers on the road and attract new workers, employers will need to raise trucking salaries and resultantly, rates.
On top of wages, carriers have additional expenses tied to regulations, which will likely be covered by higher rates while they figure out how to best utilize equipment and drivers.
Electronic logging devices must be all commercial vehicles built after the year 2000 by Dec. 18, 2017, as dictated by the ELD Mandate
After December, the Hours of Service (HOS) regulations will be enforced. ELDs and drivers who didn't previously follow these guidelines will see a reduction in time on the road, meaning less income
The Food Safety Modernization Act (FSMA) requires those with temperature-controlled vehicles to have updated equipment and tracking technologies
Rising Fuel Costs Continue
Truckload and intermodal prices are set to rise in the second half of the year due to higher fuel prices. Additionally, there will be increases in state-specific fuel and vehicle taxes for funding of transportation repairs and improvements. This comes to a head as California Assembly passed Senate Bill 1 by a 54-26 vote on April 6 to raise $52 billion in taxes to repair roads, bridges, and other infrastructure in the state. More states are set to do the same.
Overall, we still anticipate rates to rise in coming months but the timing is unclear. For shippers, keeping open communication with 3PL partners remains the key to weathering any rate storm. 3PLs can help shippers stay ahead of the looming rate increases by strategically deepening relationships with their current carrier bases while continuing to diversify and add capacity to their network.