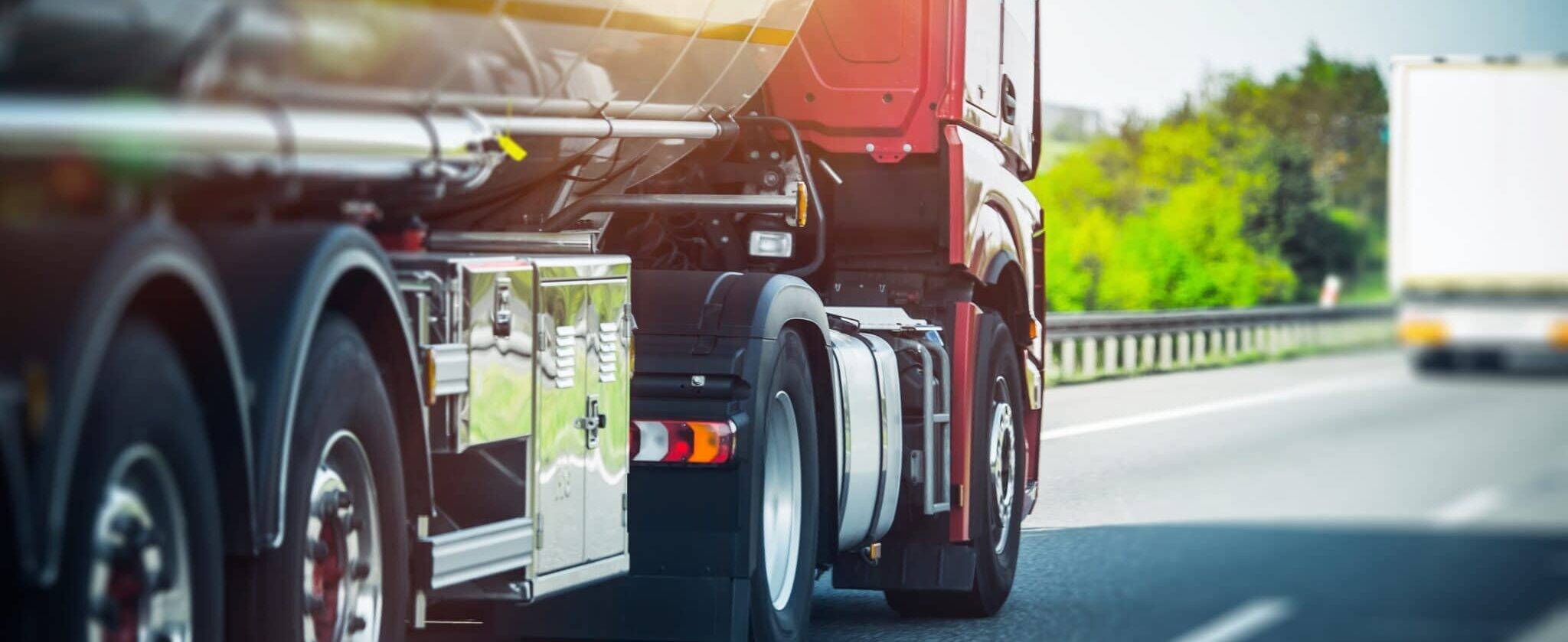 October 5, 2021
Last year's peak season was one for the books, and if the past three quarters since then serve as a sign of what is ahead, this year's promises to be another unprecedentedly busy few months.
According to a Logistics Management survey of industry professionals, "there is a strong sentiment that the 2021 Peak Season will be more active than it was a year ago, with 79% of respondents indicating that will be the case, with 16% contending it will be similar to 2020, and 5% expecting it to be less active."
While it remains to be seen whether the coming quarter will live up to expectations, there are multiple powerful predictors hinting that the freight market will not wane in intensity over the coming months.
According to a recent FreightWaves market recap, "National freight demand grew throughout August with outbound tender volumes increasing 4.5% from beginning to end of the month. Capacity tightened steadily, and rejection rates climbed from 20.5% to 22.7%, breaking a four-month-long trend of steady decline (excluding holiday impact)."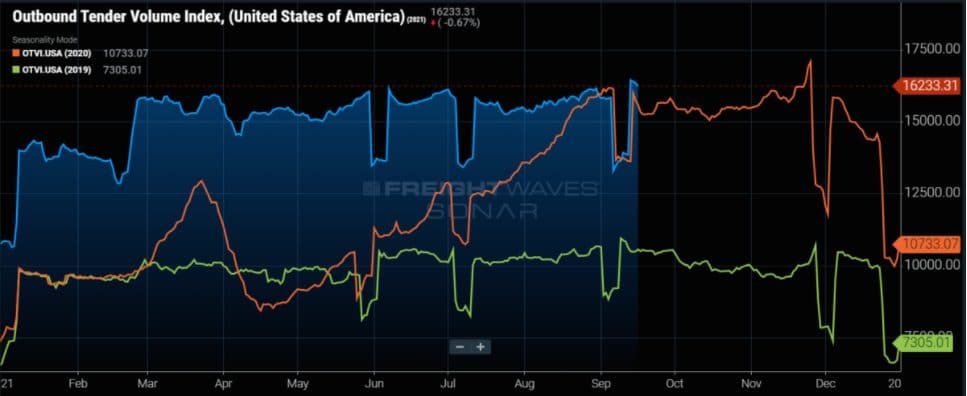 *Source FreightWaves' Market Update
This trend reversal could be the first sign of massive peak season waiting in the wings. Typically, freight experiences a seasonal boom, starting with back-to-school shopping and concluding following year-end holidays. We will look at why this peak season is poised to be a strong one and a few factors currently influencing the market.  
Port Congestion's Worsening Makes for Tough Freight Market
Much was made about the dislocated global supply chain and the congestion at US ports last year. The situation, in 2020, was the worst in history. As many as 30 container ships were waiting to be unloaded at the Port of Long Beach at one point. However, the congestion has not only not improved throughout 2021, but it has also actually worsened. Currently, 70 ships are backlogged off Southern California ports, the area responsible for nearly half of all US imports, waiting to be unloaded. That difficulty is indicative of a highly disrupted global supply chain.
According to a recent American Shipper article, "While the numbers fluctuate from day to day, there were 70 container ships in the queue on Monday with a total capacity of 432,909 twenty-foot equivalent units. To put the enormity of that number in perspective, that's more than the inbound container volume the Port of Long Beach handled in the entire month of August. It's roughly what Charleston handles inbound in four months and what Savannah handles in two."
So, what is driving this massive influx of imports? Consumer spending for one. The boom in eCommerce and consumer spending have garnered much media attention and these increases are driving demand for imported goods, requiring ships for transportation.
Besides representing a large need for labor to clear the backlog, this excess of ships at the port will also cause an issue for strained trucking capacity. After the containers arrive in port, the goods on these ships will need over-the-road transportation services to get them to their destinations. These loads are lucrative opportunities for drivers, diverting available capacity to the area to secure outbound orders.
Analysts estimate that, in order to clear this backlog, no more vessels could arrive at the ports for two consecutive weeks. This situation is improbable ever to occur. But even less likely in the coming weeks, as there are plenty of ships in the Pacific Ocean en route to these locations. Once these arrive to port, available trucks will flock to these locations due to the increased pay opportunities that this freight represents. Retailers and shippers alike, waiting for their long-dormant freight, will pay above-market rates to get their goods rushed directly to their destinations.
Consumption Trends Still Driving Freight Market 
Consumer goods have experienced massive growth since the start of the pandemic, with no signs of slowing in the next few months.
Employment numbers, which are a reliable predictor of spending, are the strongest since March of last year. The unemployment rate has fallen to 5.2%, near its historical average over the past 60 years.
While consumer spending did not need robust employment numbers to remain elevated for the past year, a more stable job market bodes well for the economic outlook and trends to continue. In August, consumer spending bounced back from a mid-summer lull. During the past month, it jumped .8% after a decline of .1% in July. Moreover, income rose by .2% as consumer prices increased by .4%.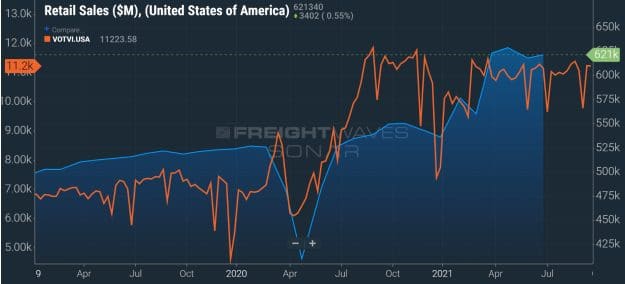 *Source FreightWaves' Monthly Market Update
This increase in spending came despite a tumble in consumer confidence and another spike in COVID-19 cases. This elevated level is expected to continue for the next few quarters at least. However, long-term spending forecasts and economic recovery are murkier. The rebound could be derailed by inflation and price increases, which are doing their best to wipe out income gains made during the pandemic.
That said, spending is on track to continue to buoy the consumer economy in the near term, adding more freight to the marketplace in the process. This addition shrinks capacity and drives up rates, which will continue to climb as demand for freight services continues unabated.
Supply Side Constraints
Demand for transportation is continually stretching the limits of what the market can reasonably haul. These labor difficulties are not unique to logistics, as many businesses are struggling to find an adequate supply of workers.
However, the issue is particularly challenging for carriers, as demand for their services remains continually elevated. Demand started to far exceed supply during the second half of 2020, and we continue to see similar issues.
Basic economics dictates that this misalignment will have an upward price pressure, primarily the reason for rate increases that hit freight in 2020. Currently, trucking is over 50,000 drivers short of demand.
Recently, the ATA reported that the industry would need to hire approximately 1.1 million new drivers in the next decade to offset strain. That equates to 110,000 drivers per year.
And while this may not be impossible, the industry has long failed to attract enough new labor to its talent pool. Pay often falls short of other labor positions, and the job is among the most dangerous in the country. The annual turnover rate for drivers is near 95%, according to recent reports. Almost all drivers leave their job after a year, making it difficult and costly for carriers to fill their seats.
As more volume continues to flood the market or is waiting just offshore, we expect to see a substantial capacity shortage, which raises rates and stretches things ever thinner.
What to Expect for 2021 Peak Season 
With the volatility and uncertainty that has almost become commonplace throughout the pandemic, we could be in store for more surprises this peak season. However, it is safe to assume that the current market trajectory will last for at least several more quarters. Consumers will likely channel their spending through eCommerce and brick-and-mortar options, and there will simply not be enough capacity to handle the influx of volume ready to hit the market. These conditions will further strain the market, and freight rates will continue their ascent.
Although, the timing of this converging of factors is unknown. There is reason to believe that peak season may hit its fever pitch earlier than its usual spot shortly preceding Christmas. Wearied by out-of-stocks and enormous demand, retailers are pulling ahead inventories to keep pace with consumer spending. According to a piece in the Atlanta Business Chronicle, "Retailers are bringing in more and more inventory to try to stay ahead of demand. Big box stores are stocking up aggressively, with Walmart's inventory up 20% year-over-year at the end of the second quarter, Target's up 26% and Home Depot's up 40%. "
Consumers have shown they plan to shop for the holidays earlier this year. According to data from a UPS Proprietary Study Conducted Through a Third-Party Blinded Research Panel found:
91% of consumers say that they plan to complete all their holiday shopping one week before Christmas vs. 81% last year. About 60% of consumers plan to finish all their shopping two weeks before the holiday, compared to 52% in 2020.

In 2020, only 17% of shoppers planned to finish shopping before Black Friday. This year, nearly 1 in 4 shoppers will finish their shopping before the traditional holiday season even kicks off.

Nearly all consumers (95%) surveyed say they would start their holiday shopping earlier this year if sales and holiday promotions were launched earlier in the season.
These factors point to an earlier peaking peak season, straining capacity, and driving up rates earlier rather than later.
Work with a True Logistics Partner to Navigate Peak Season
Regardless of how the freight market plays out, it will continue to benefit shippers to work with a true logistics partner.
We believe in creating seamless partnerships with our customers. That means making your goals our goals and working to meet them.
Zipline proudly works alongside clients ranging from some of the world's largest food and beverage businesses to the brightest up-and-coming CPG brands in North America. Big or small, we help our customers lock in the right capacity partners to achieve the best possible freight outcomes and uncover new savings potential.