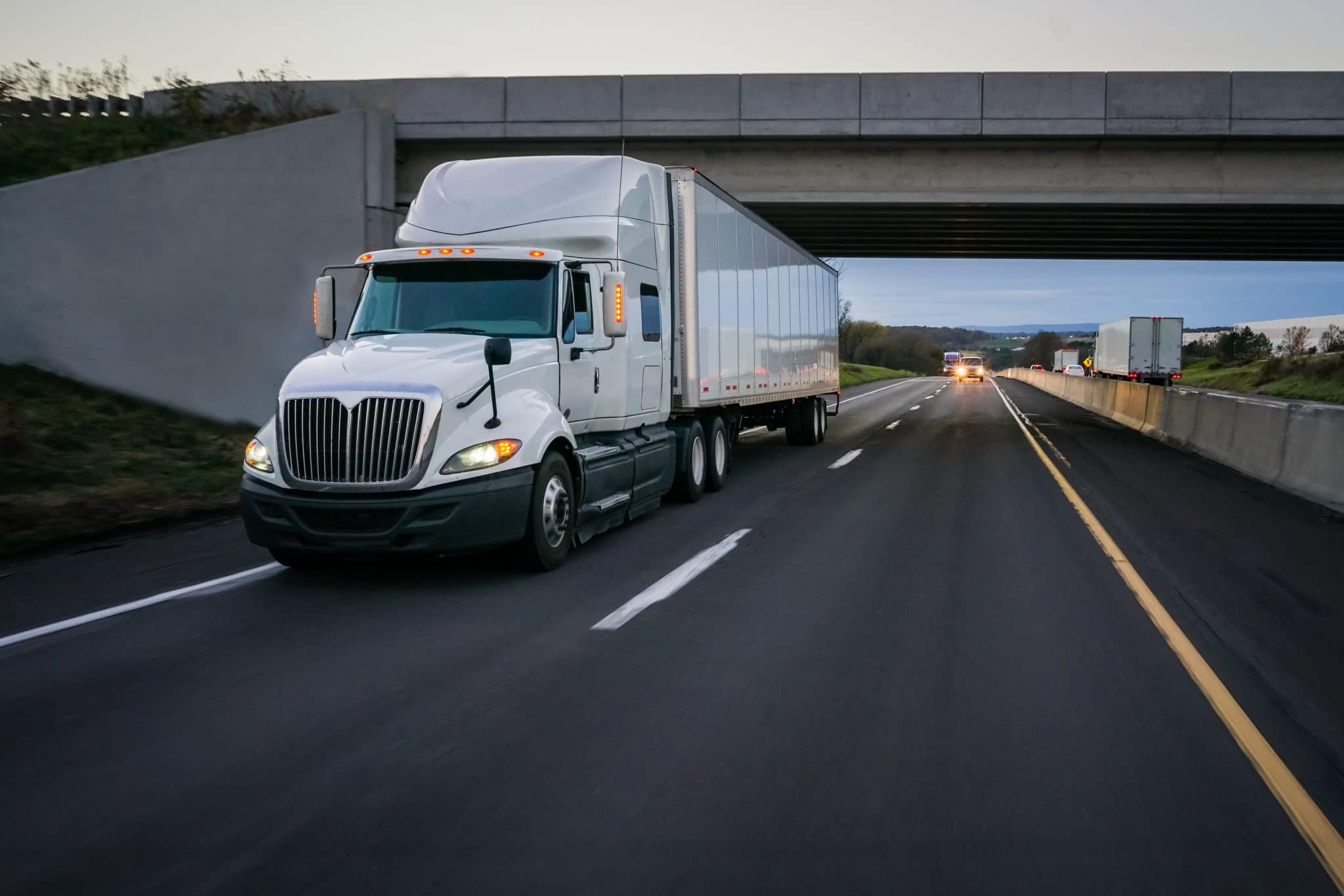 June 9, 2020
The freight market is making a rapid recovery as outbound volumes have increased and stayed at several-year-highs over the past several weeks.
Though they have stayed below the massive pre-pandemic build-up levels, outbound volumes show no sign of slowing down over the next few weeks.
According to an article published in FreightWaves over the past weekend, "The outbound tender volume index has roared out from the Memorial Day disruption and now sits at 10,996. This is the highest June 5 value in the three-year series history. Due to the holiday, weekly comparisons are skewed, but OTVI is up 7% year-over-year."
In the image below, you see outbound volumes in the US the last three years on the left and the trends for the next month in the green and orange lines. We are expecting volumes to match the previous two years or even exceed them in the next month before July 4th.
On the right you will see rejection rates, we expect those to follow an upward trend with volumes for the next month before dropping off after the July 4th weekend.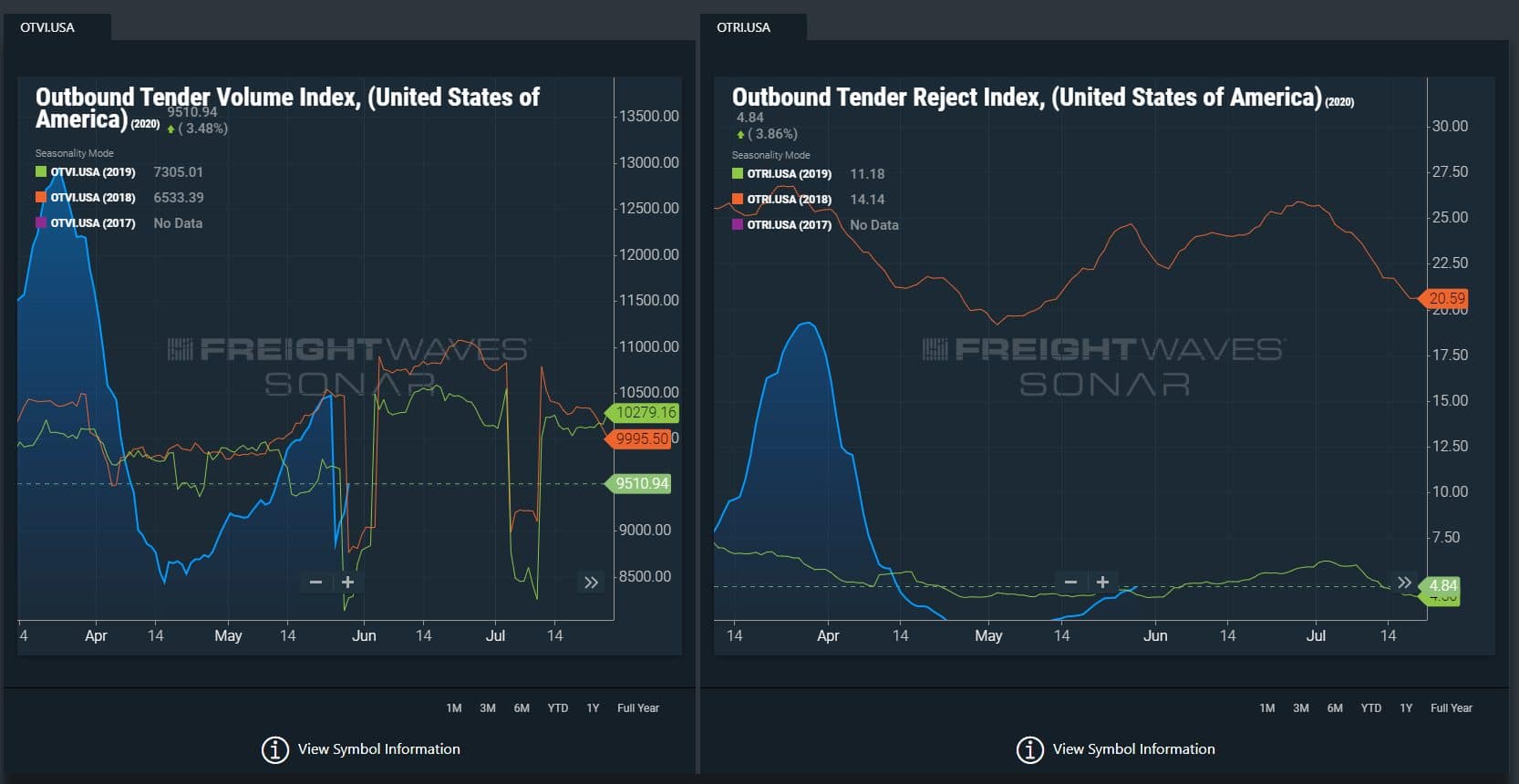 What is Driving Increased Outbound Volume?
These levels should remain constant and possibly even continue to climb as the economy rebounds. Reject rates from drivers have passed last year's lows and do not show any sign of slowing down as volumes pick up with demand.
The source for this increased volume comes from the economic reopening following shutdowns, in response to the COVID-19 pandemic, as well as agricultural output, which is peaking in several regions.
Seasonal produce volume on the West Coast and in the Southeast continues to surge. And Midwestern manufacturing hubs are potent sources of outbound volume as parts of the industrial economy have restarted following their March downturn.
For shippers, it is critical in this environment to give your logistics provider adequate lead time. Orders with a two-to three-day window are typically covered at market cost.
However, same-day or next-day requests are difficult to cover without notification, primarily outbound southern orders and outbound California shipments.
Freight Rates Rise from Historic Lows
These voluminous conditions have created upward rate movement, especially in areas where combined with substantial agricultural output like the Southeast and West Coast.
Shippers should expect higher rates even for orders with adequate lead time. Expedited requests will cost above-median rates in these markets.
While we see rate increases across the United States, their spike must be viewed through a historical lens to put it into proper context.
Shippers should have been enjoying savings throughout much of 2019 and into 2020, especially since March, due to historically low rates.
This shipper-friendly environment was not present in 2018 as more freight flooded the market, and carriers controlled much of the price action for that year.
When compared to the same period in 2018, we still see reduced costs to shippers. The average long-haul van rate at the end of May in 2018 was $1.805. Currently, the price is $1.54 per mile according to data pulled from DAT.
In the image below, the green line represents the national average van rate in 2018, while the blue line represents 2020. You will see a still significant disparity between the two, even as your current costs jump from last month.

Rates may continue to climb in the coming months if volume stays strong. However, we are currently and may continue to see depressed prices when compared to their respective 2018 periods. That could be especially true if we see another COVID-19 outbreak before 2020 concludes. According to a report published by FTR, we should continue to see rates down from their 2018 highs, even through year's end.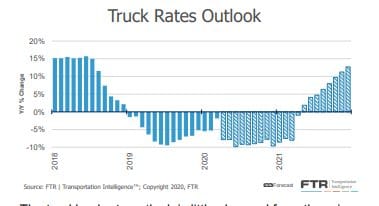 For a more granular look at individual markets, we have isolated five critical regions to view their outbound volume over the past few weeks.
Midwest Logistics—Outbound Tender Volume from Illinois
Outbound Chicago is tightening due to an increase in demand.
Lead time is crucial to reduce costs and ensure the load picks up on time.
Southeast Logistics—Outbound Volume from Florida, Georgia, Texas
South Texas outbound volume is heating up and capacity is tightening.
Covering freight ahead of time with backhaul carriers will prove crucial for lowering or maintaining rates.
Finding outbound South Texas, Georgia, and Florida to the Northeast is challenging, as capacity out of these markets is tighter.
Lead time is crucial to reduce costs and ensure the load picks up on time.
West Coast Logistics—Outbound Volume from California
Outbound CA refrigerated freight into the Midwest is proving difficult to cover for same-day or even next-day requests.
Outbound California to all markets is tighter. Lead time is crucial to reduce costs and ensure the load picks up on time.
We continue to see outbound Southern CA tighten as volume continues to increase week over week.
Northeast Logistics—Outbound Volume from New York 
Warehouses in New York and New Jersey are reopening in the coming days, and we expect to see an increase in outbound volumes.
Rates should fluctuate week to week for outbound New York and New Jersey freight based on capacity and demand.
Work with a Logistics Partner Focused on Transparent Pricing 
During periods of rate fluctuation, it is crucial to work with a logistics partner that operates with transparent pricing.
At Zipline Logistics, we make it a priority to accurately price our lanes to give our customers the most accurate portrayal of a shipment's potential costs.
That way, you can accurately forecast transportation spend and make profitable decisions about your orders.
We work to be upfront and honest, focused on retail delivery and pricing transparency. Want to get more from your logistics partner?