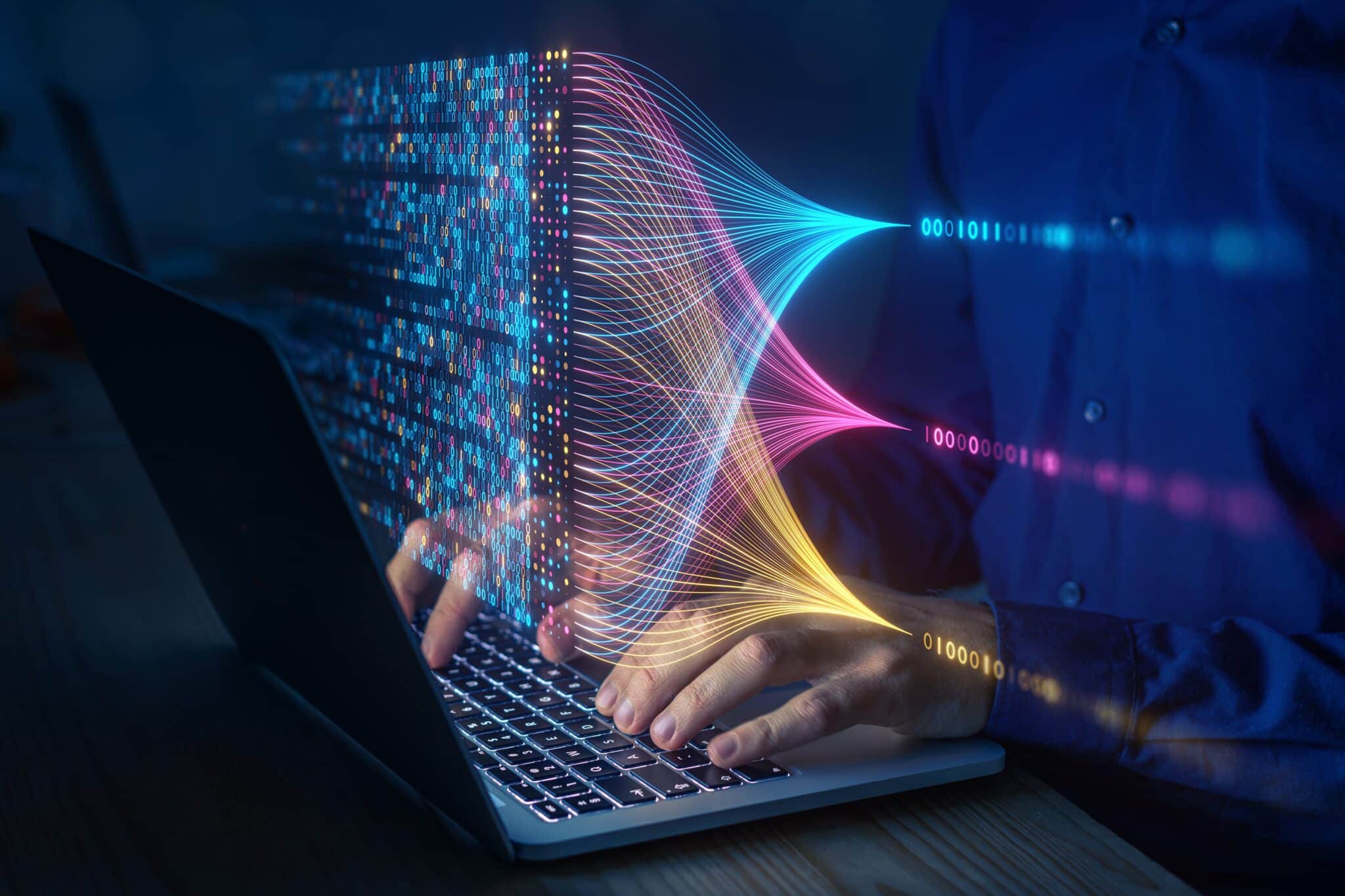 November 7, 2023
This article was originally published in Spiceworks.
Artificial intelligence tools like ChatGPT have been introduced to most industries, including the supply chain space. Dustin Verdin, executive director business innovation of Zipline Logistics, shares how using AI in a brand's supply chain strategy has many benefits, such as improved efficiencies, overall performance, and on-time in-full (OTIF). 
ChatGPT and other artificial intelligence (AI) tools have been trending in all industries for the past couple of months. These AI advancements are constantly evolving, and their adoption is at a higher rate than ever. However, just like any disruptive technology, it does have a large number of skeptics. For the supply chain industry specifically, this innovative technology offers companies an increase in efficiency and overall performance, prepares for future and unexpected crises, and addresses the on-time in-full (OTIF) issue.  
Benefits of Using AI in the Supply Chain 
There are constantly new benefits of AI in the supply chain space being discovered; still, many are yet to be found. One of the most significant benefits is that with AI and machine language (ML) systems, companies could gain access to better data-driven predictions of obstacles in their supply chain to potentially avoid disruption scenarios altogether. Supply chain disruptions include natural disasters, labor shortages, cyberattacks, and global crises like COVID-19. 
In dealing with disruptions like these, AI can also be used as a proactive communication tool between shipping partners and their clients in cases of delayed freight by providing weather updates, reasons for delay, or alternate routing in case of unforeseen challenges. Utilizing AI/ML systems for these tasks could allow human operators more bandwidth to take on and solve problems more efficiently. 
Another benefit of AI/ML systems is that companies can proactively predict which trucks need maintenance, resulting in fewer accidents and more efficient deliveries. In addition, AI tools can design optimal shipping routes using a company's historical data and internal knowledge, as well as track shipments in real-time while sending out natural-language updates to clients. Companies can help reduce emissions and build a positive customer experience with this ability, in addition to maximizing operating efficiencies.  
Taking OTIF to the Next Level 
Improving companies' OTIF delivery performance is another benefit of implementing AI in supply chain strategy. OTIF is a supply chain metric that measures a supplier's ability to fulfill its delivery promises, resulting in the customer receiving exactly what was ordered, in the correct amount, at the right location, and within the established time frame. In 2017, Walmart created OTIF to track supplier performance, drive store improvements, and increase customer satisfaction, and the metric has quickly become a standard in the supply chain space.  
Companies focused on delivering on-time in-full on a retailer's requested delivery date will eliminate excess costs, improve customer satisfaction, uncover new growth opportunities, and differentiate themselves from their competitors. OTIF is vital for CPG brands due to the types of goods being transported. A report from McKinsey & Co. revealed that the U.S. food retail industry loses an estimated $15–20 billion in sales yearly because items are out of stock or otherwise unsaleable.  
With the use of AI, OTIF can be improved with artificial intelligence and its ability to predict possible supply chain disruptions and quickly analyze data to unveil historical patterns and information that humans aren't able to. AI/ML systems can also give company leaders visibility across demand, inventory, and production, identifying possible risks across the entire supply chain network. AI tools can also complete simple tasks that give supply chain personnel more time to focus on complex issues.  
Without a successful OTIF strategy, operations can become very costly for CPG brands. These brands that consistently fail to meet OTIF standards risk damaging their retail relationships, hurting their chances to grow, and facing regular retail compliance fines.  
Walmart founder Sam Walton famously said, "There is only one boss: the customer. And he can fire everybody in the company from the chairman on down, simply by taking their business elsewhere." These words demonstrate a concept coined "involuntary sampling." This is a phenomenon in which a customer samples a competitor's product because their first choice – yours – is out-of-stock in stores or online.  
CPG brands that master getting on the shelf on-time in-full don't have to worry about the threats of involuntary sampling. On the contrary, they can reap the benefits of it, winning more business when customers are forced to search for alternatives to their usual brand selections. 
Dealing with AI Skepticism
Like any new technology, there is much skepticism about the use of AI in the supply chain space. While AI technology can save time and money, the initial cost can be expensive for many brands to invest in. These costs can be exceptionally high when companies start from scratch or eliminate outdated technology. Many skeptics also believe that AI can take away human jobs in the supply chain. However, experts say AI has more potential in business when utilized alongside human expertise, so the chance of entire jobs being ousted by AI is perhaps less than the worst-case scenario that skeptics present.  
From weather disasters to labor shortages and high inflation, the supply chain space constantly faces challenges that require companies to make quick decisions and be prepared for anything. Supply chain operations can successfully be executed during any challenge when companies are committed to adopting and investing in new AI technology. This approach will not only help avoid significant disruptions, predict what trucks need maintenance, and design optimal trucking routes, but, most importantly, it can improve brands' OTIF performance. 
KanoPI: Zipline Logistics' Proprietary Shipping Intelligence Tool
Built in-house by Dustin Verdin – the author of this article – and improved daily by the Zipline Development Team, KanoPI is our proprietary shipper intelligence tool. Our retail logistics experts leverage KanoPI to optimize client supply chain efficiency, reduce costs, and skyrocket logistics performance.  
KanoPI has helped Zipline clients achieve up to:  
$1.2 Million in transportation savings  

 

20% reduction in cost per pallet through consolidation  

 

17% improvement in meeting on-time in-full delivery (OTIF) 

 

30% increase in network efficiency 

 

861,908 fewer projected miles traveled overall 

 
Our technology suite offers shippers with revenue between $1 Million and $1 Billion the visibility and insight "Big Box" 3PLs reserve for Fortune 100 customers.  
KanoPI provides Zipline clients with:  
High-powered visibility and data to track and trace shipments 

 

Weather overlays and proactive alerts of potential disruptions 

 

Reports on logistics performance and cost analyses to make timely, cost-effective decisions 

 

Queries and sorts data so users can identify new opportunities