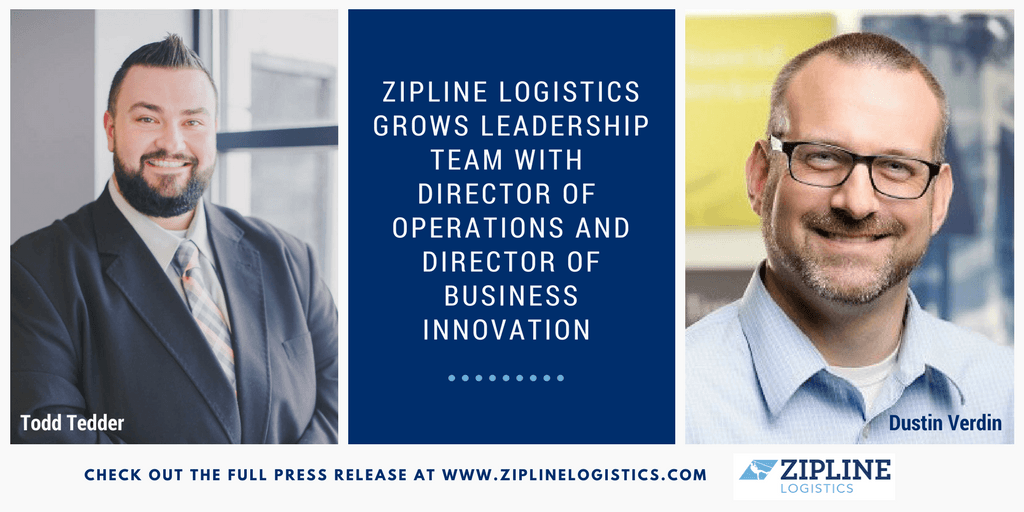 March 20, 2018
Columbus, Ohio – Todd Tedder and Dustin Verdin have joined the leadership team at Columbus-based third-party logistics provider (3PL) Zipline Logistics. With award-winning growth year over year, the company continues to make talent and technology investments to support streamlined expansion and the best possible customer experience.
Transportation industry veteran Todd Tedder joins Zipline Logistics as Director of Less-Than-Truckload Operations. Tedder brings over a decade of logistics and supply chain management experience to the company and will oversee the growth of Zipline Logistics' Less-Than-Truckload (LTL) business; the 3PL's fastest growing mode.
"I am eager to dive in and embrace the entrepreneurial spirit that is prevalent at Zipline," explains Tedder. "I look forward leveraging the company's progressive technology suite and building up the infrastructure and talent to support Zipline's aggressive growth goals."
In past professional roles at Cardinal Health and Simplified Logistics, Tedder was responsible for Transportation Management System (TMS) implementation, process improvement, data analysis, and procurement. Tedder is a proud alumnus of The Ohio State University, having earned a Bachelor of Science in Business Administration with a focus in Operations Management from the Fisher College of Business. He brings operational know-how, LTL carrier relationships, and a history of successful technology integration to Zipline Logistics.
Dustin Verdin comes to Zipline Logistics with an impressive background in technology system development and change management. He studied at Miami University, earning his Bachelor of Arts in Architecture, but quickly moved into IT development roles. Verdin has success in building complex database programs, functional intranet systems, and e-commerce platforms. He has worked with notable brands like Bacardi Limited, Lockheed Martin, Smithsonian Journeys, Casto Real Estate, and Big Lots, and has led impactful change at higher education institutions and city planning commissions.
Verdin worked with Zipline Logistics prior to his full-time hire, developing the company's KanoPI shipper intelligence platform. As Director of Business Innovation, Verdin will continue to identify and build systems that advance internal workflows and processes while further enhancing the Zipline customer experience.
"I look forward to growing Zipline's technology suite with tools that solve complex transportation issues and provide enhanced transparency to clients," elaborates Verdin. "Pulling from my experience with other industries, I hope to identify unique opportunities for positive change at Zipline."
The additions of Tedder and Verdin to Zipline's leadership team showcase the company's ongoing efforts to best serve the consumer goods market. LTL and transportation technology solutions are paramount for the industry.
About Zipline Logistics
Zipline Logistics, founded in 2007, is a digitally-enabled transportation partner that specializes exclusively in serving the food, beverage, and consumer product sectors. Managing tens of thousands of shipments annually, Zipline Logistics proudly serves clients ranging from some of the largest retail organizations in the world to the brightest up-and-coming food and beverage brands in North America.
The 3PL's capacity procurement team utilizes a proprietary qualification process to identify and contract the highest quality providers to operate within its network. This selectively procured carrier group is leveraged, along with Zipline Logistics' proprietary data analytics software, a retail-trained operations staff, and service-first organizational culture, to deliver the absolute best client experience in transportation.
For more information or to request a quote, go to www.ziplinelogistics.com or call 888.469.4754.