February 14, 2019
COLUMBUS, OHIO – Zipline Logistics was awarded the 2019 Ohio Success Award by Ohio Business Magazine. The award program recognizes companies that have demonstrated growth both in revenue and employees, as well as involvement in their community and service in their industry.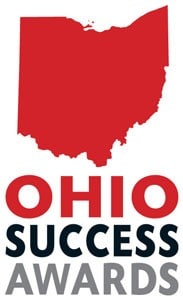 "Zipline's deep commitment to partnership has propelled our continued growth," explains Walter Lynch, Zipline's CEO. "Partnership to us means acting with integrity and the best interests of others in mind. We believe strongly in our mission statement to improve the lives of transportation professionals and have built unique business processes to ensure we live that out every day. We are thankful to be recognized for our consistent success and commitment to ethics."
2019 is the inaugural year of the Ohio Success Award by Ohio Business Magazine, which notes that Ohio's strength as a growing and thriving business center and land of opportunity is built upon its businesses, non-profits, and governmental organizations' success, as well as the partnerships they form with each other to benefit communities. Zipline is recognized among 53 total Ohio businesses and nonprofits, 17 of which are located in the capital city of Columbus.
Winners will be honored at a reception on March 15, 2019, at The Ohio Statehouse.
More information on the Awards Ceremony can be found here.
View the Winter 2019 digital issue of Ohio Business Magazine to see all the winners from across the state.
About Zipline Logistics
Zipline Logistics, founded in 2007, is a digitally-enabled transportation partner that specializes exclusively in serving the food, beverage, and consumer product sectors. Managing tens of thousands of shipments annually, Zipline Logistics proudly serves clients ranging from some of the largest retail organizations in the world to the brightest up-and-coming food and beverage brands in North America.
The 3PL's capacity procurement team utilizes a proprietary qualification process to identify and contract the highest quality providers to operate within its network. This selectively procured carrier group is leveraged, along with Zipline Logistics' proprietary data analytics software, a retail-trained operations staff, and service-first organizational culture, to deliver the absolute best client experience in transportation.
For more information or to request a quote call 888.469.4754 or contact us here.